Opinion: The drain - dragged down by debt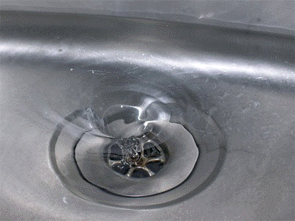 By Neville Bennett
Debt is dragging us down and contributing to our probable double-dip recession.
It condemns us to tough times for a decade. Perhaps the "age of austerity" might be the appropriate term for the era.
That is not fanciful; the UK has a government which is facing up to the debt problem, and austerity rules.
Our Government is shielding us by borrowing NZ$300 million a week, rather than slashing expenditure. It cannot do that indefinitely.
Let's be clear; I am not saying why we are in a recession, but in the NBR print edition I blame the Reserve Bank for not increasing M3 in real terms over 3 years and also cranking up interest rates.
I am aware too of problems with productivity, the high dollar and the whole spectrum of factors dragging down economic growth.
My focus is debt and how it has been created.
Perhaps an analysis will reveal some surprises mostly on how we got into debt.
Living with debt, and reducing it, will be a new experience for many. Yet older Kiwis knew that from about 1870-1950, debt was the first charge on the national budget, and usually took the first 30% or so of expenditure. It constrained welfare and education.
These ancestors were mostly saddled with public debt. There was private debt too, but not on the present horrendous scale.
Our era has been unique in creating a mountain of private debt which we are all servicing. Vast amounts of capital flow out of NZ each year in debt repayments and dividends. Indian economists used to call this "the drain".
The drain is an interesting concept. If I may explain: Indians resented the way, before 1947, they ran a trade surplus which supported Sterling for the benefit of the UK, Australasia etc. After 1933, Sterling needed US dollars to get some sort of trade balance and these came from Indian and Malaysian exports. Places like Australasia did not bother with trading with the USA - we sent everything to the UK.
The Indians provided a pivotal role. They also paid the pensions of the UK civil servants based in India and most of the Army costs. The Indian Army, which made the UK a great power, was funded by the Indian taxpayer.
Indians alleged that the drain kept them poor. I can see aspects of a drain in NZ as it services a high debt, and (I think) makes few inroads on its quantum.
Where did the debt come from?
I'll start with the current account deficit. The current account has been negative since the 1973, and we make up the difference each year by borrowing. Housing is a problem but not all of it: in 2000, before the bubble, half our gross external debt was not from housing loans.
The detail is found in a Reserve Bank Bulletin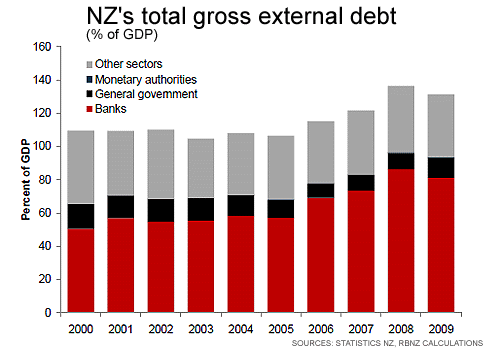 http://www.rbnz.govt.nz/research/bulletin/2007_2011/2010dec73_4Steenkamp.pdf
NZ is one of the most indebted OECD counties. Our debt has grown because - although we almost pay our way in trade - we borrow new capital, borrow to cover our services deficit, and to service debt. We do not save enough to manage without borrowing.
There is no end in sight as the graph is steep.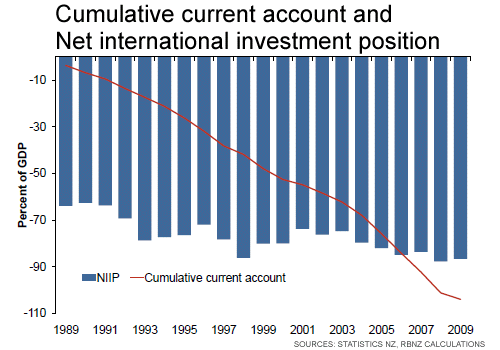 Our situation has much in common with the PIIGS. Fortunately, foreigners continue to lend us money and the Reserve Bank and Treasury are outwardly relaxed about the risk of funding becoming more expensive or even very difficult to obtain. I am less optimistic as Greece and the others are currently having difficulty.
I think a major New Zealand problem is the high cost of borrowing. The Bulletin has a graph of real short-term interest rates which shows that New Zealand has to pay the highest rate: more than Mexico and Hungary. This is a chilling graph as so much of our debt needs rolling over each year and this is a volatile time when markets panic.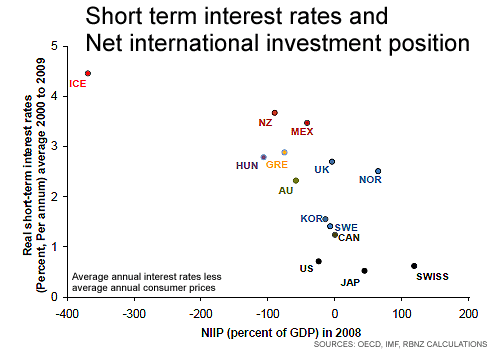 Confidence in NZ would decline if public sector debt blew out (it is increasing moderately) or if economic growth fell below expectations.
The present probable double-dip is therefore quite worrying. The rating agencies could review us less benevolently. A continuing problem is we pay a higher rate of interest than our assets generate.
The current account deficit is a major vulnerability in those states (like the PIIGs, Poland and Hungary) which have seen their costs of borrowing rise sharply.
I believe the deficit is a major Kiwi problem and have tried to research it, but have not been able to access good data. For example, I think we pay huge sums in royalties each year. I recall looking at some fast food franchise accounts and calculating that about 15% of sales went abroad as royalties. Seeds are another area of high royalties. Research shows that a high deficit can lead to shocks, affecting GDP.
Profile of External Debt
NZ's gross external debt peaked at 130% of GDP in 2008. About 60% of debt is bank borrowing, and it has relatively short term maturity. Government debt was 13% of GDP in early 2010 but is accumulating briskly.
Looking at the bright side, most of the debt has been hedged into NZ dollars. This is a terrific boon: as long as the dollar is high. Should the Kiwi go down to USD0.50 cents debt servicing would be harder.
In the Asian Crisis in the 1990's countries like Thailand had borrowed US$ but debt doubled when their currency depreciated by half. I wonder if the RBNZ runs a high-dollar policy to help with debt funding?
Rolling over the debt is potentially problematic. This is compounded by 40% of borrowing being of less than 1-year maturity, and our reserves of foreign currency are low.
Usually, it is only countries with strong international markets that can borrow short-term (UK, Japan, Switzerland). The domestic banks lending also depends by 50% on foreign funding. The banks borrow short but lend long on mortgages etc, a practice which is dangerous when funding is tight or very expensive (this killed the UK bank Northern Rock). Our banks needed government guarantees to secure funding in 2008.
Domestic banks got a fright in 2008 and are moving to longer maturities and higher domestic retail deposits (helped by the demise of 50 finance companies). Bank maturities of 1-year plus increased from 34% in 2008 to 44% in 2010. The Irish example should spur the banks to greater prudence.
Domestic Savings
Our external debt is linked to low domestic saving. We also invest more than we save. Our saving is much below OECD average but investment (expressed in say gross capital formation) is average (see Fig. 13 in the RBNZ paper).
As saving is low, we depend on capital inflows. We have to pay higher than average interest rates on that capital. Foreigners require a premium to compensate for the risk of lending to us. That premium could increase if the problems of the PIIGS are contagious.
We know that households dis-saved massively this decade, often using the house as an ATM to finance improvements, holidays and life-style. Treasury says that in 2007 households spent about $1.13 for every dollar earned. Saving lifted in 2008 but we still spend more that we earn. We are the worst in the OECD. We still store our wealth in housing disproportionately, but readers know all this.
Let me add that NZ housing prices increased 2001-2006 about the most in the OECD and we have an horrendous ratio of household-debt-to-household-income, peaking at about 180% of debt-to-income where we beat the Americans and Aussies hands down (see Fig. 21 in the RBNZ paper).
The decline in house prices has been a modest 10% from the peak - like Bernard, I expected more. But most mortgages are to better off households who can service them and not create a flood of sales. Housing is still vulnerable to shocks in interest or foreign exchange movements.
Rebalancing
Rebalancing can occur through:
- Tolerating inflation
- Reducing imports
- Increasing exports
- Increasing economic growth.
None are easy and are subjects for another time.
Meanwhile we are dragged down by debt.
--------------------------------
* Neville Bennett was a long-time Senior Lecturer in History at the University of Canterbury, where he taught since 1971. His focus is economic history and markets. He is also a columnist for the NBR.
neville@bennetteconomics.com