Alex's politico-economic blogroll: Crampton's take on paying for quake; PSA fail; 5 tips for Labour election success; Cactus defends Hotchin?
Here's my blogroll for the week. I'm off now to ask the Finance Minister if I can get a letter of support from the government before my next trip to the bank to discuss my credit card.
Have a good weekend all.
Economics blogs
1. Debt, spending cuts and future taxes. Economist (and Christchurch resident) Eric Crampton at Offsetting Behaviour has a look at the Green Party's call for an immediate temporary levy on income taxes, and comes to a slightly different conclusion of how things could be done. Interestingly, no one has really talked about increasing taxes in the future (once the economy's back in good health) to pay for the quake. There's some good economics speak about deadweight losses and Laffer curves, but here's the essence of the argument.
If you're targeting tax hikes on high income folks, you've gotta remember that those are the ones who are internationally mobile and, if they live in Christchurch, are probably already weighing up exit options. If labour becomes more elastic because folks are happier about leaving, the deadweight costs of taxing them has also gone up. Maybe you could build some argument about patriotic fervour reducing the deadweight costs of taxation post quake, but I wouldn't believe it; if anything, it's more an argument for things like war bonds for reconstruction paying relatively low interest rates.

Finally, we have to think about the optimal mix of tax increases and debt. If the prior mix of spending and taxes were optimal, then we'd likely be looking for a big increase in debt now to be paid off by a mix of future tax increases and cuts to non-earthquake programmes. Why future tax increases rather than current? The quake was a massive negative productivity shock for the region, so it's just more expensive to raise a dollar's worth of taxes today than it will be in four years. It makes sense to take on debt during a negative productivity shock to pay off later on when the production function's gotten back towards normal. 

So even if you reckoned the ex ante mix of spending and taxation was optimal, the best response to the quake seems likely to involve cuts to non-quake programmes, increased debt, and future tax increases. If you figure, like the Greens, that the ex ante mix had way too little government spending, you'd push for smaller cuts to non-quake spending and larger future tax increases; it's beyond me why they're averse to debt to fund a massive capital reconstruction project.
Matt Nolan at TVHE has a similar view on why we shouldn't be imposing a levy now.
So if we have to have a levy, why don't we do it when the economy is on an even keel – rather than during a point in time when we are in a historically potent recession.  Unless the people claiming that we need a levy don't actually think the recession is particularly large … in which case a lot of other things that have been said about NZ's economic performance by these people would be inconsistent
2. 'Insurance run' Telling the government to tell it as it is with AMI. Matt Nolan says he's also surprised that no-one has mentioned the idea of a "bank run" in the AMI case. He also makes some good comments on New Zealand's 'left' that no one touched upon yesterday.
Surely the justification for government action is that, without it, non-claimants would pull out of AMI due to concerns about AMI's stability following the quake.  If AMI was still SOLVENT but lacked sufficient LIQUIDITY to get through this period, they may fail for seemingly no reason.  As a result, the government comes in, provides liquidity, then disappears for no cost!

Now this is the ideal situation and justification that SHOULD have been provided.  All this crap (yes, I'm using a strong word ;) ) about "giving certainty to the people of Christchurch" is politics in my opinion – they are selling an idea about the bail out being to support a community in an attempt to numb criticism as to whether this is the most appropriate way to help.

I am surprised to see the left come out in support of this. What about the poor people who were living on the breadline and couldn't afford insurance – the left is happy to support the middle classes who could afford insurance and are unwilling to take on the risk associated with it, while simultaneously not helping the genuinely poor.  This is the type of left wing view point I grew up hearing.
3. Five steps to election success for Labour. This isn't an economics blogsite, but by a Political Science student at Otago Uni (and of course all polsci students are apolitical, right...). James Meager was dared to write the five steps without the first being to 'roll Goff'. He says it's impossible for Labour to win without rolling Goff, but he gave it a good go. HT his lecturer Bryce Edwards. Here's a couple of James' comments.
It may pain the Labour caucus to admit this, but the Whale pretty much has an ideal campaign sewn up for them: are you better off under National than you were with Labour? What Whale has actually done here is cunning, by giving Labour a sensible campaign platform and message, if they adopt it he can then exploit them as not having a clue on their own and needing the help of the VRWC. But who cares, it is a simple and effective message – simply asking every voter, no matter their background, if they are better off now under National than they were with Labour.

And lay off the 'rich pricks' angle. Class warfare will only get you so far. Labour shouldn't be targeting the poor voters – they already have them, for various reasons. They need to target those middle voters, and they are the ones who actually aspire one day to become 'rich pricks'. You don't tread over the dreams and ambitions of those you wish to court. Don't try to spin lines that corporate giants are ruining the NZ dream, or that the rich are bludgers too, because a lot of the voters you aim for do know those in the top tax bracket, and they know the amount of tax they do actually pay, and they recognise the value in having big business in NZ. And by running a rich prick angle, you leave it open for the opposition to run a bludging welfare angle. Refrain from the negative class warfare and the opposition will look like unjustified in attacking the bottom tier of society.
From the left
4. Keeping track of NZ vs Japan. The Standard has a go at Earthquake Minister Gerry Brownlee for the time it has taken to introduce temporary accommodation in Christchurch compared to what is happening in Japan.
Christchurch. Quake + 45 days and counting: Homeless may have access to campervans"within a week", with costs starting at $190 per week. Temporary houses are planned, with a decision to be made on who to be awarded the contract expected "within a week".

Japan. Quake + 28 days: Homeless had access to special heavy duty ShelterBox tents within two weeks of the quake. Construction of temporary houses was underway within two weeks and is proceeding with remarkable speed. The first families should move in to completed units this weekend. It is expected that these homes will be rent free for two years.
5. Co-ed vs single sex schools. This is a bit off track, but this story in The Herald this week really got on my nerves. A dad in Auckland's (rather exclusive) St Mary's subburb is annoyed that there are no boys-only schools in the zone they're in, although co-ed Western Springs, which he believes is "quite a good school", is nearby.
I get quite worked up about this one (and yes, I went to a co-ed high school). For the first 12 years of a kid's life they learn in an environment with both sexes. Then some are shut in with only their sex for five years, before being let loose in the world again (where, as it happens, you have to be able to deal with both sexes). What's so important about those five years that you shouldn't be learning with the opposite sex?
"The only school we are zoned for is Western Springs [College], which I believe is quite a good school, but it's co-educational. I think it's important, particularly for boys, that they learn in a single-sex environment," the dad says in the Herald article.
He wants to send his kids to Auckland Grammar, where he went, and where they have a chance of getting in because he was an old-boy.
"We believe a public school education is very important," he said. "Unfortunately we can't achieve what we wanted in our local area."
Yes, that would be it. It's all about getting ahead, getting advantage. If Harry can get to Grammar because daddy is an Old Boy, then Angus will get to Grammar because Harry is a current boy. Of course, there is a school nearby which Mr Chisholm understands to be quite good, but it doesn't have the advantage, does it?

What's more, it has girls. And girls overachieve, excelling at all that girly-swot academic stuff, which is bad for boys' self-esteem. It is better for boys to go to a sporty school, one with built-in advantage. That way, they'll always be ahead.
6. How far will the bailout psyche go? Labour MP Chris Hipkins brings the privatisation of ACC into the bailout debate. He supported the AMI bailout.
But it highlights the risks involved in another National government policy – the privatisation of ACC. Under National's privatised model of accident cover (they try to dress it up by calling it 'competition' but it's privatisation by any other name) a private accident insurance company, faced with an unforeseen influx of claims due to a disaster such as an earthquake, could find themselves in the same boat as AMI does now.

I asked Nick Smith in Parliament a few weeks ago whether or not the government would guarantee Kiwis that if their private ACC insurance provider collapsed they would still be covered. Naturally he evaded the issue. He had no choice really. If he'd said no, he'd basically be saying that privatisation would mean thousands of New Zealanders could find themselves without cover. If he's said yes, he'd basically be writing a blank cheque to the insurance industry.
From the right
7. Oops. The PSA (the Public Service Association, not the Kiwifruit disease) started up an on-line billboard campaign in reaction to Finance Minister Bill English's 'nice to have' comments. It seemed quite a good idea, except for the fact it was rather easy to hijack. David Farrar at Kiwiblog picked up on some of his favourites (which have been removed from the PSA site, due to 'malicious hacking', funnily enough).
Here's a version of a good left wing one that the PSA were looking for: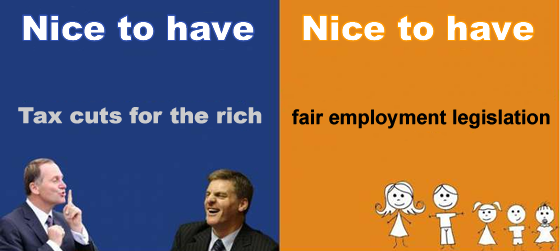 And here's a version by a malicious haker attack: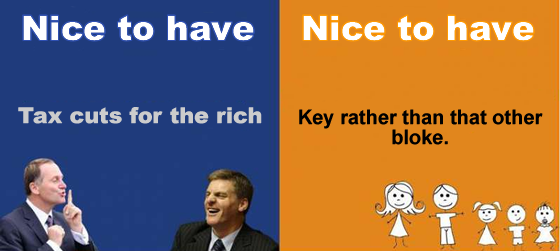 8. Poor Mark Hotchin. Cactus Kate has a long go at the judiciary over the fact Hanover Finance Director Mark Hotchin has had his NZ assets frozen for four months, yet no charges have been laid.
The SFO investigation into Hanover was meant to be well completed at Christmas. As was the Securities Commission's as to whether to lay criminal charges. It has dragged on and on. Regardless of the reasons it is now becoming ridiculous.

Hotchin has even claimed that he hasn't been told what is being investigated. That is there is no specific reference to what he is being investigated for other than a general poke and feel around based on HUtu (Hanover Utu) and sensationalism running rampant in the media and in the public along with all other finance companies. A "fishing expedition" as we call it.

S60G of the Act broadly allows freezing in three situations:

- criminal prosecution have begun
- civil proceedings have begun
- where securities commission are carrying out an investigation into acts or omissions by the defendant.

While Hotchin isn't the favourite public figure in New Zealand, this case is making for ridiculous precedent. In the meantime Hotchin has had to pay bills, sort creditors and keep businesses moving and progressing. He also owes money to the IRD. I wonder what the IRD feels about the freeze order and whether they will apply to have it lifted themselves to be paid? The taxman waiteth for no one.
And Cactus also has some of those malicious PSA billboards.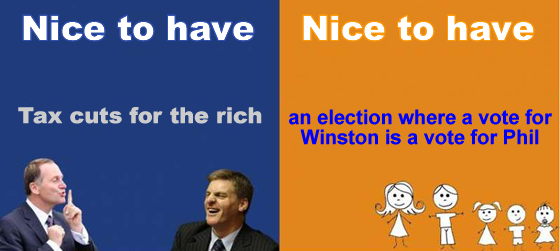 9. Labour and Cunliffe are grasping at straws. Keeping Stock has a go at Labour Finance spokesman David Cunliffe for calling the South Canterbury Finance news this week a disaster of epic proportions.
No; it's not good that the Crown had to bail out South Canterbury Finance. But in the greater scheme of things, how does $300 million stack up against the thousands of lives lost in three humanitarian tragedies in barely the last year? The bottom line; it doesn't.

To call the South Canterbury Finance bailout a "disaster of epic proportions" is the worst kind of hyperbole, especially when it was the Labour Government that first conceived the Retail Deposit Guarantee Scheme. Labour and David Cunliffe are grasping at straws in an increasingly desperate battle for relevance.

Perhaps John Key should call Phil Goff's bluff and have the Government resign en masse, forcing an early election; giving the opposition turkeys an early Christmas seems like a pretty good idea right at the moment ...
10. Video. Good fun in Parliament yesterday. Shane Jones...Linda Lovelace...Tau Henare