High commodity prices disguise a worrying lack of progress in building exports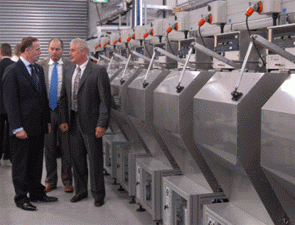 By Andrew Gawith
Governments and their advisers have touted exports as an important route to faster and sustainable economic growth for decades.
Much analysis and money has been applied to lifting our export growth but, alas, little has changed over the past 20 to 30 years.
Treasury's latest forecasts point to yet more anaemic export growth and an external deficit deteriorating to around 7 per cent of GDP by 2015. A current account surplus is clearly a long way off.
Indeed it is so long (1973) since New Zealand earned more foreign exchange than it spent (that is, a current account surplus), that one would be barely recognisable.
There's a mountain of analysis highlighting the challenges New Zealand faces in expanding its exports: distance from markets, scale, dependence on commodities, lack of investment in research and development (R&D), shallow pool of talented managers, shortage of venture capital, etc.
The list seems endless and ever-changing. But are these problems or excuses?
Governments have funded a range of services to help companies get established in export markets and to expand their export sales.
The Trade Development Board was set up in 1988 and has had a number of makeovers since then with New Zealand Trade and Enterprise being the latest version of an export assistance agency.
It has just received a scathing review from the State Services Commission, which rated the agency poorly on things such as strategy, culture, leadership and workforce development.
It also highlighted shortcomings in governance, structure, external relationships, IT and international business services.
The new management team has already set about addressing these problems, but a crucial question remains: is the model this agency is required to pursue really working?
The evidence is underwhelming. Over the past two decades exports of goods and services (in nominal terms, so taking into account both volumes and prices) have remained static as a share of GDP.
In other words, we have failed to lift the contribution exports make to GDP growth despite considerable effort and expenditure to do so.
That should have spurred the Government, MED, Treasury et al to conclude that the existing approach to assisting exporters needs more than just a makeover. One of the consistent criticisms of publicly funded business assistance initiatives is the fragmented and confusing array of programmes that are pushed by multiple agencies.
Each agency and programme has its own application process, scoring system and funding formula.
The core issue for businesses, especially those looking to grow and export, is their access to capital to finance R&D, new product development and testing, opening up new markets, setting up distribution channels, etc.
There's been a long debate about whether or not the lack of access to capital reflects a market failure and therefore justifies government intervention.
Generally the conclusion has been that there is not a market failure - angel investors, venture capitalists and banks do fund some small, promising businesses with clear plans and realistic ownership expectations.
But private investors and banks certainly don't fund all budding exporters and will often expect those businesses they do fund to secure public money for R&D, market and product development, to share the risks involved in funding them.
Rather than maintaining a host of programmes to help firms bridge the funding gap, perhaps we should dust off the concept of an export development bank.
Yes, we've been down this road before and it ended in ... well, collapse (the Development Finance Corp was put into statutory management in October 1989).
But with strong and disciplined governance, experienced management and a tight focus an export development bank could be a more logical, efficient and commercial way of delivering business development assistance than the bunch of government agencies racing around trying to fulfil their statements of intent.
Another key change to the model could be to focus on earlier stage exporters rather than the more established ones.
While the latter will generally produce higher short-term returns for the public funds invested there may be a large element of coat-tailing; that is, in many cases these established exporters would have pushed ahead even without funding from NZTE or other agencies.
Helping to 'plant' more seedling exporters may take longer to show a return, and the failure rate might be difficult to justify politically, but the returns could turn out to be significant in the long run.
The rationale for targeting assistance at this earlier stage is to help firms get across the no-man's land of needing to grow, or get into exporting, but not being big or sophisticated enough to attract private sector funding.
A fundamental goal for NZTE should be to turn itself into a fee for service organisation.
It seems daft and wasteful for companies to pay tax in order to fund the likes of NZTE which then provides them with free or subsidised services.
While government agencies have a role in providing public goods such as market intelligence and trade negotiations and assisting where market failure occurs, it's all too easy for them to expand their activities and crowd out private sector services.
The Government should focus on improving the conditions within which businesses operate (regulations, taxes, etc) and the economic environment (interest rates, exchange rate, education, etc) - funding the large fiscal deficit is clearly contributing to the damaging rise in the currency.
Historically high commodity prices (nothing to do with us) are currently disguising a worrying lack of progress in building a broader and more substantial export base.
We definitely need faster export growth to reduce our dangerously high national debt otherwise the adjustment will be via lower spending.
But given that the recipe for promoting export growth over the past 30 years has not lifted our export performance, it's time for a step-change in the way we encourage firms to export and to become genuinely global businesses.
---------------------
Andrew Gawith is a director of Gareth Morgan Investments. This article was first published in the NZ Herald.