Opinion: Why do we bash our exporters every time the economy starts to do well?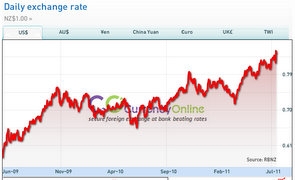 By John Pagani*
This is nuts.
What's driving our dollar so high?
Yesterday's pleasing GDP figures is what. See Alex Tarrant's full article here.
As our economy picks up, the Reserve Bank is obliged by law to do what it can to respond by trying to smash GDP back down again.
By law the Bank is not allowed to look at what is best for our long term GDP growth. It can only look at whether increasing GDP is going to push demand up, and therefore prices. That's why we have low inflation and low growth.
Every time there's some growth, the Reserve Bank pulls out a giant sledge hammer and smashes the living daylights out of it. It increases interest rates. The prospect of high interest rates is driving the exchange rate high as all the hot money flows in chasing those interest margins paid by mortgaged suckers like me.
Higher interest rates and a high dollar are exactly what we don't need when the economy is getting off the ground.
We need to let some of those overseas successes flow home and create jobs and more consumer spending.
When the dollar is high, all we're spending on is cheaper imports and trips overseas.
Our terms of trade are at record highs because of good global demand for commodities.
Those good prices help our GDP along, despite the Government's economic mismanagement. We should be encouraging growth where we can get it, not reacting as if it needed to be driven out.
Policy encourages debt and overseas ownership, punishes businesses and consumers with interest rates, and punishes exporters with a high dollar and excessive currency volatility.
The high dollar we're getting now is exactly what we don't need.
======================
*John Pagani is an independent political consultant and writer who has worked as an adviser to Labour Leader Phil Goff. He writes his own blog at Posterous.
No chart with that title exists.