Opinion: Beware investing in shares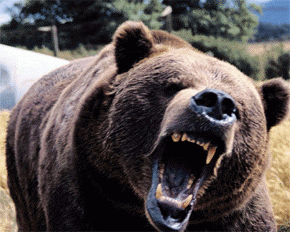 By Neville Bennett
I contest accepted investment wisdom.
Savers and investors are routinely told that shares are the best medium and long-term investment to grow their funds.
Fund managers trot out dubious statements like "you can expect 8% p.a. over a longer period".
Actually the only sure thing is that the fund manager and advisor will clip the ticket, and get their fees, even if they lose money year after year.
I have a friend who ten years ago invested NZ$150,000 with a reputable investment manager in a medium risk balanced fund. His fund is actually smaller now than when he invested.
The argument for balanced funds is diversity. Most balanced funds have something like a 50/50 mix. 50% is cash and fixed interest, 50% equity and property.
They aim at about 3% p.a. net gain (after fees and taxes) and very few satisfy that objective.
Morningstar surveys their performance, and it looks like most return 2% over 7 years.
But remember that this yield could be largely consumed by your fund manager and investment advisor as happened in my friend's case.
A long term investment in global equities is usually recommended to the young. Again, there is no evidence that this is a good strategy.
Indeed I looked at Morningstar and more than half the funds in that category had lost money in the last 7 year  period.
Why have the returns from shares been poor?
The problem is that world markets followed the US into a long bear market, beginning March 2000. But the US markets have not recovered to their 2000 highs.
Markets move in cycles, the important ones are long, covering a generation. These go back a long way in time, but let's take more recent times.
There was a boom in the USA in the 1920's, eventually Wall Street overshot and crashed in 1929. That started a downswing and a bear market. Share indexes did not recover to 1929 level until 1954.
The upswing started 1946 and lasted to 1966. 1966 was another crash and shares did not recover 1966 levels until 1982.
American markets went into bear-mode in March 2000 with the tech crash. I choose as an example the NASDAQ index. Remember that it covers the best cutting edge technology firms in the world. But if you bought the index in February 2000 you would have a book loss of over 60% now.
Similarly, if you had bought the Nikkei in 1989, thereby getting a slice of 225 of Japan's best companies, you would still have a 78% loss.
That is 22 years of misery and there is no chance of ever getting back to parity in either the NASDAQ or Nikkei.
Here is a chart of the Dow 1929, Nikkei 1989 and the NASDAQ 2000 showing how bear markets can impose 80% losses, and these endure for a more than a decade.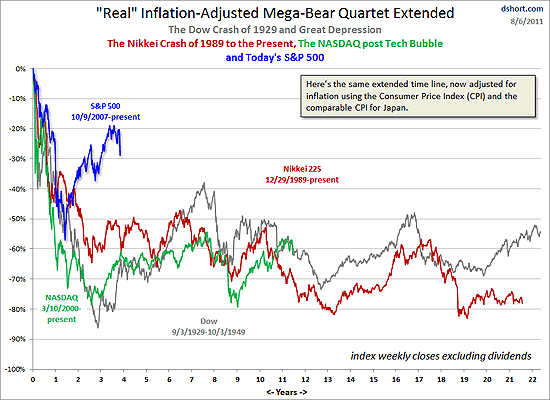 To be sure, there are rallies within the cycle, and both the Dow and Nikkei have at times had good rallies, sometimes lasting a year. But, alas these are suckers rallies which eventually run out of steam.
They can be tempting. The S&P500 rallied strongly 2003-2008 as Greenspan flooded the economy with cheap money and the world banks were using leverage of 50, and making super-profits. After, the 2008 crash, Bernanke flooded the market with drops of cash from helicopters. I advised clients in my subscription newsletter to buy as QE2 was designed to inflate assets prices.
But the key to preserving wealth in these difficult bear markets is to switch assets when appropriate. I advised on July 15:
Maybe the fear of another big earthquake is preying on my mind, but I feel that financial skies are very ominous. We have the making of a perfect storm. We have consistently said that the equity was invigorated by QE. I said I was wading into equities last August but as we got to March this year, the market began to anticipate the end of QE2 and we said "sell into strength".

By April we said "sell in May and go away". Equities are in for the storm but blue chips will survive if they have little debt. The storm will be vicious because, in the GFC, it was private debt that collapsed. This time it could include sovereign debt. I take a Greek default as read. But Portugal and Ireland are near junk, and the pressure on Spain and Italy is mounting.

The market is moving to safe harbours, especially the Swiss franc which is at record levels v. both the Euro and dollar ... the Swiss Franc, oil and gold are good harbours.
Fund managers do not switch. They think that the market will keep going up, despite some corrections. They observe big falls with equanimity, and advise people to stay in the market, waiting for the inevitable upswing.
The myth persists that the stock market delivers excellent returns over the long term. $1,000 invested in the S&P in March 2000 would, cum dividends, be worth $1,083 in July 2011. It would be worth less today. Moreover, this analysis doesn't include the impact of brokerage and fees. If inflation is added, the $1,000 dollar investment would be worth only $822 last month.
I am pessimistic about stock markets now. I think the bear is dominant.
The Dow has had bear markets in 40% of the last 122 years. It is also becoming more volatile.
There have been 283 swings in the Dow of 4% in a day since 1900. But 10.9% of these have occurred since October 2007. I also feel that it has recovered twice since 2000 because of loose US monetary policy, but feel that it is unlikely that Washington can stimulate the market again.
Bernanke over-inflated it, and it will correct dragging others down with it.
--------------------------------
* Neville Bennett was a long-time Senior Lecturer in History at the University of Canterbury, where he taught since 1971. His focus is economic history and markets. He is also a columnist for the NBR.
nevillebennett@clear.net.nz
www.bennetteconomics.com