Neville Bennett is worried that we are grossly underestimating the impact of the economic trends moving against us. Your view?
By Neville Bennett
The new OECD economic forecast summary for New Zealand lacks coherence.
It warns of a deteriorating international context, but is bullish about the New Zealand economy being stimulated by the Christchurch rebuild.
It over-estimates the likely economic performance of the domestic economy in the years ahead.
Nevertheless, there is a welcome breath of economic realism in the OECD outlook.
After a diet of unfounded optimism in the election campaign, it provides good evidence of a global slowdown, dangers of a new financial crisis, and projects slower New Zealand growth than Treasury's make-believe.
NZ Growth
The OECD has trimmed its forecast for growth in 2012 to 2.5% from 4.1% in May. Its main reason is the delay in rebuilding Christchurch.
It is rather bullish about Kiwi resilience and suggests good performances past 2013 as the rebuild really kicks in.
Meanwhile current activity is reasonably high because of good commodity prices and unusually low interest rates.
Households were reducing debt but business was wary of investment because of economic uncertainty.
Interest rates could start rising in 2012. My sources say that business investment is quite high, and that this is showing up in machinery imports. But commodity exports are trending down.
The OECD gives its usual advice: Government should be fiscally responsible and get back to budget surpluses, improve the quality of social spending and look to sell some state assets. The advice is a little superfluous as these are National policy planks.
I take the view that these measures will have little effect.
If National does sell down a proportion of the assets it has identified, the quantum would make little difference even if it were applied to debt reduction.
This is a profligate administration. Crown net debt is forecast to grow from $14 billion in 2010 to $28 billion in 2015, but may be higher because of earthquakes costs.
'Wealth transferred from taxpayers to farmers'
During the election build-up we did not receive a clear picture on what the proceeds of the sale would be used for. We heard of debt reduction, but also emotive stuff about investing in schools (which put asset-sales in the same category as motherhood) and later that the sales would be invested in irrigation.
The idea of transferring wealth from the public to National's farmer mates makes me squirm.
This outcome is only too likely as National displaced the elected Canterbury Regional Council (which tried to deal with demands for free water in an orderly way, with some consultation) with a rubber stamp outfit likely to give in to demands to break even the conservation order on the Rakaia River.
Back to the SOE asset sales: if we assume that Government applies a net $4 billion from the sales to debt reduction, that would reduce sovereign debt in 2015 from about $28 billion to $24 billion. It is no panacea.
The $4 billion is an assumption, not an estimate; it might be wide of the mark. I imagine that the selling costs will be quite high as governments usually consult bankers in these matters rather than use Treasury. Some proceeds might go to schools and farmers, so debt reduction will be quite small.
Adding debt is often acceptable for business, farms or households if their net worth is also increasing. But in the Crown's case, Treasury estimates that Crown net worth plunges from $50 billion in 2010 to $31.1 billion in 2015.
If asset sales are included, Crown net worth will fall by another amount. I do not know what is projected but guess $8 billion.
If this is in the ballpark, Crown net worth will plunge from $50 billion in 2010 to $23 billion in 2015. It is a dire situation when a doubling of debt in 5 years and a 50% decrease in net worth can be regarded as optimistic.
The government made much in the election campaign of positive budgets by 2015.
Treasury forecast a few years of positive budgets for 2015-2020 but deficits then set in as debt service and higher superannuation and health take a high toll. The Savings working group has an amazing graph which sums up a deteriorating situation.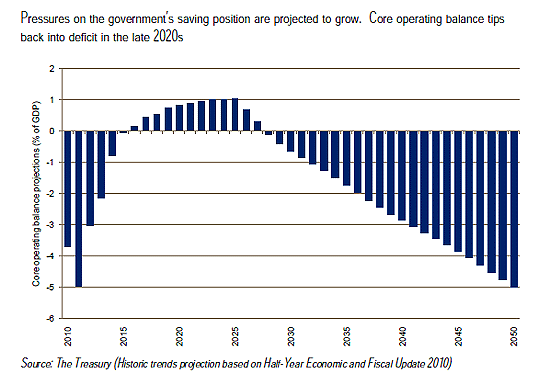 Government says it is OK for NZ to have deficits at a time when sentiment has moved against them in the UK, US and EU. According to Treasury, the 2011 budget had an operating balance of -8.4 %. That was the budget position but there may have been minor changes.
In the EU, countries have signed up to limiting deficits to -3% of GDP.
But meanwhile, Greece has a fiscal deficit (-6.8%) much lower than New Zealand's but it cannot borrow in overseas markets. Greece is frozen out of international markets because its sovereign debt has junk status.
'Question the assumptions'
New Zealand has begun to lose status in credit markets and has a huge budget deficit.
Was it wise to reduce income taxes in recent budgets when a large fiscal deficit remained?
There are strong reasons to questions the assumptions of growth of government revenue before 2015. Treasury-projected growth-rates were estimated some time ago, on the assumption that 'the outlook for world growth has been revised up" (p.71) but the IMF and OECD have since reduced their estimates.
The world economy is cooling very rapidly.
It is possible the USA enters another recession which would be a bell-weather for headwinds in kiwi exports.
My impression is that Treasury forecasts need downward revision and that the period of NZ budget deficits may be extended because growth in GDP may be slower than the 4% forecast for 2013 and 3% for 2014. Revenue would fall. Even if the fiscal deficit is 'only' -4.7% of GDP in 2012, government must recognise that it may be regarded as totally unacceptable by rating agencies and debt funders.
Balance of payments
The credit agencies are worried about external imbalances (or the 'balance of payments'). The latest data reveals a downward trend since 2009 and a small but growing deficit of about $2 billion a quarter.
Rating agencies pay much attention to Current Account Deficits (CAD) and have already raised the CAD as an issue, although the deficit is only 3.7% of GDP.
There have been persistent weaknesses in the export performance, although these are quite positive at present. Imports have been subdued owing to the recession, and the rating agencies may feel imports will grow as treasury projects strong increases in private consumption of about 3% p.a. 2013-15, and massive investment as Canterbury's earthquake recovery takes place.
Imports will grow enormously, by around 7% p.a. and the CAD is projected at -5.2% in 2013, -6.8% in 2014 and 2015.
Rightly or wrongly my lecturers always insisted that a CAD of -6% was unsustainable, requiring many adjustments including massive devaluation. A devaluation would help exporters and discourage imports but it would have inflationary consequences. Treasury has factored in a projected 90-day interest rate of 5% in 2015 but this may be understated.
For reasons hard to explain briefly, the scenario of high CAD and devaluation tends to lead to increased external debt. This is appreciated in Treasury's forecast. Net external debt is 78% of GDP now and it rises to 85% in 2015.
The OECD data projects a poor outlook on trade in goods and services, and its assessment of the CAD is -5% in 2012 and -5.9% in 2013: a very worrying trend.
In view of the Treasury's and OECD's projections I consider government should be thinking more radically in broadening revenue streams (Capital Gains Tax, Financial Transaction Tax) encouraging savings, stimulating manufacturing, and looking again at retirement policies.