Here's my Top 10 links from around the Internet at 11am in association with NZ Mint.
I welcome your additions in the comments below or via email tobernard.hickey@interest.co.nz.
I'll pop the extras into the comment stream. See all previous Top 10s here.
My favourites today are at #2 and #3 on the 'vacation style treatment' in China.
1. The ground is shifting - Academics in America are now questioning more widely the consensus that free trade is always a good thing in the long run.
Chrystia Freeland points at Reuters to an excellent new paper called the China Syndrome from David H. Autor, David Dorn, Gordon H. Hanson that shows free trade with China causes job losses and increases budget deficit spending.
The assumption is that in the long run everyone is better off with free trade as 'stuff' becomes more affordable and workers find new skills and better jobs in the inexorable process of 'creative destruction'.
But what if it doesn't, particularly when the trade and exchange rate systems are manipulated to benefit some countries more than others.
What if it just means wages are just pushed down globally, profits for multi-nationals (along with the pay for execs and dividends for shareholders) are increased and the only way to find a job is to migrate to China?
The truth is we are no longer living in "one nation under God"; we are living in one world under God. Globalization is working — the world overall is getting richer. But a lot of the costs of that transition are being borne by specific groups of workers in the developed West.

We are accustomed to thinking of the left as having an internationalist perspective. Liberals are the sort of people who worry about poverty in Africa or the education of girls in India. The irony today is that the real internationalists are no longer the bleeding-heart liberals, they are the cutthroat titans of capital.
This video with Joseph Stiglitz is worth watching:
2. The strange case of Bo Xilai's police chief  and his 'Vacation style treatment' - We should all become Chinese political analysts now.
China is so much more important to New Zealand's future than America's, yet we are regularly seeing all the burps and farts of the Republican presidential candidate race and virtually none of the intrigues around the handover of power to a new generation of leaders in China later this year.
This story out of China in the last couple of days about one of the most high profile 'princelings' (child of a Mao-era leader) is a cracker.
Bo Xilai is seen as a populist contender for the Chinese leadership. He led a crime crackdown in the huge south western city of Chongqing. Now his right hand man, Deputy Mayor and police boss Wang Lijun, has been demoted and put on 'vacation style treatment' due to 'stress and overwork.' There was even some talk Wang may even have approached the US Embassy in nearbuy Chengdu in an attempt to defect. That would have been politically explosive, although it's not clear he actually did or the Americans entertained the idea.
Where can I get some of this 'vacation style treatment'? Sounds like fun... ;)
The end result is that Bo Xilai seems to have fallen out with the powers-that-be and suggests the leadership transition later this year may not be as smooth as some people think.
I guarantee you this story will not be on the front page of the New Zealand Herald (it made it near the back of the World pages)...yet I bet it's what most of Auckland's Chinese population are talking about and anyone with an eye on China's political transition.
Here's the BusinessWeek version:
Wang, 52, headed Chongqing's police force from 2009 until last week, overseeing a crackdown on gangs that raised the profile of his patron Bo Xilai, Chongqing's Communist Party secretary. Wang's loss of his police portfolio and subsequent leave indicate that China's leaders have spurned Bo and his development model, which focused on increased state-led social spending, political analyst Li Cheng said in an e-mail.

"The Chongqing model is over," Li, a senior fellow at the Washington-based Brookings Institution, said in reference to Bo's strategy, which also included a resurgence of songs and sayings lionizing socialism and Chairman Mao Zedong. "It means a landscape change in Chinese elite politics."

On Feb. 2, the Chongqing government said Wang had been relieved of his police duties and put in charge of areas including sanitation, athletics and education. Yesterday, after Wang met with U.S. officials, the Chongqing government said in a statement that he was suffering from "immense mental stress and serious physical discomfort," and had been put on "vacation- style treatment."

Chinese state media have so far kept quiet about Wang's meeting at the U.S. consulate. Posts about Wang and discussions of Bo's political future were widely available on Sina Corp.'s Weibo microblogging service.
3. And who says the Chinese can't do political satire inside China - Here's the WSJ's excellent Chinarealtime blog detailing the fun people are having with the phrase 'vacation style treatment' in blogs and forums in China.
Among the most notable figures to seize on the phrase was Li Zhuang, a lawyersentenced to 18 months in prison in 2010 after defending a Chongqing mob boss nabbed in an organized crime crackdown orchestrated by Mr. Wang. "I'm offering free legal advice for 'sick people' seeking vacation-style treatments," he wrote on his verified Weibo account.

Among those rolling with the vacation theme Wednesday afternoon was the automotive section of the Chengdu Business Daily newspaper, which asked Weibo users which car they would choose if forced to take treatment similar to Mr. Wang's. "I'd take a Lamborghini," responded one reader. "That way if you crash and die at least you die with face."
4. Purely personal - I'm a former Reuters journalist who also used to work at the Financial Times group building a dotcom (but not a Kim Dotcom...).
Here's Murdoch biographer Michael Wolff suggesting in The Guardian Reuters may be in talks to buy the FT from Pearson.
5. 'When prudence trumps desire' - The life stages theory of investing suggest that younger savers buy stocks because they perform better over the long term and savers near retirement invest in bonds because they are less volatile in the short run and generate regular interest payments to pay the bills.
The trouble is over the last 30 years (which is pretty long term in most people's maths) bonds have outperformed stocks globally.
That is partly due to the ageing of the populations of the developed world. As the baby boomers neared retirement in the last 15 years they sold stocks and bought bonds, so the research from the San Francisco Fed says,  which depressed the performance of stocks through the sheer weight of money.
Now Bloomberg reports on how 1.25 billion people in Asia are due to retire by 2050, adding a powerful new driver to the weight of money argument in favour of buying bonds, even though prices are at record highs and yields near record lows.
With Asia's elderly population poised to double within four decades, more money is being plowed into preserving wealth than enhancing growth, driving up demand for the region's bonds that are beating returns on stocks.

The number of Asians 60 or older will exceed 1.25 billion, or 24 percent of the population in 2050 from 10 percent in 2011, according to data compiled by the United Nations. That helps explain the surge in pension fund assets and shows why the region's emerging-market debt returned 63 percent in the five years through 2011, according to a JPMorgan Chase & Co. index. The MSCI Asia-Pacific Index of shares excluding Japan gained 17 percent in that period.

Investors over 50 prefer bonds' fixed payments, as "prudence trumps desire," Singapore-based Volatility Research & Trading Ltd. wrote in a Jan. 15 report. In South Korea, there are now 1.2 people aged over 50 for every person between 35 and 49, the part of the population that favors stocks, the company said. The ratio will climb to 3.6 by 2046.

Taiwan will have 413 people aged over 65 for every 100 under 15 by 2050, compared with Japan's 339, according to the Council for Economic Planning and Development in Taipei. About 38 percent of Singapore's population will be older than 60 by 2050, up from 12 percent in 2005, UN data show. After expanding 2.5 percent a year for the past three decades, China's working- age population has stopped growing and will contract 1 percent a year by the mid-2020s, according to the Center for Strategic and International Studies in Washington.
6. This is fun - Business Insider reports Apple is now worth more than Google and Microsoft combined.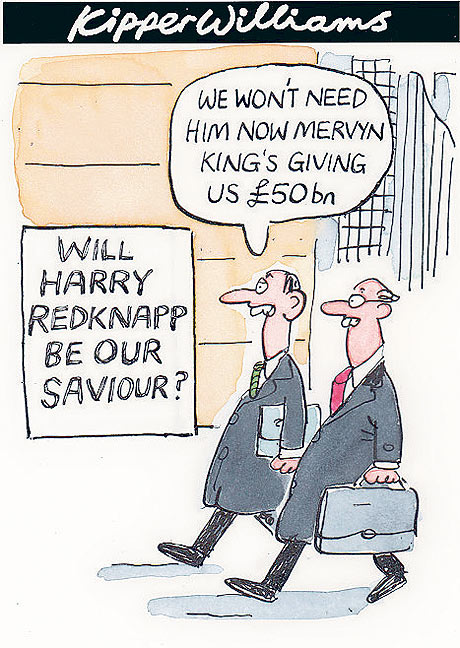 7. Print baby print - The European Central Bank overnight loosened its rules for collateral that banks have to provide when borrowing unlimited amounts of three year loans from the ECB at around 1%. And of course, the Bank of England printed another 50 billion pounds (see cartoon above).
Here's FTAlphaville on the loosening.
8. Strip the lot of them - SG's uber-bear Albert Edwards wants to see a lot more financial titans stripped of their knighthoods in the wake of the Fred 'the shred' Goodwin being stripped of his knighthood for blowing up Royal Bank of Scotland so badly it had to be bailed out by British taxpayers.
FTAlphaville cites Edwards saying ex Federal Reserve Governor Alan Greespan (who got an honorary knighthood) and current Bank of England boss Sir Mervyn King should also lose their gongs for being mad money printers and rate cutters.
Many commentators who correctly foresaw the crisis, unlike Mr King, believe that in a balance sheet recession, monetary policy has limited effectiveness and fiscal policy should stay loose." Wind forward a year and, lo and behold, despite Mervyn King's promises, QE has not offset fiscal retracement and the UK finds itself back in recession. And as a direct consequence there has been minimal improvement in the fiscal situation…

If Fred Goodwin as CEO is held responsible for what happened to RBS, it goes without saying that Sir Alan Greenspan and Sir Mervyn King should also be held responsible. Alan Greenspan's responsibility as chairman of the Fed requires little discussion in my view. My views on Mervyn King may be more controversial, but he has been in senior positions at the bank since 1991 as Chief Economist, then Deputy Governor, and Governor since 2003. He has been at the helm and should, in my view, bear primary responsibility for the UKs economic collapse.
9. Totally irrelevant Rube Goldberg thing - There's a hamster, a cup of coffee and a newspaper. A bit of Friday fun.
10. Totally Clarke and Dawe - They're back again. Wes Wally's special subject is recent news.