Neville Bennett deconstructs a large, dense MED Report that forecasts our future energy requirements, and takes an economists look at what drives it. Your view?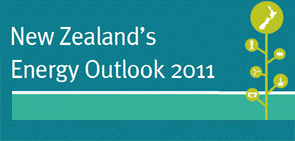 By Neville Bennett*
Energy is a vital ingredient to civilisation: it is the source of food, warmth and light that makes life possible, it drives our machines and is the base of our transport, vital for distribution and the locations of our homes, work and recreation.
Despite this The Ministry of Economic Development's recent Energy Outlook  - which forecasts energy supply, demand, prices and greenhouse gas emissions - has not excited much public discussion.
I think MED is too engineer-driven. Its report is written from the perspective of a 'supplier' rather than a 'consumer'.
I also think it is deficient in the use of several important economic principles which I advance later.
Do not get me wrong: I think the report is valuable, intelligent and a great start for debate which ought to be broad with thousands of people contributing.
Another caution: the report is large (and I have a word limit), so there is no way that my opening salvo can do full justice to the issue. I could, for example, comment in detail on quite small parts of the Report, such as assumptions of future growth rates and prices or its controversial Electricity Generation Cost Model.
The full Report is here » but another page links to 5 other and related reports.
First, some highlights, with my necessarily brief  comments ...
- New Zealand uses less energy to add a dollar to GDP than it has in the past.
'Energy Intensity" has declined by 21% since 1990 as GDP has risen 21% more than energy use. The report assumes that another 21% improvement will take place by 2030.
- Renewable energy will provide around 50% of primary energy supply by 2030.
The Report expects that wind power will only double its contribution by that time, while the Wind energy Association expects a higher amount as its unit costs fall because of increasing efficiency. I am favourably disposed to wind, but internationally some critics disparage it, and I hope to discuss this separately another time.
- Consumer energy demand growth rate slackens.
Energy demand grew by 1.4% p.a. 1990-2010 but it is expected to fall to 1% p.a. in future, largely because it is used more efficiently.
- Transport remains oil-dependent.
Electric cars and bio-fuels are minor players, contributing only 2% by 2030.
- Emissions stabilize, but are 40% higher than 1990
Bye-bye Kyoto!
- Electricity demand increases 25%+ by 2030.
This is questionable if prices keep rising at the present rate, high prices will force people to economise e.g. reduce space-heating. It is also possible that domestic demand is lowered by a rigorous insulation policy and higher building standards on new homes (insulation, double glazing etc) There is much scope here.
- Electricity investment is dominated by wind and geothermal.
- Wholesale electricity prices increase by about 1% more than inflation to cover cost of investment in new generation.
This may seem reasonable to suppliers, indeed shareholders might want even higher prices to justify the use of capital. Profits are justified by the use of capital and risk (weather, disaster, regulatory etc) but this is open to objection based on the fact that a provider has a different view from a consumer. Consumers are exasperated by the long term cost of electricity exceeding the rate of inflation. There is an imperfect market of a few providers who can gouge their customers. Customers cannot walk away as demand for energy is very inelastic and there are no viable substitutes on a large scale.
- High Oil Prices encourage exploration and development.
High probability of increased gas supply by 2030.
- High oil prices encouraged more fuel efficient cars and use of electric cars and biofuels.
- High NZ$ allows cheaper imports and this keeps wholesale prices down (very marginally).
MED uses imported wind turbines as an example, some may object that NZ made gear should be investigated.

Now, here are some principles to consider:
1. International Comparisons
New Zealand needs to be competitive internationally.
2. Renewables
Everyone agrees that the fossil fuels are finite. Some feel that we are in Peak Oil now. This could also be link to Professor Meadows' perception in The Limits to Growth (1972) that if we keep using resources at an increasing rate we will hit the limits of growth as resources of arable land, fish, oil, and metals become extremely scarce. Meadows advocated trying to use fewer resources, but MED's philosophy remains growth fixated.
3. Inter-Temporal
MED wants to use resources in the present time. That's OK, except that if oil is to run out, we have to decide how it is used through time? This is a matter of choice which is never discussed in NZ literature. Should we use available oil as fast as possible? That's the government view; they want to find oil and sell it, fast. It is not the view of OPEC which has brilliant economists who think that as oil prices are rising they should leave oil in the ground to appreciate in value.
Should we delay oil use? One line of thought to be explored is inter-generational justice. Is it fair for us to use all the oil in the next decade or so and leaving very little for our grandchildren? Will we be forcing them to drill Antarctica? And if we cut down on oil now we would reduce CO emissions, should we not do that? I am inclined to take climate change seriously but wonder if MED are committed.
4. Externalities
The MED continuous-growth scenario may eventually push NZ towards adopting nuclear power generation. If this occurs, then there are dangers of disaster which affects people in perpetuity: think Chernobyl and Fukushima.
Similarly, drilling for oil, particularly in deep water is fraught with risk. Tankers have sunk and drilling sites have leaked with massive pollution. There needs to be tight regulation.
5. Equity
Exploration and exploitation of fossil fuels leaves desolate site and little reward for the country. NZ apparently earned only about $1 million for DOC concessions last year. Not the road to wealth! The Australians are hoping to impose a mining tax that increases the equity element and I may turn to that topic at another time.
6. Think laterally
We would need less generation if we got out of the Tiwai Point contract, and used the power it consumed nationally. It has never been a good deal for taxpayers.
--------------------------------
* Neville Bennett was a long-time Senior Lecturer in History at the University of Canterbury, where he taught since 1971. His focus is economic history and markets. He is also a columnist for the NBR.
nevillebennett@clear.net.nz
www.bennetteconomics.com