Here's my Top 10 links from around the Internet at 1 pm in association with NZ Mint.
I welcome your additions in the comments below or via email to bernard.hickey@interest.co.nz.
I'll pop the extras into the comment stream. See all previous Top 10s here.
My must watch today is Mitt Romney serenading some billionaires at #10.
1. Among the 'best' in the world - A Deutsche Bank report on global house price valuations reckons New Zealand's house prices are 44% over-valued, which makes us more over-valued than Australia, Spain and Britain.
The survey, reported in BusinessInsider, says that only Norway (48%), Canada (54%) and Belgium (56%) are more overvalued than New Zealand.
But, as our property bulls will tell us, it's different here.
Councils won't allow new houses to be built.
Migration is keeping demand high.
Interest rates will stay low forever.
Governments will never tax landowners more.
No worries then.
Here's the thinking behind the report, which says Greece's houses are fairly valued and Japan's houses are 37% undervalued.
Torsten Slok, chief international economist at Deutsche Bank Securities, has a new report examining global home prices.

Specifically, he looks at the relative valuation of housing markets as measured by price/rent and price/income and compares those ratios to historical long-run averages.

Slok argues that home prices in many countries in the developed world are still overvalued. Across the Euro area, home prices are still overvalued by 14 percent.
2. Still expensive - Sydney and Melbourne are among the world's most expensive cities to live in, according to the Economist Intelligence Unit's survey this year of the Worldwide cost of living. It looks at the cost of white bread in US$ terms, then and now.
Here's the table. NZ is not included: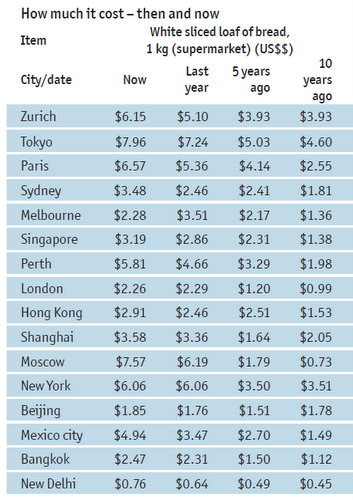 3. What a debt death spiral looks like - Greece is the model right now, says David Blanchflower, a former member of the Bank of England's monetary policy setting committee, in this Guardian piece.
For all the deals being signed in Athens and Brussels, the Greek people have worked out that they have no hope; protest and social unrest now looks a rational option to the ordinary people who are bearing the cost to bail out European banks. Cuts in the minimum wage right now are probably not very smart politics.

Greece does still have a card to play – which is "one down, all down". An exit from the euro would result in a depreciated drachma, which would potentially give a much needed boost to tourism. And that sounds better than all other alternatives currently on offer. There is still time for Germany's Angela Merkel to get out her cheque book; but otherwise, it's all over – and quite possibly very quickly.

This really is what a death spiral looks like.
4. Oh the irony - Geek.com reports the Chinese government is seizing iPads because Apple has been deemed by a Chinese court to have breached copyright (!) because a Chinese company has claimed ownership of the name 'iPad'.
The problems started last year when Proview Technology claimed ownership of the trademark for the name iPad in China. Proview took Apple to court and has now apparently won the case, deeming all iPads illegal in China effectively.

The knock on effect of that is the Chinese Administrators of Industry and Commerce (AIC) department is now actively seizing the tablets. Stores are being visited by AIC representatives and any iPad stock is confiscated. This has led to stock being hidden from view and sales continuing, albeit it on the hush.

Apple is expected to appeal the decision of the court, though. The problem being, this is a U.S. company against a Chinese company in a Chinese court, so the odds aren't great Apple can win.
5. All about the carry trade - Bloomberg points out the New Zealand and Australian dollars are headed for the heavens while we run higher interest rates than the money printers in Europe and America. Yet we do nothing.
"There's less nervousness in the market in general," Jose Wynne, the head of North America foreign-exchange research at the investment banking unit of Barclays Plc, said in a Feb. 7 telephone interview. "Now that the central banks are pumping on one side of the system, you have people jumping on carry trades everywhere."

The currencies of New Zealand, Mexico, Brazil, Indonesia and South Africa are poised to rally this year against the greenback, euro, pound and yen, Wynne said. All those countries have benchmark interest rates between 2.5 percent and 10.5 percent, higher than rates of zero to 1 percent in the U.S., Europe, Japan and the U.K.
6. We're an easy touch - India has more than US$500 billion stashed in tax havens, including in New Zealand, says India's top cop in The Times of India.
This is another way of looking at the carry trade. Borrow/steal/extort at near 0% and then buy hard Kiwi/Aussie assets at 4% plus...
Easy money...way too easy.
"It is estimated that around 500 billion dollars of illegal money belonging to Indians is deposited in tax havens abroad. Largest depositors in Swiss Banks are also reported to be Indians," CBI director A P Singh said speaking at the inauguration of first interpol global programme on anti-corruption and asset recovery.

"53 per cent of the countries said to be least corrupt by the Transparency International Index are offshore tax havens, where most of the corrupt money goes. The tax havens include New Zealand which is ranked as the least corrupt country, Singapore ranked number five and Switzerland number seven," Singh said.
7. Why the clean tech boom went bust - Here's a useful Wired article
Big Oil's government subsidies are bigger than clean tech's subsidies, and they're fighting to keep them.
Despite the fact that renewable energy received only a quarter of the subsidies that fossil-fuel-based electricity received between 2002 and 2007, it's wind and solar that are on the chopping block.

Even solar's biggest allies on Capitol Hill—people like Edward J. Markey, a top Democrat on the House Energy and Commerce Committee—fear the industry's oil and gas foes may have gotten the upper hand now that the clean-tech bubble has burst. "We are not Panglossian about what lies ahead," Markey says. "The fossil fuel industry and its allies in Congress clearly see the solar and wind industries as a threat and will try to kill these industries as they have for the preceding two generations. They want this to be a five-year aberrational period."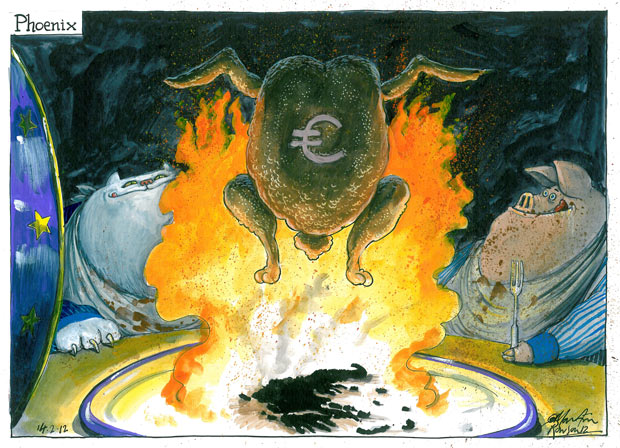 8. Who pays for the writedowns? - This will be the central theme of our age. Who is going to pay when debt is inevitably restructured and written down because the borrowers can no longer afford to pay the interest or repay the loan.
This month's 'robo-signer' settlement in America was one tiny part of that rolling global restructuring process that could take decades.
The debate is over whether bank depositors pay for it (by receiving interest rates less than inflation), whether bank shareholders pay for it (with writeoffs on their equity), whether governments and taxpayers pay for it (by rescuing banks and bond holders), whether bond holders pay for it (with debt restructurings and haircuts) or a combination of all of these.
Here's the world's biggest bond fund PIMCO grumbling over mutual funds and bond funds having to pick up the bill, rather than banks. We'll see a lot more of these disputes in years to come.
In what the U.S. called the largest federal-state civil settlement in the nation's history, five banks including Bank of America Corp. and JPMorgan Chase & Co. yesterday committed $20 billion in various forms of mortgage relief plus payments of $5 billion to state and federal governments.

"This was a relatively cheap resolution for the banks," said Simon, the mortgage head at Pimco, which runs the world's largest bond fund. "A lot of the principal reductions would have happened on their loans anyway, and they're using other people's money to pay for a ton of this. Pension funds, 401(k)s and mutual funds are going to pick up a lot of the load."
9. Moody's cuts again - Reuters reports the ratings agency has cut the ratings outlooks for Britain, France and Austria.
10. Totally relevant explanation from Stephen Colbert of how Super PACs work in America's electoral system. If you believe America has a democracy you need to watch this.
"22 billionaires decide who our leaders will be."
Mitt Romney serenades them in the best piece of political satire I have seen in quite some time.