Wednesday's Top 10 with NZ Mint: ECB set to turn off easy money tap; Good euros and bad euros; Petricevic didn't read prospectus; Uninsured in Christchurch; Dilbert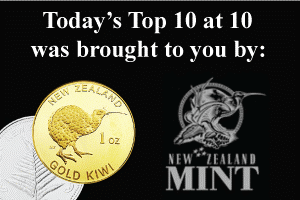 Here's my Top 10 links from around the Internet at 3.40 pm in association with NZ Mint.
I welcome your additions in the comments below or via email tobernard.hickey@interest.co.nz.
I'll pop the extras into the comment stream. See all previous Top 10s here.
#9 is my must read today from David Hayward on the problems with insurance in Christchurch. Sobering on a tough day. Our best wishes are with everyone in Christchurch.
1. ECB to turn off tap - The European Central Bank's move before Christmas to lend 489 billion euros to banks for three years at 1% helped calm Europe's freaked financial markets.
Another big motherlode is expected to drop from the fingers of the ECB in the accounts of European banks on February 29.
But, as Reuters reports, this free swinging door to the larder may be about to close.
And what happens then?
Will the zombie banks die? Or wake up?
Or look for someone else to bite...
Powerful members of the central bank's 23-man governing council are privately hoping demand at the February 29 auction will fall well short of the 1 trillion euros some expect, backing their view that it should be the last.

Central bank sources say they are worried that banks will become too reliant on ECB funds, removing the incentive to restart lending between themselves.

This may come as something of a shock to some banks and officials. One senior EU official said he had expected the ECB would offer banks a third round of long-term funding.

"We expected a third," he said. "They (ECB) have always said they will keep an eye on how the market is evolving. My guess is that they are hedging their bets."
2. The end of history again - Francis Fukuyama, the author of The End of History, has changed his views on things like globalisation and the primacy of unfettered capitalism.
Here's an interview he gave to Der Spiegel:
SPIEGEL: Even if members of the middle class held on to their jobs, they saw their income stagnate or even decline, while a few of globalization's winners at the top reaped outsize rewards. The level of income inequality in advanced nations is greater than ever before. What effect does that have on our societies?

Fukuyama: It is not good for democracy. If income is relatively evenly distributed and there are not very sharp differences between rich and poor, you have a greater sense of community. You have a greater sense of trust. You do not have parts of the community that have superior access to the political system that they can use to advance their own interests ...

SPIEGEL: … all of which undermines the democratic process.

Fukuyama: What you are going to see in a democracy with a weaker middle class is much more populism, more internal conflict, an inability to resolve distributional issues in an orderly way. In the United States right now, you do have this return of populism. It should be on the left, but actually most of it is on the right. If you talk to Tea Party members about their feelings regarding the government, they are very passionate. They hate the government. They think they have been betrayed by elites.
3. 'The idea that this is over is an illusion' - Kenneth Rogoff makes this good point about the Greek deal via Dealbook.
"I don't want to be a Cassandra, but the idea that it's over is an illusion," said Kenneth S. Rogoff, a professor of economics at Harvard University and co-author of "This Time Is Different: Eight Centuries of Financial Folly." "I am amazed by the short-term psychology in the market. I don't think we're anywhere near the endgame," he said.

"Italy is essentially in a sovereign debt trap," said Richard Batty, global investment strategist at Standard Life Investments.


For Italy's debt to be sustainable, the country's economy either needs to grow at a nominal rate of 5 percent a year, or the interest rate on its 10-year bond needs to be at 3.6 percent, Mr. Batty estimates. During Europe's most recent boom period, from 2002 to 2007, Italy's nominal G.D.P. grew at an average rate of 3.6 percent, Mr. Batty said. Meanwhile, its 10-year bond, even after a big rally this year, has a yield of 5.43 percent.
4. S&P may fight to the death - Michael West reports at SMH.com.au that Standard and Poor's may choose to fight to the death accusations from local councils in Australian court about its AAA ratings of toxic debt. The banks responded (lamely) here.
5. Challenging the Aussie banks - Societe Generale analyst Christian Carillo unleashed on the big four Australian banks yesterday with a research note saying they couldn't justify their 'out-of-cycle' rate hikes because it was almost mathematically impossible for their funding costs to be rising, given they funded most of their lending locally.
"The claim that the recent increase in mortgage rates is due to higher funding costs is very dubious," he said in a research note. "The mortgage hikes seem aimed at protecting their high profit margins."

"Australian banks are essentially an oligopoly," said Mr Carrillo. "They control most of the market anyway. They can effectively set rates where they want to."

"You have four big banks. They want to protect their profit margin. They can do it, so they do it."
6. 'I didn't read the prospectus' - Bridgecorp's diminuitive supremo Rod Petricevic told the court, the NZ Herald reported.
The 62-year-old told the court yesterday he did not read Bridgecorp's 2006 prospectus in full, despite signing it.

"I read the markups. I didn't read the full prospectus," Petricevic said. "You signed off this important document without reading it in its entirety?" Mr Cathcart asked.

"Absolutely," the former director replied.
I make no comment, other than to say he may have a lot in common with many of the 'financial advisers' and (sadly) many investors who put their money with Bridgecorp.
7. Check your euros - The Telegraph reports there are different types of euros and the Germans have worked out which ones are their's and which ones they want to trust.
All euros are backed by the European Central Bank but the serial numbers prefixed with X may be regarded as most secure because they are issued by Germany. N is also a good prefix, because these come from Austria. P, L, U and Z prefixes may also be favoured because these are issued by the authorities in Holland, Finland, France and Belgium.

If you share widespread fears that the euro cannot last in its present form, you might want to avoid notes with the prefixes F, G, M, S, T or Y. These are issued by Malta, Cyprus, Portugal, Italy, Ireland and Greece.
8. Robosigning and the erosion of democracy - Yale Management Professor Bruce Judson writes at his blog that the robosigning settlement between the US banks and the US government shows how corrupt American society has become.
One of the central characteristics of highly unequal societies is that two sets of laws develop: One set for the rich and powerful and one set for everyone else. The more unequal societies become, the more easily they accept the unacceptable, and with each unrebuked violation, the powerful actors at the top of the society gain an ever greater sense of entitlement and an ever greater sense that the laws that govern everyone else don't apply to them. As a result, their behavior becomes increasingly egregious.

In contrast, sustainable capitalism requires that all participants in a contract or bargain believe their interests will be enforced equally by the courts: Capitalism requires that Lady Justice wear a blindfold. When powerful players are permitted to alter established rules at will, capitalism ultimately collapses. Contracts and the idea of a fair bargain become meaningless as less powerful parties to an agreement know their rights will not be enforced. Over time, citizens lose faith in government and their own ability to thrive in what becomes a corrupt economy. This uncertainty leads the small businesses, which are so often cited as important to our economy, to shy away from new activities that might put them at the risk of unequal treatment.

I would suggest that the robo-mortgage scandal is a strong indicator that this type of unequal justice is now becoming ever more commonplace in America. Past bank abuses are typically discussed without a sense of outrage. They have, in effect, become a recognized practice of deception with no consequences.
9. One for Christchurch - David Haywood, who wrote an excellent Reserve Bank annual report, lives in Christchurch and has been documenting the daily dramas of dealing with insurance, rebuilding and staving off his own family's financial crisis.
It makes for compelling reading. Go well David.
Here's his latest via publicaddress:
How can you expect the recovery of a city when one of the conditions imposed by the insurance companies for rebuilding is that insurance will be cancelled – thus instantly placing the owners of the homes or buildings in breach of their mortgage conditions?

How can you expect people to move to Christchurch when they can't get insurance for rental accommodation? Not just the denial of earthquake insurance, but also the denial of fire and theft cover. Who would come to Christchurch under such conditions? I wouldn't.

And who has any faith in house repairs that are only supervised by proper builders, i.e. the actual work is carried out by unqualified cowboys. My friends in the building trade are horrified by some of the things they're seeing. "It's a bloody shambles out there," one of them told me. "It'll end up ten times worse than the leaky homes fiasco. We'll be paying for these bloody repairs twice: once now, and in another five years when the cowboy repairs fall to pieces and have to be fixed all over again."
10. Here's Jon Stewart on the dark side of American politics