Default would bring great misery to Greece says Neville Bennett, but adhering to the bailout conditions may bring even greater misery. Your view?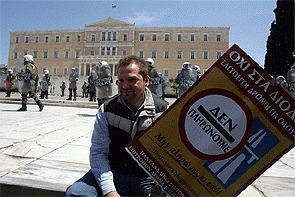 By Neville Bennett*
There is nothing more certain than a Greek default.
Its creditors are imposing too high-a-price.
They dole out enough to keep a government just alive but take back the bulk of their advances to pay off bond-holders.
The idea that Greece is being bailed out is rhetoric, the reality is that the bond-holders are being bailed out.
The Greek technocrats that have been brought in to manage the crisis will try desperately hard to meet the terms that Europe and the IMF impose, but despite unheard-of sacrifices Greece will nominally still owe the equivalent of 120% of its GDP in debt in 2020 - even if the bailout goes to plan, which it will not because the creditors economists live in a cloud-cuckoo land which imagines that private enterprise will raise activity in the economy as the public sector shrinks.
Cameron in the UK got similar advice: cut the size of the public sector and the private sector will expand because it is being crowded-out by government spending now. It was stupid advice.
The private sector has not expanded to take up the slack, so the UK is in recession. Its current recession is now longer than the horrible depression of the 1930's.
I have little doubt that should the technocrats retain power that Greece's debt will be greater than 120% of GDP in 2020. I think GDP will be lower than expected, but the debt will be constant at best, but more probably larger because administrators will have to borrow more to keep Greece on life support.
As GDP shrinks, revenue falls too, so merely treading water requires some borrowing. If I am right Greece's debt may be closer to 150% of GDP in 2020. That is close to its present estimated 160% debt to GDP.
So Greece is going to go through hell but there is no light in the tunnel.
Politicians, and notoriously Margaret Thatcher, liked to say "There is no other way ...". Does this mean Greece has no choice but to accept austerity?
Theoretically, it could repudiate its debts or default on servicing them.
This is not an easy solution, partly because Europe never envisaged anyone leaving the union and did not include exit clauses. If Greece defaulted today it would not be able to pay its civil service or pensions, and it could not borrow from anyone in the short-term. It might get emergency loans from the IMF but the terms might be prohibitive. There has not been time to reintroduce the drachma.
Default would bring great misery, but adhering to the IMF/Europe bailout conditions will also bring great misery.
I do not think foreigners should advise the Greeks on their options, but I think the misery of default might be slightly preferable, as countries like Argentina which have been relatively recently been down that road have recovered prosperity. Iceland seemed to reach the nadir in 2008 but is now in recovery, and getting favourable credit-ratings.
I imagine that the political leaders of Greece are in touch with the bureaucratic, financial and business elites who might tend to share the same cultures as their European counterparts, and in their view a default would be unthinkable. It will take time for them to count the costs of austerity as the elite are not in the army of unemployed. Their "weltanshauung" is perhaps sympathetic to the ideal that austerity is necessary to pay for past excesses.
The Greek elite might therefore understand the philosophy of demanding wage cuts, cutting the civil service, cutting pensions and selling anything possible.
The IMF has always been big on "conditionality' and it tends to apply a right-wing libertarian philosophy on its clients.
It demands privatisation, the sale of state assets (it wants to sell 50% of the Greek coastline), it demands the end of subsidies, high real interest rates, and a free labour market.
It detests unions and minimum wages. It likes low rates of income tax, has never been enthusiastic about dividends or capital gains taxes, but invariably presses an increase in regressive consumption taxes (GST, VAT etc).
The creditors have demanded the lowering of tax thresholds and an increase in VAT.
30,000 state workers are to be dismissed and most pensions cut by 20%.
The IMF/German agenda naturally involves an attempt to turn the Greek economy into an export economy, and the primitive instrument used is to ban wage bargaining, eliminate the minimum wage, and ban the customary annual wage bonus. The annual bonus is part of Greek life, as it is in Japanese workers or New York's finance sector, and its loss is a ferocious attack on custom.
Germany is cutting up really rough. This "rescuer" does not trust the Greek government; it demands that the bailout tranche should go into a special account "for use only for international bond-holders ... available to the Greek Government only under advisement". The Germans also want to bind Greece to any agreement; they will not be allowed to change their mind after the April elections.
The Greek economy is in a death spiral. The unemployed rate was 21% in November (latest data) with youth unemployment at 48%. In the period Nov 2010-Nov 2011 jobs fell by 9.4%. Production was down 11 % and manufacturing production a huge 15.5%. Consumer confidence precludes extra spending in the foreseeable future. The IMF has sacrificed the Greek economy on an alta of orthodoxy.
If I examine my conscience, I think I would admit that Greece has to some extent had it coming and if I was in power, would be taking a fairly tough line. Greek prices are inflated, there is massive tax evasion, starting a business is difficult. But the Greek person in the street has little responsibility for the state's excesses. But they will be expected to bear the brunt of the readjustments.
I doubt that any elected regime will be able to maintain this level of austerity. The centre parties will disappear, leaving a terrible conflict between extreme left and right.
Greece has had civil war before, and (I fear) will fall again under the thrall of a right-wing strong man who will deliver wage destruction.
I must state a bias. Many years ago as an economics student I won a boat trip to Athens. I had little money but a well-worn copy of Thusydides's History of the Peloponnesian War  (still my recommended read) and hitched around Greece. There were few tourists then and the Greek people were as hospitable as they were to allied personnel evading Germans. They were amazingly generous. My bias is simple: Greeks are a great people who deserve a better hand than they have been dealt.
--------------------------------
* Neville Bennett was a long-time Senior Lecturer in History at the University of Canterbury, where he taught since 1971. His focus is economic history and markets. He is also a columnist for the NBR.
nevillebennett@clear.net.nz
www.bennetteconomics.com