Friday's Top 10 with NZ Mint: The art and craft movement; Germany's race to the bottom; Canada's obscenely overpriced housing market; 'That little pr**k Quade Cooper'; Clarke and Dawe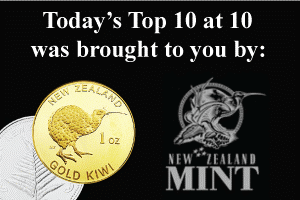 Here's my Top 10 links from around the Internet at 12.30 pm in association with NZ Mint.
I welcome your additions in the comments below or via email tobernard.hickey@interest.co.nz.
I'll pop the extras into the comment stream. See all previous Top 10s here.
Both #6 and #6 are worth watching and reading today. I was feeling generous so I put in an extra #6.
1. Art and craft - Adam Davidson writes at The New York Times about the amazing rise of craft manufacturing and the artisan food movement.
It seems like a natural reaction to the globalisation of supply chains and the increasing distance between a product or service's maker and its consumer.
It's also an interesting shift in the way people work.
Some are dumping corporate life for lower wages, but more happiness, in doing something they love.
This is an interesting trend piece from Davidson, who is the co founder of the brilliant Planet Money programme on NPR.
It's tempting to look at craft businesses as simply a rejection of modern industrial capitalism. But the craft approach is actually something new — a happy refinement of the excesses of our industrial era plus a return to the vision laid out by capitalism's godfather, Adam Smith. One of his central insights in "The Wealth of Nations" is the importance of specialization. When everyone does everything — sews their own clothes, harvests their own crops, bakes their own bread — each act becomes inefficient, because generalists are rarely as quick or able as specialists.

Huge numbers of middle-class people are now able to make a living specializing in something they enjoy, including creating niche products for other middle-class people who have enough money to indulge in buying things like high-end beef jerky.

Economically, this was an expected outcome. The hot field of happiness economics argues, rather persuasively, that once people reach some level of comfort, they are willing — even eager — to trade in potential earnings at a lucrative but uninspiring job for less (but comfortable) pay at more satisfying work. Some research by the Chicago economist Erik Hurst suggests that half of entrepreneurs start businesses as much to pursue happiness as to make money.
2. A race to the bottom - Marshall Auerback writes about how the Germans are benefiting from the problems in Southern Europe. The euro is lower than the Deutschmark would be and the Germans are exporting their socks off.
Yet so many New Zealanders think the currency markets are free and fair places where only the most noble win in the end...
Here's Auerback at alternet.org, who also points out the Germans have been suppressing wages to keep exporting their socks off for the last decade or so through the Hartz reforms:
Bill Mitchell and Ricardo Welters noted that while the reforms appeared to be successful in early 2003, with lots of jobs created, there was a downside: "From the bottom of the cycle, in mid-2003, employment grew much less quickly than in previous upturns. And much of the rise took the form of 'mini jobs' – part-time posts paying no more than €400 a month, regardless of hours."

The "reforms" actually decreased regular employment. Workers got stuck with so-called "mini/midi" jobs – a new form of low wage part-time employment. Such jobs were hailed as "flexible" and "efficient" by their champions, while detractors noted that they were part-time jobs characterized by heightened insecurity, lower wages, and poorer working conditions.

"Not all is rosy in the German labor market. Felix Hüfner, an O.E.C.D. senior economist in charge of the German desk, told me that he was worried about the fact that about two-thirds of younger German workers did not have permanent jobs. Instead, they have 'fixed-term contracts,' which make it easier for companies to let them go when the contracts end. Germany may, he said, be in danger of becoming a 'two-class society,' with most older workers in a protected group and most younger ones outside of it."
3. Germany vs the rest of Europe - The New York Times' Floyd Norris also looks at Germany's export-driven strategy.
The German labor system, with its incentives to move workers to part time rather than lay them off, does appear to have been critical in keeping the country's unemployment rate from rising more than it did during the credit crisis.

But the decline of unemployment since then has more to do with the fact that Germany — perhaps unintentionally but certainly effectively — has managed to assure that its currency is undervalued, both relative to that of its neighbors and to much of the rest of the world. That has helped the country's exporters and brought more business to the country.
4. Obama never had a chance - Noam Scheiber writes at The New Republic that in the first days of his presidency Barack Obama was never given a chance to do a really big FDR-style stimulus to get the US economy back on track.
It turns out a proposal for a stimulus package double the size of the one adopted was not included in a key memo first presented to the new President in his first days in office.
In this version of the memo, Romer calculated that it would take an eye-popping $1.7-to-$1.8 trillion to fill the entire hole in the economy—the "output gap," in economist-speak. "An ambitious goal would be to eliminate the output gap by 2011–Q1 [the first quarter of 2011], returning the economy to full employment by that date," she wrote. "To achieve that magnitude of effective stimulus using a feasible combination of spending, taxes and transfers to states and localities would require package costing about $1.8 trillion over two years." Alas, these words never made it into the memo the president saw.
5. China outsourcing to Bulgaria - Der Spiegel reports on China's Great Wall opening a car-making plant in Bulgaria, which is in the European Union.
Bulgaria, the EU's poorest country, is attractive as a labor market because it is an oasis of cheap wages and low taxes. Workers are considered well educated and the country is ideal as the site for a company like Great Wall to launch. Given that wages for factory workers have risen considerably in China in recent years, assembly sites abroad have become increasingly attractive for some manufacturers.

Just as the Japanese and Koreans did decades ago, Chinese automakers are hoping to gain strong positions in the longer term in the Western European and United States markets. The move, however, also reflects efforts by Bulgaria, which has suffered in the global financial crisis, to attract more foreign investment.
6. "Why It's Kicking Off Everywhere: The New Global Revolutions" - Paul Mason, the BBC Newsnight Economics editor, talks to Democracy Now about his book and what's happening on the ground in Greece.
His comments start at the 2 minute mark. He points out support for Communist parties is at 43% in Greece. He cites comments from poor people that a civil war is eventually possible.
6. When will China emerge from the global crisis - Here's Michael Pettis' latest missive on what's happening in China. He's always excellent, if long.
He talks about a growing debate within China about the move to free markets and wealth inequalities.
This is becoming a pretty contentious debate. Over the past several months, in fact, we have seen a noticeable surge in articles and reports like this one – often by very prominent academics and policy advisors – criticizing the power of special interests in China. Their main concern seems to be over the constraints these special interests impose on further Chinese development, with the entrenched interests that have benefitted over the last decade or two having become so powerful that they are making it increasingly difficult for China to adjust.

A lot of very smart people in China, in other words, seem to be worried that the country's governance structure and its development model are no longer able to accommodate the needs of the economy and that it is vitally important to confront the entrenched interest that make change difficult. This is sometimes presented in the foreign press as the debate between the "Chongqing" model versus the "Guangdong" model.
7. Those nutty Canadians - Leith van Onselen at Macrobusiness has done a detailed analysis of the Canadian housing market.
A few real estate spruikers in Australia want Australia to adopt a Canadian-style model for securitising mortgages with Fannie Mae type government guarantees. He's right to be sceptical about Australia's housing market needing more debt.
Canada's housing market looks obscenely over-valued. Mind you, check out where New Zealand is in the IMF unaffordability chart on house price to rent ratios below. We're third behind Canada, Norway (lots of oil money) and just ahead of Belgium (lots of EU pork) and Australia.
Only a year ago, the mainstream view in Canada was that the housing market was bullet-proof and that a US-style meltdown was highly improbable. Now sentiment appears to be changing following a slowing of sales, a build-up of inventory, and early signs of a price correction.

While it's impossible to know what the future holds for the Canadian housing market, it appears that the risks are now on the downside. With any luck, Canadian house prices will deflate gradually, minimising damage to households, the economy and taxpayers alike. Perhaps such is possible given Canada, like Australia if less so, has seen a big shift in its terms of trade owing to the rise of China. But there is also a risk that prices will burst violently, as they did in the US, potentially exposing Canadian taxpayers to billions of dollars of losses.

As we explained on Wednesday, Mark Bouris and Christopher Joye from Yellow Brick Road Wealth Management have been campaigning hard for the Australian Government to 'reform' Australia's banking system by implementing the CMHC (and Fannie Mae and Freddie Mac) system of guaranteeing pools of mortgages aggregated from all banks and non-bank lenders. Such a system is expected to end up costing US taxpayers between $120 billion and $190 billion, and from the above analysis, there are legitimate concerns that Canadian taxpayers could end up losing billions of dollar too from the CMHC.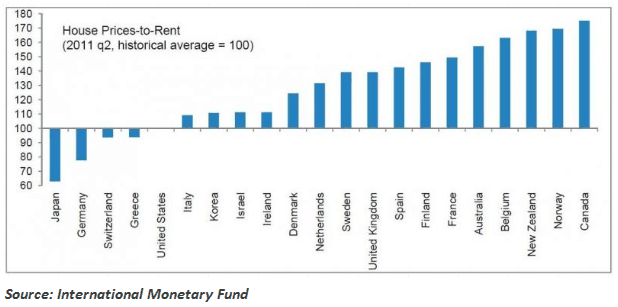 8. Here's some real Internet heroes - Syrian journalists using the Internet to get the story out.
9. Show me the whitebait - This piece from Hawkes Bay Today quoting a very relaxed Graham Henry talking about the World Cup is the most interesting I've seen from him after the World Cup. His description of Quade Cooper will live long in the memory.
Henry told 500 Magpies fans at last night's Hawke's Bay Rugby Football Union's fundraising dinner and auction at Napier's East Pier how he had to entice World Cup hero Stephen "Beaver"Donald off the "whitebaiting circuit" when his first five-eighth stocks took a pounding.

"I asked Beaver how much whitebait he had. When he replied 2kg I said son that's enough to get you in the All Blacks. That penalty goal of his is one of the quickest I've seen and although he was out of the line every time defensively he became a cult hero," Henry explained. "Who said rotation didn't work?" Henry asked before the crowd responded with a huge round of applause.

Last year the ABs played 12 tests in 14 weeks. He said it was easier to get the ABs up for the Wallabies in the semifinal than it was for the final against France because of the transtasman rivalry. "That little prick Cooper helped us," Henry said referring to Wallabies pivot Quade Cooper.
10. Totally Clarke and Dawe - "I don't think it's any secret that Greece has deep-seated problems...the fundamentals are confidence and astrology."
It's a brilliant satire on the fire-fighting economists and politicians in Europe.