Here's my Top 10 links from around the Internet at 1 pm in association with NZ Mint.
I welcome your additions in the comments below or via email tobernard.hickey@interest.co.nz.
I'll pop the extras into the comment stream. See all previous Top 10s here.
My must read today is #9 from an Australian Treasury economist on how both governments and central banks could print money to make the debt go away...
1. Pain without gain - Paul Krugman points at the New York Times to the punishing bond yields still being imposed on Ireland (see chart below), which has been promoted as an austerity success story.
His point is well made.
Why should any sovereign and its voters prostrate themselves at the feet of the bond market vigilantes when it doesn't actually reduce your borrowing costs?
Or, vice versa. Countries as America, France and New Zealand actually have lower interest rates now than before their credit ratings were cut.
It's true that Spain, Italy, Greece etc are seeing higher interest rates after failing to meet their deficit forecasts. But is that because their economies are contracting, which makes the debt harder to repay, or because they are offering a lot more debt?
At the moment there seems unlimited demand for 'safe haven' government debt as consumers and companies deleverage and pump their savings into bonds.
2. Trust your fund manager? - There's always a robust debate about whether fund managers can be trusted or relied on to get better returns than the market or assets such as property.
This piece from Felix Salmon from Reuters on venture capital returns is enlightening.
It suggests that venture capital funds have been taking pension funds (and therefore savers) for a ride. A really good read. HT @samfromwgtn via twitter. Which adds plenty of credibility to the link.
Here's Felix citing a report from endowment fund investor the Kauffman Foundation:
In reality, VC returns have been dismal for the past 15 years:

"During the twelve-year period from 1997 to 2009, there have been only five vintage years in which median VC funds generated IRRs that returned investor capital, let alone doubled it. It's notable that these poor returns have persisted through several market cycles: the Internet boom and bust, the recovery, and the financial crisis… In eight of the past twelve vintage years, the typical VC fund generated a negative IRR, and for the other four years, barely eked out a positive return."

I'm all in favor of investment strategies which display low-volatility returns, but only when those returns are actually positive; in reality, according to this report, the average VC fund returns less money to investors than they invested in the first place.

the VC industry, as a whole, is being incredibly successful at extracting rents from dumb institutional investors. These investors wouldn't dream of investing in a public company where there was no transparency as to basic questions like how much money the principals were being paid, but they happily invest in venture capital funds where the founders cream off so much of the income that younger top performers end up leaving the firm. And in general, VCs are incredibly good at playing fear off against greed: would-be investors really want massive VC returns, and they really don't want to be left out in the cold. Even Kauffman does that: "We have chosen to stand down on terms," they write, "when faced with an investment decision in a top-tier fund."
3. A stereotype broken - My mental image of real estate agents was probably formed a long time ago in Palmerston North. For some reason it was stuck in my head that they were often middle-aged men with moustaches -- former teachers and traffic cops and farmers.
Things have changed, and particularly in Auckland.
Barfoots released its list of its top 25 agents today. Nine of its top 10 agents were either women or Asian New Zealanders.
Only 6 of the top 25 were white, middle-aged men and there was only one moustache in the lot of them.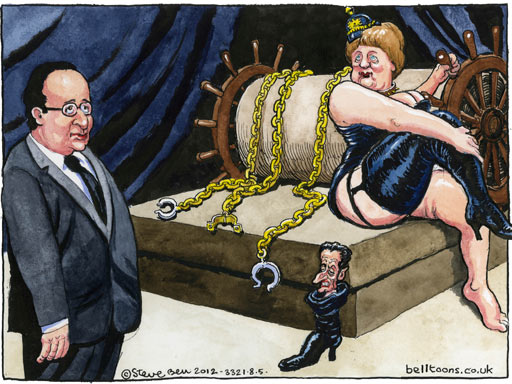 4. All that was missing was the stubby little moustache and the floppy hair - Here's the victory speech from the leader of Greece's Golden Dawn party yesterday.
Watch it and weep. He was surrounded by beefy men with black teeshirts emblazoned with a red and black symbol eerily resembling the swastika.
These friendly chaps demanded that journalists stood up when the dear leader entered the press conference room as a mark of their respect. And one of Golden Dawn's policies is to kick out all migrants and then lay a line of mines along the border to stop them coming back in...
5. The answer is to reform capitalism, rather than adopt socialism - Robert Reich, who was Bill Clinton's Labour Secretary, has written a useful piece at Huffington Post saying capitalism needs to be reformed so the productivity gains of the computer revolution are more evenly shared.
Most of the gains are going to the shareholders who own the companies, and to the relatively small number of very talented (or very lucky and well-connected) managers, engineers, designers, and legal or financial specialists on whom the companies depend for strategic decisions about what to produce and how. Increasingly, via stock options and bonuses, the owners and the "talent" are one and the same. While many other people indirectly own shares of stock through their pensions and 401-K plans, 90 percent of the value of all financial assets in the U.S. belongs to the richest 10 percent of the American population.

Meanwhile, a large number of low-paid service workers sell personalized comfort and attention -- something software can't do -- in the retail, restaurant, hotel, and hospital sectors (most U.S. job growth since 2009 has occurred here.) Others -- temps, contract workers, the under- and partially-employed, fill in where they can. A growing number are not working.

The problem is not that the productivity revolution has caused unemployment or under-employment. The problem is its fruits haven't been widely shared. Less work isn't a bad thing. Most people prefer leisure. A productivity revolution such as we are experiencing should enable people to spend less time at work and have more time to do whatever they'd rather do.

The problem comes in the distribution of the benefits of the productivity revolution. A large portion of the population no longer earns the money it needs to live nearly as well as the productivity revolution would otherwise allow. It can't afford the "leisure" its now experiencing involuntarily.

Not only is this a problem for them; it's also a problem for the overall economy. It means that a growing portion of the population lacks the purchasing power to keep the economy going. In the United States, consumers account for 70 percent of economic activity. If they as a whole cannot afford to buy all the goods and services the productivity revolution is generating, the economy becomes stymied. Growth is anemic; unemployment remains high.
6. A path to prosperity - Nobel prize winning economist Joe Stiglitz makes some good points in this video. He says the assets are still there in the economy. It's just the claims on those assets through various debt instruments need to be reshuffled. Debt jubilee anyone? Or maybe the nationalisation of the banks and or a good dose of Modern Monetary Theory?
7. A contrarian's predictions - Beijing-based academic economist Michael Pettis is a regular commentator and chronicaller of China's economy. Here he explains why he thinks China's average growth rate in this decade could drop to 3%.
Needless to say, that would be a problem for Australia and NZ. Worth a read.
Here's a sample via Nouriel Roubini's Economonitor:
Non-food commodity prices are set to collapse over the next three to four years.   "Collapse" is not too strong a word.  China's share of global demand for such commodities as iron, cement, copper, etc. is completely disproportionate to its size and almost wholly a function of its very high growth in investment.  As investment growth drops sharply, as it must, global demand for non-food commodities will plummet.
8. 'Fiscal discipline is for the long term' - International Economist Charles Wyplosz writes at VoxEu about mindless Eurozone austerity:
It is not just the election of François Hollande in France. Adopting contractionary fiscal policies in the teeth of a double-dip recession never made sense. And yet, public debts are high and markets in endemic panic.

The solution must be based on a comprehensive analysis of the situation, not on arcane debates on the strength of the "confidence factor". It ought to combine debt restructuring, front-loaded collective fiscal expansion and long-run unbreakable commitments to fiscal discipline.
9. Print, baby, print - Australian Treasury Economist Richard Wood writes at Economonitor about the options for Europe, including money printing. This seems the inexorable path down which the Europeans (and Americans) and eventually everyone else will tread. That's if the Germans will let them (the Europeans at least) and savers of the world don't unite and revolt over the stealth default via inflation rates being above interest rates.
Wood suggests both central banks and governments print money and then swap it...
Hey presto!
Financing budget deficits without raising levels of public debt cannot be achieved by simply requiring a central bank to print money.  To ensure the integrity of its balance sheet, the central bank needs to receive assets in the form of new bonds issued by the government to facilitate the transfer of the new money to the government.  As government bonds held by the central bank are counted as part of public debt, an alternative mechanism is needed to create the new money to finance the budget deficit.

The Ministry of Finance could create new currency and use this new money to finance the budget deficit.  This mechanism would result in two currencies circulating simultaneously.

An alternative strategy would have the central bank and the Ministry of Finance both printing new money simultaneously, and then exchanging it.  In that way, in the case of periphery countries, Euro issued by the ECB would be used to finance the deficit.  There would be no need for two currencies to circulate in the economy.
10. Totally Jon Stewart on Osama bin Writin - The Al Qaeda brand needed a spruce up...