John Shewan reflects on the contrasting styles of successive governments in addressing fiscal challenges over the 34 years he has been commenting on budgets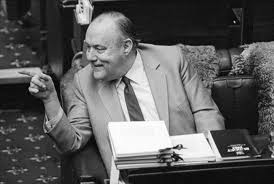 By John Shewan*

A helicopter view of key Budget policies introduced over the period 1978 to 2012 shows the sharply contrasting approaches successive Ministers of Finance and Governments have used to address the challenges New Zealand has faced over this period.
The key indicators set out below show how the economy has responded.
Sitting in the departure lounge of professional practice has provided me with a unique opportunity to reflect on past Budgets. Which policies have worked? Which have not?
My initial enthusiasm in the late 1970s for tax incentives and government subsidies such as Supplementary Minimum Prices to guide behaviour and steer the economy quickly dissipated.
A turning point was when a client proclaimed they could not believe their good fortune at receiving a $5 million subsidy for a new plant that they would have built anyway.
Reforms such as the 66% personal tax rate and the wage and price freeze coupled with government accounts plunging into the red demonstrated the need for fundamental change.
Lessons learned
I've drawn several key lessons from Budgets delivered over the past three and a half decades:
• Incentives matter
Whether at work or play, the average Kiwi behaves in an entirely logical way. As Sir Robert Muldoon discovered, when Governments introduce poorly designed incentives and subsidies, bad behaviour and high waste are inevitable.
• Focus on the big picture
The key things that matter most for economic performance are a stable and predictable macroeconomic environment, openness to trade and investment, effective labour and capital markets, relatively low taxes and regulatory burdens, and sound public finances. Policies designed to offset weaknesses in the basic framework, like export incentives and investment allowances, or a focus on one or two sectors are no substitute.
• Don't stop reforming
Policy needs to be adjusted to reflect changing circumstances. Radical reform programmes, such as those of the Douglas era, can be avoided if regular policy housekeeping is undertaken. We are not good at this.
• Don't take our eyes off the ball
A seemingly sound fiscal position can dissipate quickly as the past decade has shown. Maintaining competitiveness is crucial. Once lost, it's a long way back.
• The best time to tackle structural reforms is when the economy is strong
History shows that in New Zealand it takes a financial crisis to trigger major structural reforms. That's unfortunate.
• Politicians need to resist the temptation simply to be seen to do something about a problem rather than doing the right thing
As Economist Walter Williams recently wrote in relation to the US, "The track record of doing nothing is pretty good compared with doing something."
• Consultation improves policy
Proposals announced in the Budget and passed into law that night often result in bad legislation. Fortunately, there is much less of that now than in the 1970s. Consultative processes such as the generic tax policy process have improved policy making.
• Competitiveness of the export and import sectors is more important than inadequate savings in examining our balance of payments problem
• There is huge pressure on all governments to placate interest groups, to respond to focus groups and media campaigns
The standard of economic debate is often superficial. It is difficult for governments to withstand the tide. The private sector needs to play its part in engaging in debate and contributing to policy.
• Be sceptical of demands for a paradigm shift from government
These typically amount to requests for large government handouts to fund risky experiments where losses are socialised but profits revert to the promoters.
• The reforms (structural labour market reform, subsidy reduction and the significant opening up of the economy) of the 1980s and early 1990s imposed a lot of pain that Europe and some other parts of the OECD are going through right now. The pressures other countries are experiencing provide the opportunity for New Zealand to improve its relative ranking. In this year's Budget lock-up Finance Minister Bill English noted that New Zealand's growth outlook over the next four years exceeds that of most of the developed world.
The 'failed policies of the '90s' claim
It is commonly asserted that the economic policies adopted in the 1980s and early 1990s failed. Little or no evidence is usually offered in support of that claim. I have a vivid memory of 'old New Zealand' and I find it an astonishing view.
The evidence that the reforms of that era were successful is persuasive.
New Zealand's economic performance improved significantly following the reforms.
In the 16 years from 1991/1992, New Zealand enjoyed one of its longest uninterrupted economic expansions since World War II. Real GDP grew by over 70 percent at an average rate of 3.5 per cent a year. Real GDP per capita grew by an average of over 2 per cent a year.
Productivity grew more strongly in the ten years from 1991 than in either the decade Budget 2012 to 1991 or after 2001. Unemployment fell to levels not experienced in the 1980s.
Inflation, a perennial problem before the reforms, has been low and stable.
The Government's Budget surplus and debt positions were in much better shape following the reforms than they had been before them.
While it took some time for the benefits of the reforms to become apparent, it is unrealistic to have expected the economy to move rapidly into high gear from its parlous state in 1984. There were longstanding and deep-seated problems to be addressed.
Inflation had to be quelled. The Government's budget position needed to be put on a sound footing. Resources had to shift from inefficient industries to more productive activities. All this takes time and can have a depressing effect on economic activity in the near term.
It is true that the reform process was not 'textbook perfect'. Public policy rarely is. There are tradeoffs to be made by policy makers. Political considerations necessarily loom large in a democracy.
Despite that, New Zealand undertook one of the most comprehensive reform programmes ever undertaken and it did it very well.
Another argument might be that the recent economic difficulties show that the reforms failed.
On the contrary, I think they show what happens when old habits re-emerge.
The quality of economic policy making has fallen. The reform effort slowed to no more than a crawl after about 1993. The focus on growth was replaced by an emphasis on social policies following the 1999 election. A too lax approach was taken to Government spending, particularly from 2005, which pushed up the exchange rate.
The competitiveness of the export and import competing sectors was eroded, productivity growth slowed and economic growth suffered as a consequence. Developments such as these rather than the post-1984 reforms account for the current situation.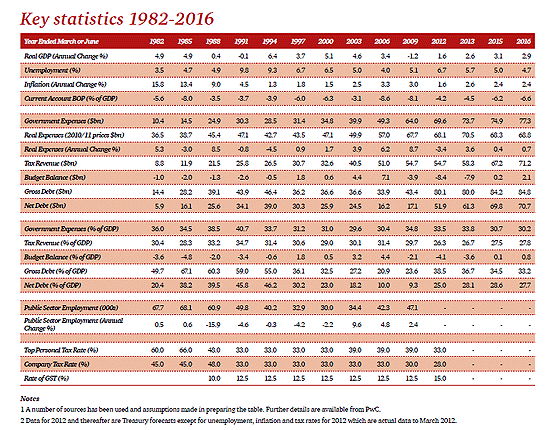 ----------------------------------------
John Shewan is the retiring chairman of the PwC in New Zealand. The full document is here » which includes "a gallop through the major reform budgets 1978-2012", a useful summary.