Here's my Top 10 links from around the Internet at 5 pm today in association with NZ Mint.
We welcome your additions in the comments below or via email to bernard.hickey@interest.co.nz.
See all previous Top 10s here.
My must watch today is #10. I haven't laughed so hard in days.
1. The LIBOR shock - Barclays' admission that it falsified its London Interbank Offer Rate (LIBOR) submissions to protect its reputation is stunning.
It has already been fined 290 million pounds and a criminal investigation has been launched. Its market value dropped 3.2 billion pounds overnight.
The implications are enormous given US$500 trillion worth of securities base their rates on LIBOR. There are also 12 other banks being investigated for rigging LIBOR.
Class action lawyers and investors around the world will be licking their lips at the prospect of huge compensation claims.
CEO Bob Diamond has pledged to give up his bonus for this year.
But investors and others are calling for his head.
Here's The Telegraph with the tone:
Politicians and investors joined the chorus of disapproval of the bank's admission that it attempted to manipulate the Libor borrowing rate for several years.

Investors last night were reported to be demanding a meeting with the bank's senior independent director, Sir Michael Rake. Martin Taylor, a former chief executive of the bank, described the findings against Barclays as showing a "policy of systematic dishonesty".

"It's hard to believe that a policy which seems so systematic was not known to people at or near the top of the bank," added Mr Taylor.
2. And there's another scandal brewing in British banking - Reuters reports the Financial Services Authority is expected to announce the discovery of another mis-selling scandal by banks who sold products to protect small businesses against rising interest rates.
With public, political and business outrage at bankers' behavior deepening, the industry is likely to draw compensation claims that could cost it billions of pounds, legal experts say.

A string of mis-selling cases has rocked the financial services industry for over two decades and banks are already likely to pay upwards of 9 billion pounds ($14 billion) in compensation for mis-selling loan insurance.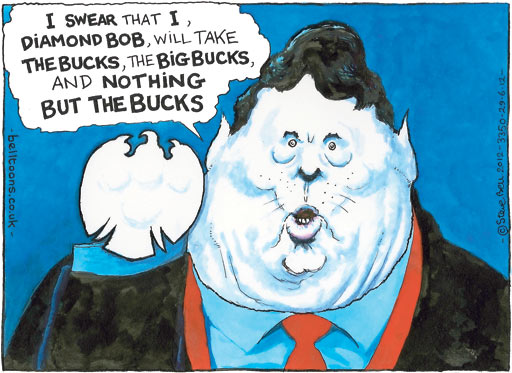 3. Not so Bright Dairy - WSJ reports Chinese milk company Bright Dairy, which owns 51% of the Synlait dairy plant in Canterbury, has been caught with milk tainted with detergent in China.
This is one reason why New Zealand milk powder is now in such hot demand. New Zealand and Fonterra blew the whistle on its SanLu JV partners in 2008, cementing in Chinese consumers' minds the idea that New Zealand cares about and produces safe food.
The latest incident comes just weeks after another top Chinese dairy company, Inner Mongolia Yili Industrial Group, recalled infant formula products containing mercury.

Both incidents pale in comparison to the 2008 scandal that led to the death of six babies and the poisoning of 300,000 people by milk products tainted with melamine, an industrial chemical. That led to the failure of major milk producer Shijiazhuang Sanlu Milk, a jail term for the Sanlu chief and two death sentences. China Mengniu Dairy, another industry heavyweight, also saw its reputation go sour.

China's failure to purify its tainted milk, despite the heavy penalties meted out in 2008, has helped ignite demand for milk powder across the border in Hong Kong, nurtured a new population of food safety activists and even briefly inspired a few entrepreneurial mothers to try their hand at selling human breast milk.
Here's Campbell Live with the latest story about baby formula shortages in New Zealand caused by Chinese families taking home tins and tins of the stuff.
4.  Merkel relents...a bit - Bloomberg reports the euro surged this afternoon after it emerged from the European summit that leaders had agreed not to give European government seniority over other creditors to Southern European governments, and after they agreed to inject money directly into Spanish banks from rescue funds.
We can only guess at the half life of this latest 'We are saved' rally.
After 12 hours of talks ending at 4:30 a.m. in Brussels today, leaders of the 17 euro countries dropped the requirement that governments get preferred creditor status on crisis loans toSpain's blighted banks, European Union President Herman Van Rompuy said. Banks can also be recapitalized directly by bailout funds rather than going through governments, he said.

Euro-area leaders also discussed ways to reduce the risk premiums on Italian and Spanish bonds, which have driven concern by economists, investors and Europe's global partners including the U.S. that the currency union risks coming apart.
5. 'Dude I owe you big time' - Reuters reports on the emails that exposed Barclays' LIBOR setting fraud.
Never, never say anything interesting in an email.
"Done ... for you big boy," read a message sent by a Barclays banker to one of the lender's traders, who had asked him to fix a key lending rate artificially low.

"Dude, I owe you big time! Come over one day after work and I'm opening a bottle of Bollinger," a trader from another firm emailed a banker at Barclays, showing his thanks for the rate set artificially low.

Requests came in such as: "We need a really low 3m fix, it could potentially cost a fortune. Would really appreciate any help."

And: "Your annoying colleague again ... Would love to get a high one month. Also if poss a low three month ... if poss ... thanks."

Traders made their requests in person, via email and through electronic "chats" over an instant messaging system.

On a few occasions, some traders even made entries in electronic calendars to remind themselves what requests to make of Barclays' Libor submitters the next day.
And this is the interesting bit suggesting there is much more to come out of this:
 In late 2007, Barclays told the UK Financial Services Authority and the British Bankers' Association, the trade body under whose auspices Libor is set, of its concerns that rivals were setting rates too low.

Months later, a senior Barclays treasury manager called the BBA and warned them that rates were not accurate, but that Barclays was not the worst offender.

"We're clean, but we're dirty clean, rather than clean-clean," he said.

"No-one's clean-clean," the BBA representative responded.
6. Not so popular - Reuters reports on the vitriol now being poured on German Chancellor Angela 'Nein!' Merkel over her unwillingness to bail out the rest of Europe.
Demonized in Europe's media as a red-eyed Terminator robot, a flabby centerfold pinup and a fleshy Roman god eating Greeks, German Chancellor Angela Merkel has become the subject of a new wave of vitriol for her tough stance on the euro zone crisis.

Already a figure of hate in Greece for insisting on austerity in exchange for aid, Merkel has long endured montages of herself in a Nazi uniform, but the run-up to this week's EU summit has unleashed particularly savage images and headlines.

But 'Frau Nein' shows little sign of giving ground on such issues as mutualizing Europe's debt or slashing public spending - not least because her approach has boosted her popularity among German voters in the countdown to next year's election.
7. 'The big conceit at the very heart of the banking world' - The FT's Gillian Tett wrote five years ago that LIBOR was rigged. Barclays and others accused her of scaremongering at the time.
She nails it.
Here's her thoughts.
No doubt some financiers would like to dismiss this as the work of a few rogue traders. And, in line with usual banking practice, the more junior authors of the incriminating emails have already been fired. But the wider symbolic significance of these revelations cannot be overstated; for they expose a big conceit at the very heart of the modern banking world.

Most notably, in recent decades large investment banks in the City of London and Wall Street have increasingly wrapped their activities with an evangelical adherence to the rhetoric of free markets; whenever they have wanted to justify
sky-high profits, wacky innovations or, most recently, the need to prevent a new regulatory drive, they have invariably cited the ideals of Adam Smith.

But what the story of Libor shows is that this free market language has been honoured as much in the breach as the observance, to borrow Shakespeare's phrase. And that was not just because a few Barclays traders were failing to "post honest prices", as the emails admit. Instead, the real issue was that Libor was never organised as a proper market in the first place, which is precisely why the manipulation continued unchecked on such a wide scale for so long.

This week's revelations show why it is right for British political figures, such as Alistair Darling, to call for a radical overhaul of the Libor system. They also show why British policy makers, and others, should not stop there. For the tale of Libor is not some rarity; on the contrary, there are plenty of other parts of the debt and derivatives world that remain opaque and clubby, and continue to breach those basic Smith principles – even as bank chief executives present themselves as champions of free markets. It is perhaps one of the great ironies and hypocrisies of our age; and a source of popular disgust that chief executives would now ignore at their peril.
8. This sound familiar? - Chinese savers desperate for yields higher than the meagre negative real returns from bank accounts have been investing heavily in less regulated 'Wealth Management Products' in the last four years. All very South Canterbury Finance. I've bolded the key last sentence.
Nicholas Borst writes at Peterson Institute for International Economics about the excrement about to hit the spinning object in China.
Even many of the "guaranteed principal" products are riskier than they first appear. The Chinese press is now full of stories (CN) of savers who have taken losses on their guaranteed WMPs due to deceptive fine-print put into the sales documents by banks. Given that many WMPs invest in highly speculative assets, i.e., the stock market, savers should demand an even higher premium over normal savings deposits for the risk they are taking. Regulators have already begun calling for greater transparency (CN) on the risks associated with these products and much more investor education will be needed to help protect savers.

WMPs are also potentially problematic for the financial system as a whole. Interest rate liberalization is one of the trickiest tasks facing developing countries as they modernize their financial systems. Uncontrolled interest rate liberalization in the form of WMPS is a risky approach.  The low and often negative real interest rate environment created by China's policymakers has led savers to seek investments beyond low-yielding savings deposits, most notably in residential real estate. Banks are desperate to keep hold of these deposits and high-yielding WMPs are one way to do this. WMPs are also attractive because they allow banks to make money off sales and management fees. To pay for the higher returns on WMPs, money is invested in riskier assets such as real estate and the stock market.
9. Hammered and Sickled in China - Abram Dylan writes at TheAwl about the need to get completely drunk when doing business in China.
The pressure to drink, and drink a lot, is so great that even Mormon Jon Huntsman admitted he tippled while serving as U.S. Ambassador to China.

In 2009, a Guangdong police officer who passed away after drinking to excess at an official event was said to have "died in the line of duty." He received the official designation of "martyr," which greatly increased the compensation his family received. The officer's death came just after another official, ironically with Wuhan's water resources bureau, also succumbed to too much drink.

While not the official cause of death, the Guangdong cop and the Wuhan cadre died of inadequate jiuliang (酒量), which literally means "booze capacity," or in common usage, "ability to hold one's drink." In modern China, showing off one's jiuliang, often on numerous nights (or afternoons) a week, is part of doing business or being important. Like the eighth rule of Fight Club, if it's your first time, you have to drink.

In fact, you pretty much have to drink no matter how many times it's been. That's the whole point of what has been branded "ganbei culture." Ganbei (干杯) is the Chinese toast which directly translates as "dry glass," and means something between "cheers" and "chug!" And if you hear it, well, at least you're still conscious.
10. Totally Clarke and Dawe covers Wimbledon. Merkel could win this year. She did well in the doubles against Spain.