Here's my Top 10 links from around the Internet at 12.15 pm today in association with NZ Mint.
We welcome your additions in the comments below or via email to bernard.hickey@interest.co.nz.
See all previous Top 10s here.
My must watch today is #4. This LIBOR story is so ugly.
1. 'Nuthin to do with me' - FT.com reports that Barclays CEO Bob Diamond has told staff in a memo he's angry and disappointed that a minority have blackened Barclays' good name in the LIBOR scandal.
This story will run and run and run.
Diamond will be lucky to survive.
The firestorm of protest in Britain is extraordinary.
As it should be.
It turns out the Bank of England may well have known and implicitly encouraged the lying.
About 20 institutions are under investigation by regulators on three continents in connection with interbank lending rates including HSBC, Royal Bank of Canada and Royal Bank of Scotland.

It emerged on Sunday that Mr Diamond had in 2008 discussed Barclays' submissions to the Libor process with Paul Tucker, deputy governor of the Bank of England. Barclays said that this conversation had been "mistakenly" interpreted by managers as permission to submit artificially low estimates to Libor, which is the reference point for $360tn in contracts worldwide.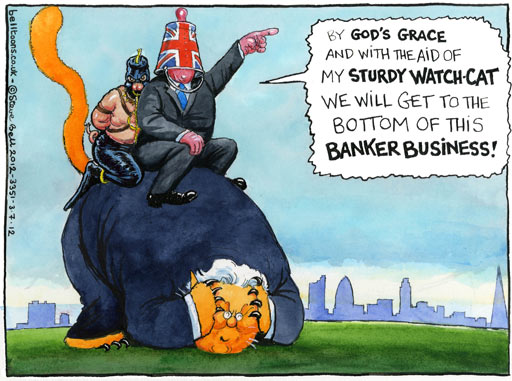 2. This could turn septic - Now FT reports Diamond could implicate the Bank of England if he comes under too much pressure when being quizzed by parliamentarians this week...
The gall of the guy to think he can bully the parliament into not asking some questions. He needs to have a chat with Rupert Murdoch about how difficult motivated parliamentary inquiries can be.
According to two people close to Mr Diamond, the Barclays chief executive is furious that he and the bank have been blamed for "lowballing" the rates at which Barclays said it could borrow from rivals at the height of the financial crisis in 2007 and 2008. Bankers insist the authorities knew these rates were inaccurate but did not object at the time because of fears it could further destabilise already panicked markets.

"[Regulators] knew perfectly well those rates were not the ones where banks were prepared to lend to each other," said one senior banker at another institution. "They had all the evidence."

3. What Bob thought culture meant - This speech from Bob Diamond in 2011 explains just why the sense of betrayal and anger in Britain right now is so visceral.
It's a very personal thing, but throughout my career - from my time as a teacher, to my time as a banker - I have seen just how important culture is to successful organisations.

Culture is difficult to define, I think it's even more difficult to mandate - but for me the evidence of culture is how people behave when no-one is watching.

Our culture must be one where the interests of customers and clients are at the very heart of every decision we make; where we all act with trust and integrity.

But it's not just about how we behave towards our customers and clients. It's also about how we work together with our colleagues, because if you have to deliver for customers with 150,000 colleagues around the world, as we do, you better be able to work as a team.

As far as I'm concerned, if you can't work well with your colleagues, with trust and integrity, you can't be on the team.

Culture truly helps define an organisation.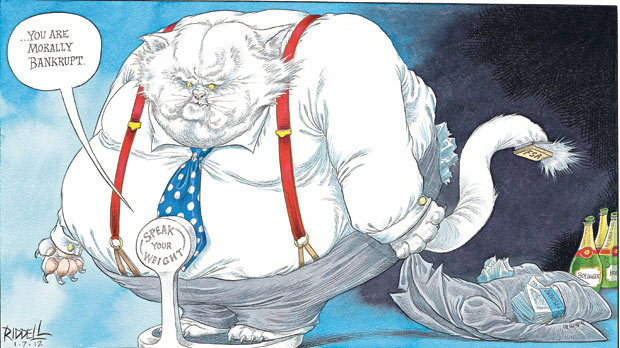 4. 'How I manipulated the bank borrowing rate' - Here's the Telegraph with an anonymous insider explaining how the LIBOR scandal happened. As I said, this will run and run and run.
Read this below and realise that The City of London's banking culture is broken. This is what they were doing when they thought that no one was watching, or more correctly, everyone was doing it and no one was watching.
It was during a weekly economic briefing at the bank in early 2008 that I first heard the phrase. A sterling swaps trader told the assembled economists and managers that "Libor was dislocated with itself". It sounded so nonsensical that, at first, it just confused everyone, and provoked a little laughter.

Before long, though, I was drawing up presentations to explain the "dislocation of Libor from itself" for corporate relationship managers. I was deciphering the subject in emails, internally and externally. And I was using the phrase myself openly with customers of the bank.

What I was explaining was that the bank was manipulating Libor. Only I didn't see it like that at the time.

What the trader told us was that the bank could not be seen to be borrowing at high rates, so we were putting in low Libor submissions, the same as everyone. How could we do that? Easy. The British Bankers' Association, which compiled Libor, asked for a rate submission but there were no checks. The trader said there was a general acceptance that you lowered the price a few basis points each day.

According to the trader, "everyone knew" and "everyone was doing it". There was no implication of illegality. After all, there were 20 to 30 people in the room – from management to economists, structuring teams to salespeople – and more on the teleconference dial-in from across the country.
5. Why Europe is still in crisis - Hugo Dixon from Reuters nails it in this article in NYTimes.
"Upon waking, the dinosaur was still there."

This extremely short story by the Guatemalan writer Augusto Monterroso sums up the state of play on the euro crisis. The summit meeting last week took important steps to stop the immediate panic. But the big economies of Italy and Spain are shrinking and there is no agreed long-term vision for the zone. In other words, the crisis is still there.
6. There is no shame - Bloomberg reports the JP Morgan exec behind the 'Whale' trade has gone, but not before collecting US$21.5 million in stocks and options.
Drew, 55, oversaw the London traders responsible for a $2 billion loss on credit derivatives that Chief Executive Officer Jamie Dimon said "violated common sense." Shares of the largest U.S. bank have plunged 19.1 percent since Bloomberg News first reported on April 5 that JPMorgan was having trouble unwinding illiquid bets on credit derivatives. While Dimon told lawmakers in separate hearings this month that the company could claw back two years of bonuses, Drew's pay probably won't be affected, according to compensation consultants.
7. Why the Euro-zone package will fail - Belgian economists  Paul De Grauwe writes at VoxEu why the European leaders deal on Friday will fail to bring down Spanish and Italian bond yields.
The ESM has financial resources amounting to €500 billion. Compare this with the total government bonds outstanding of close to €2,000 billion in Italy and of about €800 billion in Spain and it is immediately evident that the ESM will be unable to stem a crisis involving one of these two countries, let alone the two countries together.

In fact it is worse. As soon as the ESM starts intervening, it will quickly destabilise the government bond markets in these two countries. The reason is the following.

Suppose a new movement of fear and panic, triggered for example by the deepening recession in Spain, pushes up the Spanish government bond rate again.
• To stem the tide the ESM starts buying Spanish bonds. Suppose it buys €200 billion worth of Spanish bonds.

At the end of the operation it will be clear for everybody that the ESM has seen its resources decline from €500 billion to €300 billion. Less will be left over to face new crises.

Investors will start forecasting the moment when the ESM will run out of cash.

They will then do what one expects from clever people.

They will sell bonds now rather than later.

The reason is not difficult to see. Anticipating the moment the ESM runs out of cash forcing it to stop its intervention, they expect bond prices to crash. To prevent making large losses, they will have an incentive to bring their bond sales forward to the present rather than wait until the losses are incurred. Thus the interventions by the ESM will trigger crises rather than avoid them.
8. No easing of Chinese property curbs any time soon - Reuters reports Chinese Vice Premier Li Keqiang saying China won't be easing those property curbs that have slowed its economy down any time soon.
Li, widely seen as premier in waiting, was quoted by Xinhua news agency as saying that speculative and investment purchases of homes in China must be curbed. Li made the remarks at a recent conference, Xinhua said, without being more specific.

The comments make Li the most senior Chinese official to directly rebut first-time-ever calls from government advisers last month for Beijing to relax property curbs and might dampen market speculation that home purchase restrictions are about to be lifted.
9. 'Get ready for a hard landing' - Barron's has a cover story this week titled 'Falling Star' which says China's economy is slowing fast.
It's packed full of compelling detail.
After three decades of annual growth averaging 10%, China's bullet-train economy is slowing markedly. Economic problems in Europe and the U.S. are stunting export growth, long the primary driver of China's economic miracle. Growth in industrial production has likewise been decelerating for months. This year growth in gross domestic product could slip to 8%—and it may get a lot worse from there. Though recently announced interest-rate cuts and a ramp-up in the government's already massive infrastructure spending could postpone the day of reckoning, to us it looks like the Great China Growth Story may be falling apart.
10. Totally a ballet of Russian tanks. You saw it here first. A lot of mud is churned and an awful lot of petrol/diesel is burned.