Here's my Top 10 links from around the Internet at 12 pm today in association with NZ Mint.
We welcome your additions in the comments below or via email to bernard.hickey@interest.co.nz.
See all previous Top 10s here.
My must read today is #4 for the best summary of the LIBOR scandal and it's meaning yet.
1. A balance sheet recession - This phrase is being bandied around a lot now and it helps explain what's going on in the global economy and in New Zealand to an extent.
Essentially, households built up their debts to unsustainable levels through the 1990s and 2000s and are now deleveraging. Meanwhile, corporates have also been repaying debt and building up cash piles.
This reduction in demand is driving economies into a concerted recessions, or worse.
So the only way to avoid a much steeper recession is to get government spending to increase demand and offset the slide in the household and corporate sectors.
That's what happened in the late 1930s and 1940s and it's what dragged the world out of a depression. Some other things happened to trigger that government spending... That's why Paul Krugman advocates we imagine the threat of alien invasion to get us all on the same page.
But it's not happening. In fact, the opposite is happening in Europe and America, and here too. Hence my view that we're in for a rough ride and low interest rates for a very long time.
Here's Mike Konzcal with an excellent summary of all the literature on Balance Sheet Recession idea.
He also points to this excellent IMF chart, in which New Zealand features prominently. Those nations with the highest household debt levels have seen the biggest consumer spending recessions.
Here's a graph they include, comparing increases in household debt-to-income ratios from 2002-2006 against consumption collapses in 2010.

Implicit here is that the problems aren't labor "inflexiblity" or whatever the latest faddish argument is. It's household leverage.

You see the same exact relationship across the states in the United States, where the biggest increases in household leverage ratios (i.e. the places with the biggest housing collapses) have the worst unemployment and consumption collapses. In the United States monetary policy and transfers help mitigate this. We send checks to Arizona and Florida, where housing is a disaster. As Paul Krugman and others have pointed out, there are no equivalent transfers across these countries, especially in the Euro.
2. What LIBOR really is - Donald McKenzie wrote this excellent summary at the London Review of Books of how LIBOR works in September 2008. Even back then there were many doubts about its reliability.
2, (Bonus!) Where the Chinese money comes from - The Economist has written a useful piece on corruption in the upper echelons of China's Communist leadership and how much of it is being ferreted out of China with family members into safe havens elsewhere.
That includes, of course, a lot of Auckland property.
Interestingly, this Economist article was subsequently blocked in China, as was the Bloomberg article it linked to detailing the enormous wealth of the new President's family.
Perhaps even more troubling for the Party is the surge in scepticism over how suchwealth seems to find its way into the hands of officials and their families, not to mention into those of their beloved Swiss bankers, English boarding schools and Australian estate agents. Particularly galling are the reports about the great number of officials who have taken to working "naked". That is to say, many officials are working in China while their wives, children and, presumably, a chunk of the motherland's money take residence overseas. A report released last year  estimated that as much as $120 billion may have been transferred abroad by corrupt officials.  

The Chinese media have been given greater freedom to report on corruption and the financial shenanigans of large companies of late. Which makes it all the more striking thatreporting on the business activities of the Central Committee's wives and offspring is still strictly forbidden.
3. 'Change the one child policy' - Bloomberg reports Chinese state researchers are calling for China to change its one child policy to keep its economy growing...
John Key shouldn't be so sure that Chinese growth has underwritten New Zealand's economy ad-infinitum. The demographics of an ageing workforce driving the Chinese economy from 2020 are not attractive. They're positively Japanese-like.
Chinese government researchers called on the nation to ease its one-child policy as soon as possible to cope with an aging population and labor shortage. One option is allowing all people to have a second child, three researchers including Yu Dong from the State Council's Development Research Center wrote in an article in yesterday's ChinaEconomic Times, a newspaper affiliated with the center. "The longer time we take to adjust the policy, the more vulnerable we become," the piece said.

"It is suggested that the birth control policy be adjusted as soon as possible" against the backdrop of a vanishing demographic dividend, accelerating aging and a potential future labor shortage that are set to become major challenges, the researchers wrote. The recommendation came in a paragraph within a broader piece about social policies.

Working-age people accounted for 74.4 percent of the population in 2011, down from 74.5 percent in the previous year, the first decline since 2002, according to the National Bureau of Statistics. People age 60 and older were 13.3 percent of the population in 2010, 2.9 percentage points higher than in 2000, according to the latest census results released last year.
4. 'Wholesale lying is a problem in an industry that relies on trust' - The Atlantic's Matthew O'Brien absolutely nails why the LIBOR scandal is so damaging for the Northern Hemisphere banking industry.
It sounds silly, but the biggest victim in all this is the 

financial system itself

. It's unlikely this manipulation really affected ordinary borrowers. The cheating wasn't big enough to push interest rates up much, if at all, for borrowers with loans tied to Libor. And cheating of the lowballing variety actually helped borrowers. But that doesn't mean this manipulation was irrelevant. Wholesale lying is a problem in an industry that relies on trust. The big banks have taken whatever shreds of credibility they had left and lit them on fire. If Barclays will lie about something as fundamental as Libor to profit on its trades, how can clients trust them on anything?

 

They can't.

 

This is an existential crisis for the big banks. Do they serve clients or their own balance sheets? Haha, forget I asked that. The answer is obvious. What's less obvious is why anyone who doesn't work at a bank would think the status quo is acceptable.
5. China in trouble - Here's a chart that Goldman Sach's Jim O'Neil has been flicking around lately showing how much trouble the Chinese economy is in. HT BusinessInsider.
6. Why a Gold Standard makes no economic sense and is undemocratic- Duncan Weldon writes at The Guardian about the problems with the Gold Standard, which some are suggesting the world returns to amid all this money printing. It would be a bad idea, in my opinion.
Most economists now accept that both the Long Depression of 1873 to 1896 and the Great Depression of the 1930s were aggravated by the gold standard. In the 1930s the sooner countries came off gold, the faster they recovered.

A gold standard means that monetary policy and interest rates are set to defend the value of a currency against a metal rather than to reflect economic conditions in the country. As professor Dani Rodrik argued last night, this is fundamentally undemocratic. Indeed the real reason that the gold standard could not be resurrected in a sustainable manner after its suspension in the first world war was the extension of the franchise to incorporate the working class. Once workers had the vote they were unlikely to support politicians who continually put defending the value of money against gold over defending the number of people in work.

Of course the gold standard had its beneficiaries, most notably in the financial sector. Stable international prices and a very open global capital market in the era of the classical gold standard created a great environment for international bankers.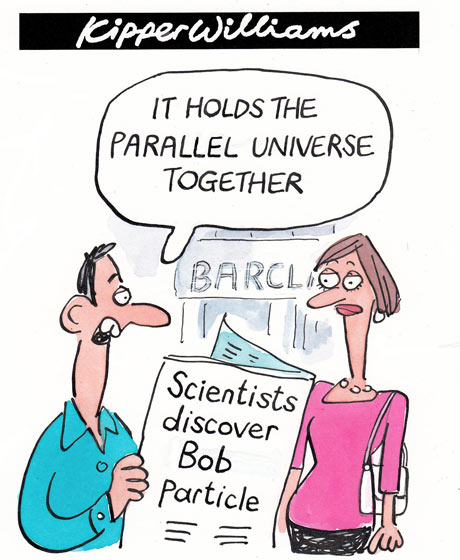 7. Now the spoofing and anger has started online - Here's a youtube video of a Barclays ad in Britain with a voiceover that is not very complimentary towards Barclays...
8. Just in case you were wondering if the ECB will eventually relent - Here's what the ECB's German council member Jens Weidmann says.
Nein! Nein! Nein!
"Unlimited government bond purchases or a financing of the rescue funds by the central bank [via a bank licence], as has repeatedly been demanded, not only overstretch the mandate of central bank, but they are incompatible with it," Weidmann said in a draft of a speech delivered at an award ceremony in Berlin Thursday evening.

"Public deficits must not be financed by the means of the printing press," Weidmann, who is president of Germany's Bundesbank, stressed.

"The problem is that we're increasingly pressured to make far reaching decisions for which we're, in my view, not democratically legitimated," Weidmann elaborated.

"For the rest, it should be clear that these balance sheet risks are also risks for the reputation and credibility of the central banks," he cautioned.
9. US wages vs Gold - Here's the chart courtesy of BusinessInsider and FRED.
`10. Totally Clarke and Dawe on the Tour de France. Some Australian politicians are involved.