Friday's Top 10 with NZ Mint: Why we face another 15 years of deleveraging; Put up the top tax rates; London banks 'incompetent profiteers run by spivs'; Why treasurers are hoarding cash like there's no tomorrow; Clarke and Dawe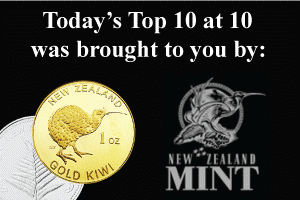 Here's my Top 10 links from around the Internet at 12 pm today in association with NZ Mint.
We welcome your additions in the comments below or via email to bernard.hickey@interest.co.nz.
See all previous Top 10s here.
My must reads today are #1 from Jamil Baz on how the world faces 15 years of grindingly slow deleveraging. The Adam Posen video at #5 is also worth a watch to see a central banker actually challenging the group-think of central bankers. Wish ours would do the same.
1. This is just the warmup act - Jamil Baz, Chief Investment Strategist at Man Group's GLG Partners, writes in this FT.com piece that the weighted average debt of the 11 countries being watched closest by debt markets has actually increased to 417% from 387% since June 2007.
Baz says the required deleveraging hasn't even really started.
And when it does...
He says it will take 15 years for the debt ratio to come down by the 150% of GDP.
I agree that massive deleveraging is needed. The how is the difficult part. Here's Baz:
Deleveraging is proving impossible to execute. The world is still staggering under a mountain of debt, the costs of which extinguish the "animal spirits" which ought by now to be coming to the rescue. Based on this analysis, we can make five predictions.

First, as deleveraging has not even started yet, the crisis of the world economy has not begun either. All the perceived unpleasantness of the past few years is merely a warm-up act for the greater crisis still to come. The need to get debt levels down is as pronounced as ever in the eurozone, particularly in southern Europe, but also in the US and Japan.

Second, it will take a minimum of 15 years or so for the economy to reach escape velocity and attain a level consistent with healthy growth scenarios. This is because debt levels need to come down by at least 150 per cent of GDP in most countries. History suggests you cannot reduce debt by more than 10 percentage points a year without unleashing major social and political dislocation.

Third, when we do finally start cutting our debt, the economic impact will be massive. Countries such as Japan and the US need to increase their primary balance by more than 10 points of GDP, in order to stabilise the ratio of public debt to GDP to 2007 levels: considering negative feedback loops between deficit cuts and growth, each stands to lose more than 20 per cent of GDP against trend.

And this does not account for the required private deleveraging. The precise level of economic devastation is a function of the so-called multiplier, which measures the impact of spending reduction on economic growth. The International Monetary Fund has calculated that, under current circumstances, the multiplier can be as high as two: every dollar cut from the deficit will lead to a two dollar reduction in GDP. The multiplier is as much as four times higher than in pre-2008 conditions.

Fourth, risky assets are set to perform badly for a long period. Corporate profitability is highly correlated with changes in leverage: reduce debt to meaningful levels and profitability will fall. The equity risk premium on indices such as the S&P 500 is at historically low levels and needs to rise dramatically in order to compensate investors for multiple market risks, ranging from sovereign default to inflation, deflation and geopolitics.

The fifth point is that there is no magic bullet. In the past, policy makers had various instruments to cushion the impact of measures taken to stabilise debt levels: they could cut interest rates, for example, or allow their exchange rates to fall, leading to export-driven recovery. But in an era of low or zero interest rates, with most countries competing to devalue their currencies, such policy tools have lost effectiveness, hence the high multiplier.
2. Get those top tax rates up - Paul Krugman is right to point out here that tax rates on the rich in America have never been lower.
All these estimates show that taxes on the rich are the lowest they have been in half a century. But what about before 1960? Well, we know that the top marginal tax rate was even higher in the 40s and 50s than in the 60s; and it was very high by modern standards through much of the 30s too.

So I think it's safe to say that taxes on the rich are currently lower than they have been for not 50 but 80 years. And if Mitt Romney gets his way, we'll bring those taxes down to levels not seen since Calvin Coolidge.
3. The world's first in-car espresso machine - Just what the world needs. Here's autoblog with the latest accessory from Fiat for its new model 500.
4. 'Banks are now viewed as incompetent profiteers run by spivs' - So says Martin Wolf, the FT's main commentator, in this piece titled '7 ways to clean up our banking cesspit'.
Who would have thought even a few months ago that the FT would ever write such a thing.
We are never going to turn bankers into saints. But we can change the incentives facing bankers, the structure of banking and the focus of regulation. Where I would go further is towards substantially lower leverage and significantly greater transparency. Not least, I would do everything I can to eliminate the idea that the state stands behind investment banking. That is an insane idea.
5. 'Stop treating banks as a strategic industry' - Adam Posen, a member of the Bank of England's Monetary Policy committee, says in this speech below to a banking conference people need to drop their bank fetish and call the bankers' bluff.   HT Ian Fraser.
I wonder which industry we fetishise in New Zealand. Dairying?
He also talks about how housing bubbles are the most destructive of any type of bubble for any economy and that central banks can't use monetary policy to 'prick' them. He talks about using automatic counter-cyclical housing market taxes.
Watch the video below. I have yet to hear anyone from the Reserve Bank or Treasury talk like this. A pity, because New Zealand faces many of the same issues, including Too Big To Fail banks, an over-leveraged financial system, a housing bubble  and a captured regulator.
"Governments who promote particular industries …  tend to distort political decision-making and tend to distort the incentives for that industry to behave..

"Every major economy has its protected industry that gets romanticised. In the US it's usually agriculture; in France it's agriculture; in Japan it's rice farming, even though they don't eat rice that much any more; in Germany it's automobiles — pick your country, pick your poison.

"In the UK, however, and this is where it makes it worse, the fetish is banking. And the problem is, if you have an auto industry that you favour and you waste too much money on it and you protect it, you basically put a tax on everybody in society because it's big  and because everybody pays too much for their autos and you probably get less good cars; it's bad. But it's essentially just I write a cheque and some of the cheque goes to nothing.
6. What is wrong with the world? - BusinessInsider points out this super-yacht, the Anastasia ,was launched in 2008 and is now on the market for US$155 million. It has a 27,000 litre acquarium in the dining room and can handle 12 guests.
Too much money has accumulated into too few hands and is now not circulating in the real economy to employ people and resources. Investors (and the super rich) know this. That's why they're hoarding their cash and spending the rest on personal pleasure. It's just not sustainable. Marx was right on that.
7. The hoarding of cash by companies - Gillian Tett at FT reports on how corporate treasurers fearful about the future and clueless about how to invest money in real things and people are hoarding cash like there's no tomorrow.
98% of Treasurers surveyed by the Association of Finance Professionals say their top priority is making sure they don't lose their cash rather than making yield.
Before 2007, as the AFP survey shows, most companies kept their spare cash at modest levels – and corporate treasurers put this into capital markets instruments and banks, to earn a reasonable return. But these days, companies are stuffed with unused cash: 41 per cent of treasurers say this has grown over the last year, and most expect further growth.

That is partly because many American companies are profitable. But it is also because companies are holding onto this money, rather than spending it on productive investments or giving it to shareholders, so fearful are they about the future. Cash has thus become like a corporate security blanket, something executives cling to in frightening times.

The cumulative impact of the shocks of the last five years may now have scarred – and scared – company executives to such a degree that they may have become addicted to their cash security blankets. If so, it could take years before they really start feeling confident enough to take long term investment bets again. The velocity at which money moves around the system - and cash is used in a productive way - may have now slowed in a more permanently; doubly so since the banks themselves are very risk averse and wary of lending.

Perhaps this is no bad thing; after all, in the credit bubble, the velocity of money soared in dangerous ways. But a world where money has slower velocity is also a place where it will be harder to produce growth. Little wonder, then, that treasury yields are so low; or that so many investment managers feel so challenged. This corporate "freeze" may be subtle, but it is painful indeed.
8. Totting up the losses - FT reports Morgan Stanley estimates the losses for the banks from litigation and fines in the LIBOR scandal could be around US$22 billion.
No worries. Cost of doing business. Just add a few more points on over the next few years...
9. Four reasons why China's shadow banking system might collapse - Here's Bank of America's China Strategist David Cui looking at 4 triggers that could take down China's shadow banking system. HT BusinessInsider.
(Illegal) Ponzi schemes falling apart: Cui notes that this has already started happening, writing that "since mid 2011, there are at least 14 reported cases of Rmb500mn+ Ponzi schemes gone bust, with eight occurring so far this year."
A wave of defaults in highly-leveraged loans: Shadow banking entities make money by borrowing from the banking system at low interest rates and lending out at high interest rates to high-risk borrowers. Since most entities don't also take deposits to back these loans, what you have, according to Cui, is a "thin capital base [that] can be wiped out fairly quickly" when "loan demand starts to weaken and their investments (loans) go bad."
More turbulence in the Chinese property market: Many of the borrowers from the shadow banking system, according to Cui, are "low-tier developers who have limited access to the official loan market." And the collateral being pledged against most of the loans from shadow banking entities: "probably property." So, if property prices tumble, that collateral quickly becomes worthless and causes loans to default.
Shrinking corporate sector earnings: A host of Chinese financial products have guaranteed high returns lately due to high inflation rates. However, with the real economy weakening in China as demand disappears, profits are decreasing. Essentially, if earnings in the real economy can't support the investment returns that the shadow banking system has promised to investors, Cui says that "the divergence may become unsustainable, resulting in significant bad debts in the shadow system.
10. Totally Clarke and Dawe talk to Avery Tiredman on the Tour de France and current affairs.