Here's my Top 10 links from around the Internet at 1.30 pm today in association with NZ Mint.
As always, we welcome your additions in the comments below or via email tobernard.hickey@interest.co.nz.
See all previous Top 10s here.
My must read today is number 7 on how to inflate away the world's debt. Easy, peasy.
1. Breaking a society on a wheel - Ambrose Evans Pritchard unleashes on the 'Troika' of the IMF, the ECB and the EU over the way it has handled the Greek crisis.
He says Greece had no hope of achieving its deficit reduction and growth targets while the 'Troika' was determined to pursue a policy of 'expansionary fiscal contraction'.
This is shorthand for expecting an economy to grow through structural reform while its government cuts spending.
It assumes workers and businesses immediately become more efficient and productive to make up the gap left by the departing government spending.
This may work in the long run with the right type of labour and tax reforms, but in the short run it just drives an economy into a Great Depression, as Greece has experienced.
One of the reasons the Greek situation is back on the front burner is its economy has contracted more than 12% in two years and hasn't met its targets. Some Germans are even saying the euro can survive Greece's exit.
The result of this Great Depression – as the Greek prime minister calls it – is in implosion in tax revenues. The budget deficit has remained stuck near 9pc of GDP despite draconian wage cuts and hospital closures.

Roughly speaking, the Troika has misjudged the scale of economic decline over three years by 12pc of GDP.

"That is a massive miscalculation," said David Bloom, head of currencies at HSBC. "The collapse has been exponential. Greek GDP is contracting faster than they can reduce debt. The Troika really has a duty to give Greece the next tranche of money," he said.
2. Italian bankruptcies - The Telegraph reports 10 Italian cities are on the verge of bankruptcy. The mafia get a mention.
"The situation is becoming worse by the day," said Graziano Del Rio, the president of a national association of municipal councils.

The warning came just days after Mario Monti, the prime minister, expressed fears that Sicily, which has a high degree of fiscal autonomy, was on the brink of a default.

Cities and towns in southern Italy have for years been plagued by mismanagement, corruption, the wasteful use of EU funds and infiltration by the Mafia. But the "black list" of cities at risk also includes some in the north of Italy such as Alessandria, in the Piedmont region.
3. Bankers wild - James Suroweicki from the New Yorker writes a useful summary here of just how bad the LIBOR scandal was and why it happened.
The most striking thing about this scandal is that it was predictable—the way LIBOR was designed practically invited corruption—yet no one did anything to stop it. That's because, for decades, regulators and people in the financial industry assumed that banks' desire to protect their reputations would keep them honest. If banks submitted false LIBOR estimates, the argument went, the market would inevitably find out, and people would stop trusting them, with dire consequences for their businesses. LIBOR was supposedly a great example of self-regulation, evidence that the market could look after itself better than regulators could.

But, if recent history has taught us anything, it's that self-regulation doesn't work in finance, and that worries about reputation are a weak deterrent to corporate malfeasance. To begin with, traders at a bank are typically rewarded according to how much money their trades make, not on whether they enhance the bank's reputation. Bank C.E.O.s, meanwhile, are now paid so lavishly that even when they wreak havoc on a bank's good name they can still walk away with immense amounts of money. What's more, it's not clear how good the market is at sniffing out and punishing bad behavior before serious damage is done. During the housing bubble, the stock prices of the banks that were making hundreds of billions of dollars in bad loans soared instead of falling. Once the crisis hit, the market did a great job of slamming the barn door. But it did nothing to stop the horses from escaping in the first place.
4. 'Too Big To Fail banks should be nationalised' - University of Maryland Political Economist Professor Gar Alperovitz writes at the New York Times that the Too Big To Fail banks should be nationalised because they're also Too Big To Regulate. He uses some surprising backers for this argument, including a bunch of Friedmanites.
Some would argue New Zealand's big four banks are similarly To Big To Fail (or 'systemically important' as Alan Bollard once told me) and therefore need to be broken up and/or nationalised. Luckily for them they didn't do the dumb and/or evil things that the Northern Hemisphere To Big To Fail banks have done (Lehman/AIG/JP Morgan/Barclays/HSBC).
Most liberals in Washington — President Obama included — keep hoping the banks can be more tightly controlled but otherwise left as is. That's the theory behind the two-year-old Dodd-Frank law, which Republicans and Wall Street are still working to eviscerate.

Some economists in and around the University of Chicago, who founded the modern conservative tradition, had a surprisingly different take: When it comes to the really big fish in the economic pond, some felt, the only way to preserve competition was to nationalize the largest ones, which defied regulation.

This notion seems counterintuitive: after all, the school's founders provided the intellectual framework for the laissez-faire turn against market regulation over the last half-century. But for them, "bigness" and competition could easily become mutually exclusive. One of the most important Chicago School leaders, Henry C. Simons, judged in 1934 that "the corporation is simply running away with our economic (and political) system."

Simons (a hero of the libertarian idol Milton Friedman) was skeptical of enormity. "Few of our gigantic corporations," he wrote, "can be defended on the ground that their present size is necessary to reasonably full exploitation of production economies."
5. Why China will grow old before it gets rich - Leith van Onselen writes a useful analysis at Macrobusiness.com.au about how China's one child policy and its ageing population will slow its economic growth. It's certainly one for Australia and New Zealand to watch.
The comparions with Japan's age structure and dependency ratio (20 years advanced) are startling.
As written previously (here, here, and here), China will soon face an ageing problem that threatens to stifle its economy. Essentially, China's ageing problem stems from its 'one child policy', which was brought into effect in 1979 and is credited with preventing around 400 million births from 1979 to 2010. This policy initially produced a population pyramid optimal to economic growth – that is, where the largest segments of the population were neither young nor old, but in the middle (i.e. working age).

However, the demographic blessing provided by the one child policy will soon turn into a curse, with the United Nations forecasting that the number of working aged people to dependents is set to almost halve over the 50 years to 2065, from a peak of 1.9 workers to dependents in 2015 to only 1.0 by 2065.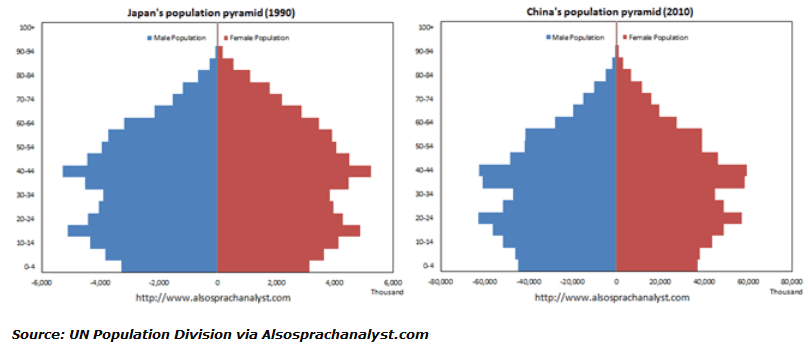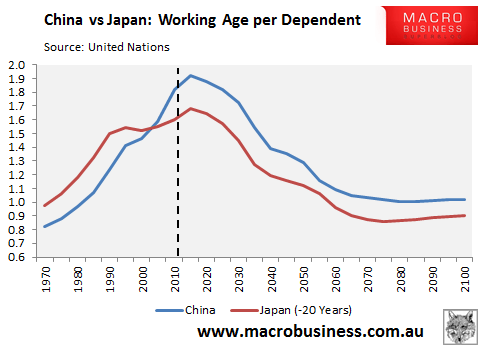 6. Moody's warns Northern Europe - Not that bond investors care, but Moody's has put the AAA credit ratings of Germany, the Netherlands and Luxembourg on negative outlook, given they may have to pick up the bill for any implosion of the financial markets in the Euro-zone.
Yet the 2 year Germany bund yield is negative....
Moody's cited an increased chance that Greece could leave the euro zone, which "would set off a chain of financial sector shocks ... that policymakers could only contain at a very high cost."

It also warned that Germany and other countries rated 'Aaa' might have to increase support for troubled states such as Spain and Italy that are struggling to finance their deficits. The burden of that support would fall most heavily on the euro zone's top-rated states, it said.
7. 'Just lift inflation to inflate away the debt' - Economists James Hamilton and Menzie Chinn write at Econbrowser that the indebted economies need to deleverage their debt through inflation. Trying to negotiate some sort of fair debt restructuring is way too politically complicated and time consuming.
They cite a study titled: "Trends: Better living through inflation". It says the following, which helps clarify many of the issues facing the world:
The politics of debt is, if anything, more daunting than the economics. A debt crisis typically degenerates into bitter political conflict over who will bear the burden of the adjustment. Some of the conflict may be among countries, with creditor nations trying to force debtors to pay off in full and debtor nations rebelling against measures that could conceivably make that possible. Other political battles take place within countries, as taxpayers, bankers, government employees, pensioners and investors jockey to avoid being saddled with the costs of working off the accumulated debts.

If we simply choose to wait for the world to find acceptable formulas for sharing sacrifice, we may be in for nearly a decade of snail's pace growth -- a truly global lost decade. ...
8. The solution? - Hamilton and Chinn recommend conditional inflation targeting. They suggest targeting unemployment below 7% at the same time as inflation below 3%. Fair enough.
When nominal interest rates are kept below the rate of general price increases, inflation reduces the real burden of debts denominated in local currency. To put it another way, as prices rise and wages follow, debtors (households, businesses and governments) find it easier to service their debts and can more readily resume regular economic behavior.

The idea may seem radical, but it's hardly unprecedented. After World War II, the United States inflated away a portion of the debt that it had accumulated in the war years -- and did so even though the economy wasn't facing an actual debt crisis. An analysis by Joshua Aizenman (University of California at Santa Cruz) and Nancy Marion (Dartmouth) points out that the federal government came out of the war with a debt equal to 109 percent of GDP, substantially more than the debt-to-GDP ratio the country faces today. But all it took to (nearly) halve the ratio between 1946 and 1955 was a mix of reasonable economic growth turbocharged by relatively mild (on average, 4 percent) inflation.
9. Five steps to global catastrophe - Amanda will just luurve this from Nouriel Roubini via AFR.....
A significant equity price correction could, in fact, be the force that in 2013 tips the US economy into outright contraction.

And if the US (still the world's largest economy) starts to sneeze again, the rest of the world – its immunity already weakened by Europe's malaise and emerging-countries' slowdown – will catch pneumonia.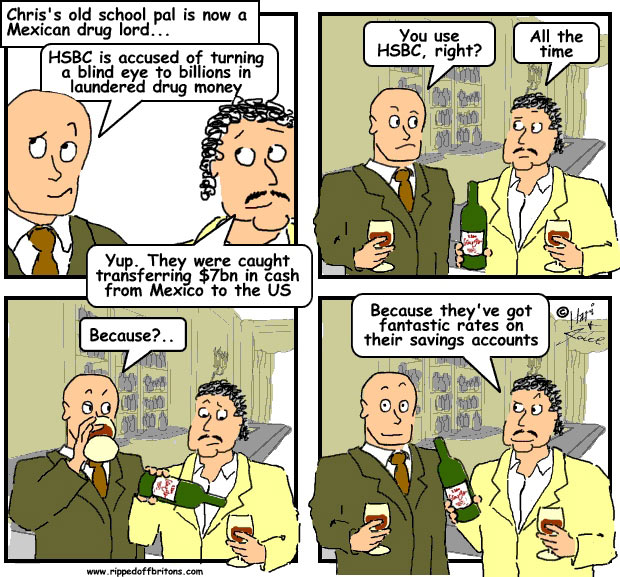 10. Totally Jon Stewart on HSBC opening two bank accounts for someone called 'Taliban'
He suggests a few slogans for HSBC's next marketing campaign, including: 'HSBC - Helping people who want to kill you since 1991' or 'HSBC - Blood money? You had me at money' or 'HSBC - The S stands for ssshhh'