Here's my Top 10 links from around the Internet at 10 am today in association with NZ Mint.
As always, we welcome your additions in the comments below or via email tobernard.hickey@interest.co.nz.
See all previous Top 10s here.
My must read today is #1 on the ECB's Big Bazooka. It better be real big. Or else the Euro-zone crisis could get real ugly and real quick.
1. Big Bazooka? - Or Big Palooka?
The focus on Thursday night's European Central Bank decision and following news conference will be intense.
Many are hoping for clarification on plans for a 'Big Bazooka' round of bond buying the European Central Bank to lower bond yields from unsustainably high levels in Spain and Italy.
Remember the ECB boss Mario Draghi said a couple of months ago the ECB would do 'whatever it takes' to rescue the Euro-zone. He subsequently said this meant the ECB would work with the official rescue funds to buy European bonds after a nation such as Italy or Spain asked for a bailout and agreed to new austerity measures.
Then the Bundesbank came out and said it wasn't keen on such a plan.
Also, Spain has been reluctant to pull the trigger by formally asking for a bailout.
Markets have already rallied sharply in anticipation that Draghi will get his way.
But what if he doesn't? What if Thursday night's 'decision' is the usual fudge to delay or extend or pretend away the problem of the Euro's ultimate unsustainability?
Here's Bloomberg's preview:  and here's Reuters' preview.
German Finance Minister Wolfgang Schaeuble warned today against expecting too much of the ECB, saying whatever Draghi announces must fall within the central bank's mandate. "We have to be very careful that we don't raise false expectations," Schaeuble told Deutschlandfunk radio.

In addition to governments dragging their heels, tensions between the ECB and Germany's Bundesbank are growing. Bundesbank President Jens Weidmann, who opposes ECB purchases of government bonds, has considered quitting over Draghi's plan, Bild newspaper reported Aug. 31.

Weidmann, who traveled to Jackson Hole while Draghi remained in Frankfurt to assemble the bond plan, said he "won't comment on speculations" when asked about the report.
2. Spanish bailout - BBC reports the Spanish regional government of Andalusia has asked for a 1 billion euro bailout from the central government. This is happening daily now.
Spain's austerity spiral is ripping through its economy from the regions up.
A 18bn-euro public fund was set up by Madrid to aid its 17 autonomous regions, which are in deep debt.
The conditions which the Spanish government will impose on loans from the fund have not yet been announced. But Mario Jimenez, the spokesman for the Socialist Party (PSOE) in Andalusia's left-leaning coalition government, warned against trying to impose a "corralito", which refers to capital controls and harks back to Argentina a decade ago, when its government froze bank accounts in order to prevent bank runs.

"What shouldn't happen is to run the financing of the autonomous communities like a corralito," he said.
3. Appetite for Australian bank covered bonds drying up? - Eric Johnston at SMH.com.au writes about how British appetites for Australian covered bond issues may be drying up after soft demand for a National Australia Bank covered bond issue.
The soft demand for NAB has raised questions as to whether offshore investors are tiring of Australian bank bonds, given nearly $100 billion worth are sold a year. At the same time the big Australian banks have been rushing to the market on their new covered bond issues. One London-based investor said they were taking a ''more cautious'' approach to Australian bank bonds.

''Although the Aussies offer a diversification play away from Europe and the US in times of heightened volatility, China is coming under increasing pressures and it seems like Australia is coming off the heat a bit,'' F&C Asset Management portfolio manager Paul Fenner-Leitao said in London. Australian banks generate about 40 per cent of their funding from global money markets, making up the shortfall in deposits.
4. Controls stay on - Xinhua reports China's Premier Wen Jiaobao is sticking with his hard line on real estate market controls that have helped slow down the Chinese economy in recent months.
All sorts of desperate people are calling on Wen to relax a bit, but he's sticking to his guns. He's particularly worried about how poorer Chinese people are struggling to get access to affordable housing and has acted to make it happen.
If only our politicians did the same.
Here's Wen:
"The controls over the real estate market are still in a critical period," he warned. He said that increasing the effective supplies of homes to the market will be more important to consolidate the previous achievements in stabilizing housing prices.

China has tightened its curbs on the property sector since 2010 in an effort to bring skyrocketing home prices back to a reasonable level. The government has restricted home purchases in several cities while requiring higher down payments and introducing property taxes.
5. The Great Recession that is going on forever and ever - Here's a chart from Britain's National Institute of Economic and Social Research (NIESR) showing Britain's recession since 2008 has now gone on for longer than the one from 1930-34.
 It seems clear that what was initially a reasonably strong, albeit patchy, recovery stalled in the autumn of 2010; GDP is roughly at the same level as two years ago, and the output gap - the amount of spare capacity in the economy - continues to widen. 

The chart also shows that this "depression" - defined, admittedly somewhat arbitrarily, as the time period during which output remains below its previous peak, shown as the X-axis above - is now significantly longer than that experienced during the Great Depression, and is not likely to end any time soon; we do not expect output to pass its early 2008 peak until 2014.
6. What's happenign with global trade - This Reuters chart on global world exports and traffic through the Suez Canal is instructive.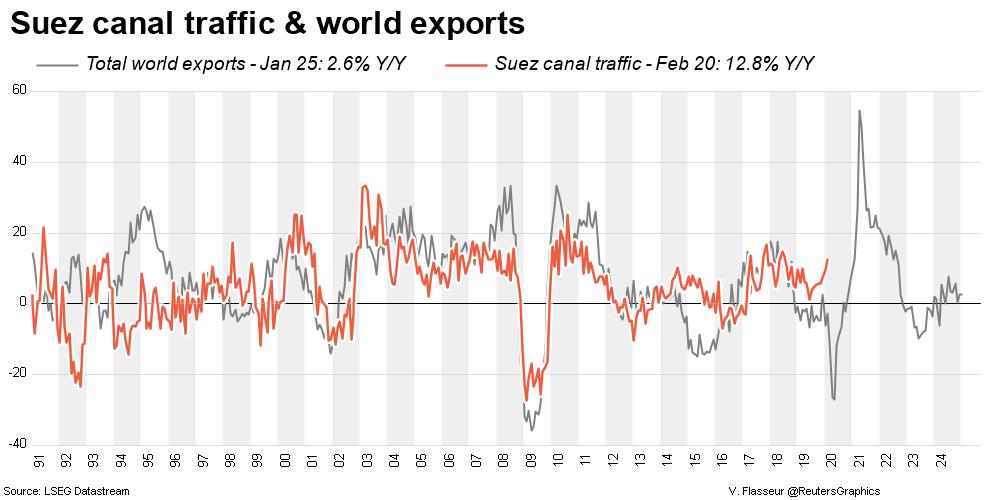 7. Droughts galore - We've heard a lot about America's worst drought in 50 years and how it has triggered a spike in corn, soy, wheat and other grain prices.
Here the New York Times reports on a 6% rise in food prices globally in the last six months. There is drought all over the place, it seems. Wish we had a bit more of it in Auckland...
Here's the latest detail on a bad drought in India.
Drought has devastated crops around the world this year, including corn and soybeans in the United States, wheat in Russia and Australia and soybeans in Brazil and Argentina. This has contributed to a 6 percent rise in global food prices from June to July, according to United Nations data.

India is experiencing its fourth drought in a dozen years, raising concerns about the reliability of the country's primary source of fresh water, the monsoon rains that typically fall from June to October.
8. Going backwards - America's middle class saw its income fall last year for the first time since World War Two, Marketwatch reports.
The top quintile of Americans generally appear to have high skills, high wages, and job security. They now hold 90% of the nation's wealth and account for virtually all recent income growth.

The other 80% of the working population increasingly fall into what has been called the "secondary labor market," with lesser-skilled jobs in places such as restaurants, retail stores, and hospitals. These jobs often pay little more than minimum wage; entail few, if any, benefits; involve little to no skill development or opportunities for significant advancement; and are often only part-time.
9. How many Kiwi FiFo jobs will this cost? - The Australian Financial Review reports that A$119.6 billion worth of mining projects will be put on hold because of the recent slump in iron ore and coal prices in the wake of China's hard landing.
Deloitte Access economics director Chris Richardson has previously warned the federal government that the boom in mining construction could fall steeply from 2014 as rising cost pressures bite.

"Some of the froth has blown off the top and some projects that were seen as more likely are now clearly pushed back for a while," he told The Australian Financial Review yesterday.
10. Totally Jon Stewart on the Republican National Convention. Here's there in Tampa.