Here's my Top 10 links from around the Internet at 7.30 pm today in association with NZ Mint.
As always, we welcome your additions in the comments below or via email to bernard.hickey@interest.co.nz.
See all previous Top 10s here.
My must read is #4 on solving the currency wars. Some serious people are talking about some radical things.
1. The currency wars guy is back - FT reports Guido Mantega, the Brazilian finance minister who coined the phrase 'currency wars' two years ago, has come out again with another broadside aimed at the US Federal Reserve's QE Infinity.
He said the Bank of Japan's money printing move this week was a response to America's move.
QE Infinity risked unleashing a round of protectionism by countries desperate not to see their export sectors slammed by their currencies rising vs the US dollar, he said.
These competitive devaluations will make further trade liberalisation very difficult.
Here's more from Guido:
"It has to be understood that there are consequences," Mr Mantega told the Financial Times in an interview on Thursday. The Fed's QE3 programme would "only have a marginal benefit [in the US] as there is already no lack of liquidity . . . and that liquidity is not going into production." He said it was instead depressing the dollar and aimed at boosting US exports.

"Japanese companies were complaining about their strong exchange rate. If a weaker dollar leads to rising trade competition, then that will also force Brazil to adopt measures to stop the real strengthening," Mr Mantega said
2. And lo and behold - UPI reported Brazil announced plans to raise import tariffs on 200 commodities.
Tariff hikes of up to 25 percent will affect 100 import categories and will be followed in October with further tax rises on another 100 categories. Most of the affected items are capital goods from various industries, including petrochemicals and steel. The first list of 100 goods affects imports from outside the Mercosur trade bloc.

The tariff hikes, which were expected, are part of a government attempt to stimulate domestic production, officials say. Despite that explanation, the tariffs are seen by the industry as double-edged and likely to invite retaliatory steps.
3. Cheeky buggers - So then America protested at the new higher tariffs....and the Brazilians hit right back.
Here's US Trade Representative Ron Kirk and Brazilian Foreign Minister Antonio de Aguiar Patriota going at it hammer and tongs in this Chicago Tribune report.
In a letter to Brazil's foreign minister, Kirk expressed "in strong and clear terms" the U.S. concerns about plans to raise import tariffs on 100 foreign products, warning that they could spark retaliation from trade partners.

Foreign Minister Antonio de Aguiar Patriota replied in a letter on Thursday that the currency effects of U.S. monetary stimulus had forced Brazil to confront "a flood of imported goods at artificially low prices."

Kirk said the United States expects scheduled tariff increases around September 25 to "significantly hit U.S. exports to Brazil in key areas of export interest to the United States."

Patriota answered that the U.S. has been one of the main beneficiaries of a stronger Brazilian currency, which hit a 12-year high last year. American exports to Brazil nearly doubled from 2007 to 2011, he said, as Brazil went from the 16th to the eighth biggest market for U.S. goods. "It would be fairer if those increases took place in an environment not distorted by exchange rate misalignments and blatant government support," Patriota wrote.
The Atlantic has been on the Millennial beat for a long time, explaining why 20-somethings aren't buying cars or houses or cable subscriptions, not getting married, not having children, and sometimes not even moving out of their parents' basements. The answer, again and again, is the economy.

Unemployment for adults between 20 and 24 is 14%, compared to the national average of 8.1%. But even those with jobs are facing something without modern precedent: Steadily falling annual earnings (graph via Progressive Policy Institute).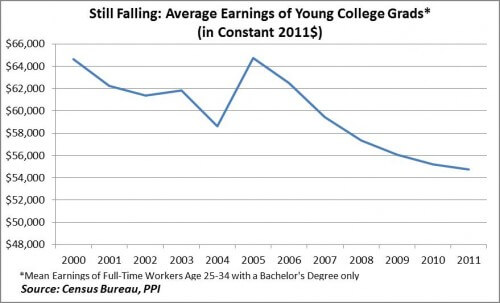 6. Why QE Infinity won't work - Gillian Tett writes at FT.com that lowering long term interest rates won't work because businesses are too scared to borrow, regardless.
Earlier this month, America's Duke University asked the chief financial officers of 887 large companies how they might respond to falling interest rates. The results were noteworthy for economists, political pundits and investors alike. Some 91 per cent of firms said a one per cent fall in interest rates would have no impact on their business plans, while 84 per cent professed indifference towards even a two per cent fall. "CFOs believe that a monetary action would not be particularly effective," the survey concluded; or not, that is, in terms of boosting investment and jobs.

The bigger worry is that the benefits of QE3 are so unclear, because the transmission mechanism is so muddled, while the potential costs are so high. "Anything that the Fed does is going to only have temporary effects," James Bullard, head of the St Louis Regional Fed told Reuters earlier this week. Or as Richard Fisher, head of the Dallas Fed, observed in a powerful speech on Wednesday (which cited the Duke survey): "Nobody on the [Fed] committee . . . really knows what is holding back the economy. Nobody really knows what will work to get the economy back on course. The very people we wish to stoke consumption and final demand by creating jobs and expanding business fixed investment are not responding to our [Fed] policy initiatives as well as theory might suggest."
7. Why is labour productivity falling - Martin Wolf at FT.com looks at this remarkable phenomenon now sweeping Britain, America and Europe. This shouldn't be happening. Labour productivity normally rises during and after a recession as the 'dead wood' is cleaned out and employers run existing workers harder and invest in new technology to boost output per worker per hour.
That's not happening this time around. Here's Wolf:
I can imagine three plausible explanations: cyclical labour hoarding; substitution of labour for capital; and huge obstacles to the efficient deployment of capital.

Labour hoarding is surely part of the story. Corporate finances are strong, which makes the hoarding affordable – and indeed, desirable in the medium term. Moreover, real wages have been falling, making it cheaper to retain workers. Yet, though this must be part of the story, it cannot be all of it. It does not explain why employment has recently been rising. Moreover, as the stagnation continues, hoarding must make less sense. Yet employment stays robust.

Falling real wages also justify substituting labour for capital. I suspect this is part of what has happened. Yet it is hard to believe it explains much of a shortfall of 12 per cent in output per worker, relative to the pre-crisis trend.

Mr Broadbent suggests a third cause: misallocation of capital due to a defective financial system. The decline in the rate of overall investment is not big enough to explain the productivity puzzle. But he notes that prices and profitability have diverged across sectors to a greater extent than normal. Yet this has not triggered a large reallocation of capital to high-return activities. As a result, "some firms are kept in business ... despite making relatively low returns. Others, able to expand but unable to obtain the finance to do so, are forced to substitute labour for capital".
8. Selling the family silver - The Guardian reports on the mother of all fire sales now being held in Greece to raise money to repay creditors.
Greece has announced it will sell anything it can do without – and in the case of the debt-choked nation that means letting go of islands, royal palaces, prime real estate, marinas, airports, roads, the state-owned gas company, lottery and post office. Indeed anything, really, that can be sold. Earlier this year, the cash-strapped culture ministry even announced it would make the Acropolis more "readily available" for photographers and film crews. Previously, the ancient site had been regarded as "too sacred' to rent out or besmirch with commercial use.

This month the conservative-led coalition, in power since June, declared that it had also pinpointed at least 40 uninhabited islands which it planned to lease out for the development of "tourism ventures".
9. Slower for longer - Bloomberg reports a state economist in China saying the slowdown happening there now could take longer than the slowdown seen after the Lehman crisis in 2008.
"The slowdown will definitely extend into the first quarter of next year," said Yuan, 58, who advises the government without being directly involved in policy making. "That will provide a good starting point for the new generation of leadership to make a turnaround, because things can't get worse."

The Communist Party has yet to announce a date for the congress this year that will start the process of the leadership handover. Lu Ting, chief Greater China economist at Bank of America Corp., said this month that the nation had "policy paralysis" as a result of the pending transition.

Yuan, who also teaches at Tsinghua University in Beijing, said unsustainable local-government spending plans will also contribute to the slowdown. "China's medium and small-sized businesses are finding it increasingly hard to borrow money from banks -- the most fundamental part of the economy is suffering," Yuan said.
10. Totally Clarke and Dawe on the new Queensland Premier. He's not happy with the Premiership he bought. I have no idea what they're talking about. But I still laughed.