Derek Vance is unconvinced that the way forward for a prosperous New Zealand requires a much larger population. Do you agree?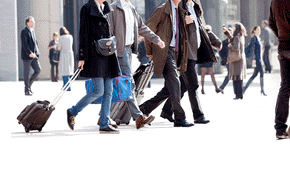 By Derek Vance*
A recent article in the New Zealand Herald by John Roughan believes New Zealand needs more people, ten million more at the least.
He is backed up by NZIER publications suggesting we need at least fifteen million inhabitants to support indigenous companies of scale sufficient to encourage new viable export industries.
Looking back at the past and then projecting forward these are not unreasonable thoughts. But that view is short sighted, moving deeper into the twenty first century New Zealand's low population will become perhaps its most significant advantage.
For the past two hundred and fifty years the world has lived through a period of unprecedented growth. Unquestioned growth of population and the economy became and still are essentially the accepted norm.
To question growth is to be defeatist, all of traditional economic thinking requires growth for prosperity and social stability.
Growth is the simple answer in a world of unlimited resources. And for a new country like New Zealand immigration is the easiest solution of them all.
Except that continuous exponential growth on a finite planet, as somebody said recently, is only possible and believed by those already locked up and economists.
None the less growth is the accepted truth by business and government.
Until the late 1960's growth certainly looked unstoppable, the world was still big, resources many, and then the Club of Rome published 'The Limits to Growth' in which the MIT researchers indicated that growth would almost certainly stop and probably decline within the twenty first century. This research created such a storm of protest that the authors retreated.
Telling the truth is not popular especially if you antagonise those powerful entities business and government. Many people looked at the equations in the report and tried reproducing the results. What stood out more than anything was the stability of the results. If you looked at an equation and thought the assumptions too pessimistic or too optimistic or doubted the estimated resource levels or time lags and then tried changing the assumptions it soon became clear that very great change was needed to move the results.
But nobody in power wanted to believe.
In the intervening forty years since the publication of Limits many studies using better data, more detailed models and powerful computers essentially confirm the results and forty years on we sit very close to the baseline 'business as usual' estimates made in Limits.
Of course many details have changed but the essential prognosis remains.
New Zealand is a new country, it is quite possible even if growth came to an end in a general world-wide sense, as predicted by Heinberg in his recent book 'The End of Growth', there could still be pockets of growth perhaps for decades and New Zealand might well be part of that.
In addition the conventional wisdom is that towards the end of the century population will be nine or ten billion and GDP three or four times greater than at present. So why worry?
We can have ten billion inhabitants on the planet if we all agree to become vegetarian and live in small shoe box apartments, more likely it would end up with the majority living like those in the worst slums of present day impoverished countries.
Studies indicate that the world can support no more than about two billion on a continuous sustainable basis at a living standard similar to today's Western Europe. That is similar to New Zealand.
So people have to decide if they wish to live in reasonable prosperity or be happy in an overcrowded and impoverished world.
If people are happy with overcrowding and a resource depleted world then there is no need to take action, business as usual is fine, the future will be decided for us.
If on the other hand people prefer a little comfort, and no doubt much less social disorder, then we have to take action and the two primary variables are population and economic growth.
It is not possible to describe what a world wide sustainable economy with a stable population base, if it evolves, would look like towards the end of the century. To get there requires millions of decisions by millions of people over many decades but one thing that is certain is that we cannot get there with 'business as usual'.
To add more population clearly misses the point; what is required is a change of direction, not more of the same.
More people in the short term might help the economy only to make it more difficult later on to get back to a sustainable level. It is clearly a difficult decision.
Change in a democracy comes with the people and then action by government. Our government is Conservative, I think we could say, without controversy, hence business as usual. The Labour opposition may have ideas but is hampered by the baggage of the early social welfare state, hence probably backward rather than forward looking.
Our great hope should be the Greens, but alas New Zealand's Greens see hope best defined by Marx, none the less a totally revamped Green party devoid of its far left might be the best democracy to slowly steer New Zealand over the next two or three generations towards that goal of a stable population and sustainable economy.
------------------------------------------------
Derek Vance is a retired analyst and present day observer of current trends. He lives in Kerikeri. You can contact him here »