Here's my Top 10 links from around the Internet at 3 pm in association with NZ Mint.
As always, we welcome your additions in the comments below or via email to bernard.hickey@interest.co.nz.
See all previous Top 10s here.
My must read today is #1 from Bill Gross. Masterful and mentions New Zealand.
1. Credit Supernova - PIMCO is the world's biggest bond fund and its head manager is Bill Gross.
He always writes an entertaining and insightful monthly newsletter. Readers of the piece will wonder if he's wearing a tinfoil hat. He's not. He's the biggest bond fund manager in the world.
He isn't always right. He bet against an extension in the rally in US Treasuries last year.
Instead, interest rates kept falling as an ageing population of freaked out savers went for the ultimate safety (they believe) of US Treasuries.
But everybody is wondering when the bond markets will have their '1994 moment'.
That was when bond yields blasted higher after a long recession, causing all sorts of grief.
Everyone is waiting and waiting, but it hasn't happened yet.
I think the power of the demographics of ageing populations of savers in the developed economies is much bigger than many people think.
Gross begins with a basic discussion of how the banking system and credit works. A lot of people are thinking about this in the days of money printing and bank bailouts.
The creation of credit in our modern day fractional reserve banking system began with a deposit and the profitable expansion of that deposit via leverage. Banks and other lenders don't always keep 100% of their deposits in the "vault" at any one time – in fact they keep very little – thus the term "fractional reserves." That first deposit then, and the explosion outward of 10x and more of levered lending, is modern day finance's equivalent of the big bang. When it began is actually harder to determine than the birth of the physical universe but it certainly accelerated with the invention of central banking – the U.S. in 1913 – and with it the increased confidence that these newly licensed lenders of last resort would provide support to financial and real economies. Banking and central banks were and remain essential elements of a productive global economy.

But they carried within them an inherent instability that required the perpetual creation of more and more credit to stay alive. Those initial loans from that first deposit? They were made most certainly at yields close to the rate of real growth and creation of real wealth in the economy. Lenders demanded that yield because of their risk, and borrowers were speculating that the profit on their fledgling enterprises would exceed the interest expense on those loans. In many cases, they succeeded. But the economy as a whole could not logically grow faster than the real interest rates required to pay creditors, in combination with the near double-digit returns that equity holders demanded to support the initial leverage – unless – unless – it was supplied with additional credit to pay the tab. In a sense this was a "Sixteen Tons" metaphor: Another day older and deeper in debt, except few within the credit system itself understood the implications.

When Minsky formulated his theory in the early 70s, credit outstanding in the U.S. totaled $3 trillion.† Today, at $56 trillion and counting, it is a monster that requires perpetually increasing amounts of fuel, a supernova star that expands and expands, yet, in the process begins to consume itself. Each additional dollar of credit seems to create less and less heat. In the 1980s, it took four dollars of new credit to generate $1 of real GDP. Over the last decade, it has taken $10, and since 2006, $20 to produce the same result. Minsky's Ponzi finance at the 2013 stage goes more and more to creditors and market speculators and less and less to the real economy. This "Credit New Normal" is entropic much like the physical universe and the "heat" or real growth that new credit now generates becomes less and less each year: 2% real growth now instead of an historical 3.5% over the past 50 years; likely even less as the future unfolds.
So our credit-based financial markets and the economy it supports are levered, fragile and increasingly entropic – it is running out of energy and time. When does money run out of time? The countdown begins when investable assets pose too much risk for too little return; when lenders desert credit markets for other alternatives such as cash or real assets.

The element of time is critical because investors and speculators that support the system may not necessarily fully participate in it for perpetuity. We ask ourselves frequently at PIMCO, what else could we do, what else could we invest in to avoid the consequences of financial repression and negative real interest rates approaching minus 2%? The choices are varied: cash to help protect against an inflationary expansion or just the opposite – long Treasuries to take advantage of a deflationary bust; real assets; emerging market equities, etc. One of our Investment Committee members swears he would buy land in New Zealand and set sail. Most of us can't do that, nor can you.
2 Big pressure on China's steel mills - The FT's Leslie Hook and Simon Rabinovitch report from Beijing on the demands from local governments in China for Chinese steel mills to pay their taxes two years in advance.
This can't be good news for the Australian coal miners and iron ore miners that supply these mills.
Chinese mills, which produce nearly half the world's steel, have traditionally been cash cows for local governments. But last year, as China's economy slowed, profits at the country's biggest steel mills dropped 98 per cent from the previous year, according to the China Iron and Steel Association (CISA). Losses reported by unprofitable mills increased more than sevenfold.

Yet that did not stop municipalities in northern and northeastern China – also feeling the pinch from the economic downturn – from pressuring some mills to pay tax up to two years ahead of time, according to Zhang Changfu, CISA secretary-general. Uncooperative companies have found themselves subject to audits, investigations, and often big fines.
3. There is another way - New Zealand is determined to leave its borders completely open to international investment flows, but others such as the Philippines and Korea are acting to staunch the flows that are pushing up their currencies and slamming their export sectors.
Here we still believe everyone else is playing fair and the magic of the market will cure all.
Bloomberg reports on the latest moves in the Philippines and Korea:
Philippine central bank Governor Amando Tetangco said he's studying more measures to counter excessive capital inflows lured by growth, joining South Korea and Singapore in warning that policy makers need to consider more steps to reduce the impact of such funds.

"Capital flows and the impact of these on the local economy and local financial markets" would be among the biggest challenges this year, Tetangco said in an interview in his office yesterday. "We continue to study what other measures can be implemented just in case there's a need to adopt more measures in the future."

Monetary easing in developed nations from Japan to the U.S. and Europe has spurred flows to faster growing emerging markets as investors seek higher returns, boosting Asian stocks to the highest in 17 months this week.
4. Oh dear - ABC reports on a Reserve Bank of Australia employee in the 'damaged notes division' who seemed to be depositing more than he was earning...
A police summary tendered in Melbourne Magistrates Court stated Jackson deposited $1.1 million into his bank account between September 2009 and May 2012, but only earned $252 ,000 over the same period.

His former colleague, Leanne Jeil, told the court she became suspicious about Jackson's behaviour after she found packages containing more than 2,000 contaminated bank notes in a disused office where the furnace used to destroy the notes is housed.
5. Don't let class warfare turn into generational warfare - So says Bloomberg here:
Whether you call it "class warfare" or not, income and wealth were dividing lines in the 2012 election.

President Barack Obama campaigned to raise taxes on the top 2 percent of earners. Mitt Romney called the 47 percent of Americans who didn't pay federal income taxes in 2009  "entitled" and "dependent upon government." And income was a strong predictor of voting preferences, too, with richer voters casting ballots for Romney and poorer ones for Obama.

A new division may emerge in future, based not on income but on age.

The coming generation of retirees hasn't paid nearly enough in taxes to cover the costs of the pensions and medical care it has promised itself. The generation of Americans between ages 60 and 65 in 2010, for instance, has underpaid by some $292 billion, according to the International Monetary Fund.

That means young Americans -- and those yet to be born -- will face an ugly decision. Either they can cover their parents' and grandparents' bills by raising their own taxes, or they can cut their elderly relatives' benefits.
6. The problem with New Zealand's mortgage debt - Leith van Onselen does a nice job over at Macrobusiness on this, with some great charts included.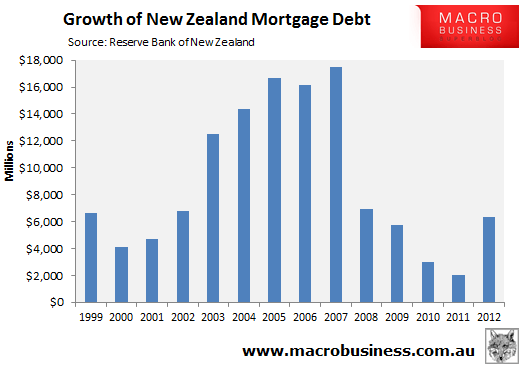 7. We're one of the world's 'sexiest currencies' (hope that gets through your email filters) - So says Societe Generale's Kit Juckes in this BusinessInsider piece.
High interest rates, a strong trade balance, and strong growth are what typically make a currency attractive to traders.

On this chart, you can see that the currencies that are far to the right on the sexy index include the Norwegian Krone, the Aussie Dollar, the Kiwi (New Zealand), the Swiss Franc, the the Swedish Krona:
8. Goldman slightly less Fabulous - Fabulous Fabrice Tourre has now quietly been unemployed by Goldman Sachs, Dealbreaker reports. He's gone to study Economics at the University of Chicago.
In an email to a friend that was disclosed by the SEC, Mr. Tourre wrote: "The whole building is about to collapse anytime now … Only potential survivor, the fabulous Fab[rice Tourre] … standing in the middle of all these complex, highly leveraged, exotic trades he created without necessarily understanding all of the implications of those monstruosities!!!"
9. The saddest chart in the world - Youth unemployment in Europe courtesy of Zerohedge.