Here's my Top 10 links from around the Internet at midday in association with NZ Mint.
As always, we welcome your additions in the comments below or via email to bernard.hickey@interest.co.nz.
See all previous Top 10s here.
My must read today is #1 from Martin Wolf. Adair Turner's speech has shaken the landscape of monetary and fiscal policy oop north.
1. Now the FT's Martin Wolf is talking about money printing - The discussion about monetising government debt via central banks printing money is getting a roll on.
Currently Quantitative Easing is done by central banks who print money and buy bonds off banks. Eventually, the plan is to sell the bonds back to investors and banks.
Another option is for the central banks to print the money and buy the bonds directly off the government, before eventually cancelling the bonds.
Essentially, it is money created out of thin air to fund government spending.
It's not a new idea, but it's gaining traction in Japan and the UK in particular, and to a lesser extent in America, where the idea is politically explosive.
It all depends on being able to do it without creating inflation. Japan has managed it.
Here's the FT's premier commentator Martin Wolf also talking openly about monetising government debt.
His piece is called 'The case for helicopter money'. Remember, this is the strategy proposed by the Greens and mocked openly by the Government. Again, Wolf's piece follows the epic Adair Turner speech I referred to earlier in the week.
Those convinced hyperinflation is around the corner believe that banks expand their lending in direct response to their holdings of reserves at the central bank. Under a gold standard, reserves are indeed limited. Banks need to look at them rather carefully. Under fiat (that is, government-made) money, however, the supply of reserves is potentially infinite. True, central banks can pretend reserves are limited. In practice, however, central banks will advance reserves without limit to any solvent bank (and, as we have seen, to insolvent ones).

With central banks able to supply reserves at will, the constraints on lending are solvency and profitability. Expanding banking reserves is an ineffective way to increase lending, not a dangerous one.

First, it is impossible to justify the conventional view that fiat money should operate almost exclusively via today's system of private borrowing and lending. Why should state-created currency be predominantly employed to back the money created by banks as a byproduct of often irresponsible lending? Why is it good to support the leveraging of private property, but not the supply of public infrastructure? I fail to see any moral force to the idea that fiat money should only promote private, not public, spending.

Second, in the present exceptional circumstances, when expanding private credit and spending is so hard, if not downright dangerous, the case for using the state's power to create credit and money in support of public spending is strong. The quantity of extra central bank money required would surely be smaller than under today's scattergun quantitative easing. Why not employ monetary financing to recapitalise commercial banks, build infrastructure or cut taxes? The case for letting fiscal deficits facilitate private deleveraging, without undue expansion in overt public debt, is surely also strong.
2. Water is the new oil - Jo-shing Yang writes at MarketOracle about the push to control fresh water globally. HT Steven in yesterday's Top 10.
A disturbing trend in the water sector is accelerating worldwide. The new "water barons" --- the Wall Street banks and elitist multibillionaires --- are buying up water all over the world at unprecedented pace. Familiar mega-banks and investing powerhouses such as Goldman Sachs, JP Morgan Chase, Citigroup, UBS, Deutsche Bank, Credit Suisse, Macquarie Bank, Barclays Bank, the Blackstone Group, Allianz, and HSBC Bank, among others, are consolidating their control over water.

Wealthy tycoons such as T. Boone Pickens, former President George H.W. Bush and his family, Hong Kong's Li Ka-shing, Philippines' Manuel V. Pangilinan and other Filipino billionaires, and others are also buying thousands of acres of land with aquifers, lakes, water rights, water utilities, and shares in water engineering and technology companies all over the world.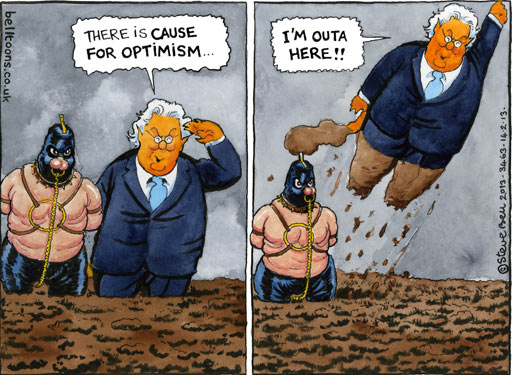 3. American free trade deal with Europe? - Bloomberg reports Barack Obama has pledged to try to get a 'free' trade deal with Europe. Some Americans are very excited at the prospect of selling into an open European market, but they never talk about opening up their own markets.
Free trade for America is always a one way street. You have to wonder though how much they will achieve with the Trans Pacific Partnership deal if they're trying to do a European deal at the same time.
"Negotiations will not be easy, but they have enormous potential to open new opportunities for us to sell our goods and services in the EU," House Ways and Means Committee Chairman Dave Camp, a Michigan Republican, said in a statement.

Congressional support for an EU deal depends on issues including better market access for U.S. agricultural goods, strong intellectual property protections and a means to settle disputes, leaders of the Senate Finance Committee said yesterday in a letter to Kirk.

A free-trade agreement between the U.S. and EU is an "enticing opportunity," the senators, Max Baucus, a Montana Democrat, and Orrin Hatch, a Utah Republican, wrote.
4. Currency Wars -  Der Spiegel has done a nice summary of the current thinking in Europe and elsewhere on currency wars. Ze Germans are not zo keen. Le French are tres, tres keen. Soros is a fan of competitive devaluations. Oh, the irony from the man who forced Britain out of the European Exchange Rate Mechanism. Although, now, there's plenty of Brits who would love to give him a knighthood for that.
Billionaire investor George Soros and French President François Hollande, a Socialist, are in agreement: The world is on the verge of a currency war, and it threatens to destroy Europe.

The Europeans should finally enter the fray and do battle with all their might, says Soros, who made some of his fortune by betting against the British pound. "Europe is an outsider," the 82-year-old recently said at the Davos World Economic Forum. He blamed the European Central Bank (ECB), which he called the last representative of an outdated central bank policy.

Hollande doesn't put it as clearly, but he means the same thing. "A currency zone must have an exchange rate policy, or it will end up with an exchange rate that doesn't correspond to the actual state of its economy," the Socialist told the European Parliament in Strasbourg last week.
5. Yet another private equity deal goes sour - NBR's Nevil Gibson reports Japan's Asahi is suing PEP and Unitas over its purchase of Independent Liquor, alleging misleading accounts.
This is what happens when your main method of making money is gearing an asset up to the gills and then flicking it on for a profit. Financial engineering is a disreputable profession.
The companies are seeking damages over claims that PEP and Unitas provided false accounts during the sale process, causing the buyers to overvalue Independent Liquor.

"This is not a case of poor due diligence but, rather, misleading and deceptive conduct," the source said.
6. The problem of corporates hoarding cash - Izabella Kaminska at FTAlpaville has a look at the debates over corporate cash hoarding and whether it matters.
As Albert Edwards of SocGen recently noted, corporates may be levering up, but they're also buying back their own equity with the proceeds at the same time. This has the effect of boosting RoE, whilst preserving cashpiles and pumping up corporate stock prices.

To some extent it's a Jedi mind trick designed to disguise the ultimate point that Cowen was making in the first place: there is currently no useful deployment for corporate cash. All investment leads to too much capacity, output or inventory, which only floods the market collapsing prices, compromising returns and profits further.

Corporate profits, if achievable, are thus now dependent on contracting capacity and cutting costs. Or in the case of Apple stimulating fresh demand with new product versions that hardly differentiate themselves from the old ones
7. The Robot employment threat - FTAlpaville have done an excellent video on the rise of the robots and corporate profits while manufacturing jobs and middle class wages fall.
This chart showing the divergence between wages and profits in the video is a cracker.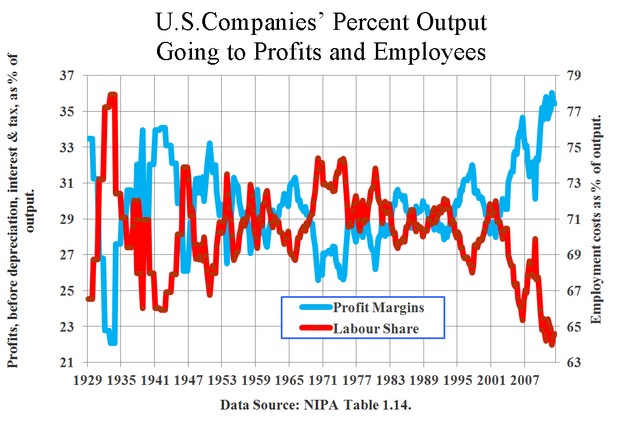 8. Some excellent long term Australian house price charts - Courtesy of Leith at Macrobusiness
Another popular method of determining property valuation is comparing housing prices to rents. In a fairly efficient market, the costs of buying and renting should closely match each other, though due to factors such as taxes, risks, and interest rates, it is unlikely that costs will equal. Since the post-WW2 boom, the ratio has unevenly decreased. Upswings in the ratio suggest the presence of a bubble: the mid-70s, early 80s, late 80s, and today.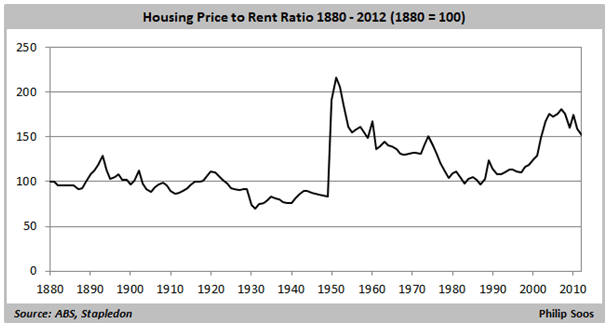 9. Another excellent piece on the currency wars - Slate talks here about the massive debates going on elsewhere in the world about currency wars. Yet New Zealand is just sitting in the middle of no-man's land, expressing mild surprise, shrugging its shoulders and adopting a profoundly fatalistic attitude to the un-ending rise in our currency.
We say: 'Oh well, there's nothing much we can do'. No one else (bar Australia) is doing that. They are running for the shell holes, putting on armour, firing back and generally doing something. As opposed to niothing Kiwi style.
Matt Yglesias at Slate actually thinks the currency wars are a good thing because they will float everyone's boats higher at the same time. That applies when everyone does it. If you're the one who doesn't, you end up like the last man standing in a game of musical chairs.
In fact, there's absolutely nothing to worry about here. At the very worst, the so-called wars that Stelzer and others find so troubling will do nothing at all. At best, globally coordinated, expansionary monetary policy could do a great deal to reduce unemployment in the West and speed industrialization in poor countries.