Opinion: But will the powers that-be take the chance to improve the lot of sub-contractors and tackle the vexed limited liability issue?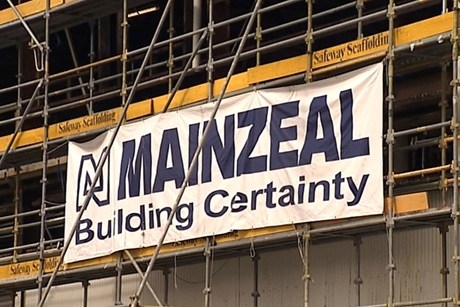 By David Hargreaves
If ever anything was set up to provide a magnificent test case for changing and redefining some hot-potato parts of commercial law and common business practice then surely it would be the collapse of Mainzeal Property and Construction.
The question is will the opportunity to turn a bad thing into progressive change be seized upon? Already, over two weeks since the Waitangi Day crash of the business, the original hot flush of emotion around Mainzeal's demise seems to be giving way to quiet resignation and with that, possibly, inaction?
That would be a waste. For a start, the circumstances of this collapse do need examining. And it is to be hoped that authorities such as the Serious Fraud Office are having a look. The complex nature of the businesses linked with and surrounding Mainzeal means this cannot be assumed to be a straight forward case of a company that simply got into trouble and failed.
But then there are wider issues for the future.
The Mainzeal flop has again pushed into the forefront the whole way the construction industry operates, with sub-contractors spending their money up front for labour and material but then getting paid – or in this case not paid – by the contractors much later. And this after the withholding of the so-called retention payments.
And then there is the vexed question of the structure of companies themselves and the concept of limited liability. Mainzeal is owned by a fairly new NZ$100 company that had actually only owned it since January 16.
Shuffle and shuffle again
The way companies bearing the Mainzeal name or derivatives of it have been set up and shuffled is something to behold. The man behind all this, Chinese-born, New Zealand educated and domiciled, Richard Yan, set up a welter of new companies only last May. The parent of these was called Mainzeal Group, which owns Mainzeal Construction, Mainzeal Construction SI, Mainzeal Ltd and MPC NZ. All of the new companies were NZ$100 nominal capital businesses. It was Mainzeal Group that became the owner of Mainzeal Property and Construction on January 16. Yan has said nothing publicly since the collapse.
Fairfax Media's Sunday Star-Times asked Mainzeal chief executive Peter Gomm last October about these new companies and the CEO was reported as saying that the more difficult environment since the onset of the global financial crisis was behind plans for the company to move to a new model for its business. It planned to reconfigure itself and run its business through the new companies it had incorporated, the paper said – with Mainzeal Group as the parent and the other four as subsidiaries.
As has been widely reported, independent directors Jenny Shipley, Paul Collins and Clive Tilby all resigned from the Mainzeal Group board on February 5 – the day before the plug was pulled on Mainzeal Property and Construction.
Less widely reported was the fact that those three had only been directors of Mainzeal Group since December 31, shortly before ownership of Mainzeal Property and Construction was vested with that company. Clearly a lot changed in a short time.
Another thing, which was widely reported, but wrongly presumed, is that ultimate ownership of Mainzeal Property and Construction rests with an offshore company called Richina Pacific.
Richina Pacific certainly was the owner of the Mainzeal companies and several other businesses and it used to be listed on the NZX. However, in late 2008, Richina Pacific was delisted as part of a complicated amalgamation scheme. Minority shareholders were promised a buy-out offer, which seemingly has not – for many anyway – materialised.
Yan is the man
Then in early 2010 ultimate ownership of the Mainzeal businesses was transferred to a New Zealand registered limited partnership called Richina (NZ) LP, the general partner of which is Richina Ltd, a New Zealand company whose sole shareholder is Richard Yan.
It is by no means clear whether shareholders of Richina Pacific received anything when ownership of the Mainzeal business was moved into the limited partnership.
A further wrinkle in all this complicated business is provided by two companies with similar names. There is King Façade, which has now gone into liquidation and one called King Facade (NZ), which is still trading.
King Façade was again once part of Richina Pacific but is now ultimately owned by the Yan-controlled limited partnership.
King Façade (NZ) is controlled 50% by the same limited partnership and 50% by Chinese interests.
The two King Facades specialise – as the name might suggest – in engineering and manufacturing facades for buildings. The website for King Façade (NZ) portrays it as an international business of some scope, with 13 branches in China and operations also in Singapore, Kuwait and Ghana.
Both King Facades it seems have operated in affiliation with Mainzeal, so one obvious question is what financial transactions might have occurred between the two companies. And to what extent have these financial transactions been to the disadvantage of Mainzeal Property and Construction?
The first report out this week from BDO, the liquidators of King Façade, shows that the company owed an eye-watering NZ$15 million to Mainzeal Property and Construction.
But interestingly the liquidator Andrew Bethell also alluded to "substantial losses" by King Façade (NZ) and said these too were funded by Mainzeal Property and Construction "or companies in the wider Mainzeal or Richina groups".
"Further investigation is required to determine the relationship between [King Façade] and the above company [King Façade (NZ)]," Bethell said.
An octopus
While this observer reckons it would appear far too drastic a step to place all Yan-related companies into statutory management, it seems clear that the PwC receivers of Mainzeal Property and Construction are going to have a tough job when in all probability they are going to find themselves having to deal with Mainzeal affiliates over which they have no control. It looks as though the receivers are now trying to handle an octopus when they have only a tentacle in their grasp.
But regardless of who does it, a full inquiry of some description needs to be carried out into the Yan empire. Given the complexity, this could take time.
In the meantime there really is an opportunity to use the Mainzeal experience in order to tackle those issues mentioned earlier.
Sub-contractors need a more certain environment in which to operate. What about placing retention payments with a separate body in the way that housing bonds are? Some sub-contractors involved in the Mainzeal collapse have already suggested this. If that was done then if either the sub-contractor or the contractor failed, the money could be accessed – rather than being locked up by the receivers as is the case at the moment.
Would it be possible to legislate for a minimum turn-around time for payments from contractors to sub-contractors? Agreed, potentially difficult to organise and police – but at least having the principle in place could deter any inclination for the contractors to almost treat the sub-contractors like banks.
Then there is the always vexed question of limited liability.  To some extent looking at the level of committed capital is therefore a red herring. Just because a company is set up as a $100 business does not mean it is about to fold at the first sign of trouble. There are plenty of very successful $100 companies out there.
Shifting assets
The problem emanates from business operators who shift assets out of one company, put them into a – usually similarly named – new company and leave the liabilities in the old company.
It can't be assumed that the raft of Mainzeal-named companies set up last year were intended as a means to this end – but the question probably needs to be asked, particularly given the very late change in ownership of Mainzeal Property & Construction prior to its receivership.
Holding people personally liable for debts – as some have suggested as a solution for the limited liability question – is not a starter. Realistically, how many people are ever going to want to start up a business if they could lose all their personal assets upon failure of that business?
There don't appear to be easy answers.
Strangely, one thing that could help might be to attempt limits on the formation of companies with similar names where they do not share common ownership. For example, if there is an existing business called XYZ Group, don't allow registration of something called say XYZ Group (NZ) if that company is not linked directly by ownership with the first one. That might sound a little tough, but it would act as some inhibition. Perhaps also banning the reusing of the same name might help. For example there have been three different entities called Richina Pacific operating in this country at various stages.
It is to be hoped that the rich ground for legislative and common business practice change provided by the Mainzeal collapse is picked up on. But for now, I'm not holding my breath.