Here's my Top 10 links from around the Internet at 10 am in association with NZ Mint.
As always, we welcome your additions in the comments below or via email to bernard.hickey@interest.co.nz.
See all previous Top 10s here.
My must read today is #1 from Rob Stock. Another reason why the Reserve Bank needs to regulate bank lending much more aggressively.
1. This doesn't seem fair - Rob Stock from the Sunday Star Times reports on how BNZ is pushing a bunch of South Auckland property investors (although that seems a kind description) to sell their mortgaged homes after they were duped into buying over-priced investment properties in Taupo from now-convicted fraudster Glenn Cooper.
It turns out BNZ's loan officers didn't even talk to the borrowers to ascertain who they really were or whether they were in any fit state to take out a loan.
Is this sort of thing still happening?
The surge in 90% plus LVR lending over the last year and the loosening of credit criteria measured by the Reserve Bank suggest there is a risk.
Should a bank follow through on forcing a mortgagee sale when it didn't even stick to its own criteria when making the loan?
Can BNZ say it keeps its promise to: ""We promise if we stuff up for any reason, we'll fix it and do right by you."?
Here's the detail, as reported by the always excellent Rob Stock:
Mortgagee sales have crystallised the losses of those investors, who bought the properties at inflated prices based on valuations supplied to them. Their lawyer, Geoff Bilkey, is calling on the bank for mercy and to do the "right thing" - by cutting a deal that will allow the families to keep their homes.

Bilkey claims that, in making the loans, the bank failed to stick to its own lending criteria, did not reality-check property valuations, failed in one case to recognise it was lending for a deposit on a property with no title, failed to take adequate steps to check loan application information, and did not once pick up the telephone to speak to the borrowers before lending.

Had the bank carried out the checks most people would expect of a responsible lender, it would never have made the loans, Bilkey says. He also said had BNZ staff spoken to the borrowers, it would have realised they were financially illiterate, naive and trusting in the extreme.
2. High living - Matt Nippert also does a great job at the SST of detailing the shadowy activities of  Bahrain-based Indian Ahsan Ali Syed, who promised big, low interest loans to Terry Serepisos and others as long as they paid big fees up front...
Now where have we heard that idea before?
Ali was for a time a playboy figure in the Spanish region of Santander after his early 2011 purchase of La Liga team Racing Santander, wearing polka dot cravats, flying into town on a private jet, and travelling with an entourage of a dozen in a fleet of five Mercedes.

He talked of opening his chequebook to sign David Beckham and making this small club a legitimate contender against league heavyweights rivals Real Madrid and Barcelona FC.

In an interview given to Vanity Fair's Spanish edition in 2011, shortly before the wheels came off his La Liga football club Racing Santander, Ali claimed he attracted criticism only because of his wealth: "Why do you always attack us rich people? Why do you always attack me and people like [Bernie] Ecclestone and [Roman] Abramovich?"

Ali has not set foot in Spain since May, when accusations against WGA started to surface and players and coaches at the clubs complained of going unpaid. The club cycled through four general managers in the space of a year and after only winning four times during a 38-game season, were relegated and placed into bankruptcy.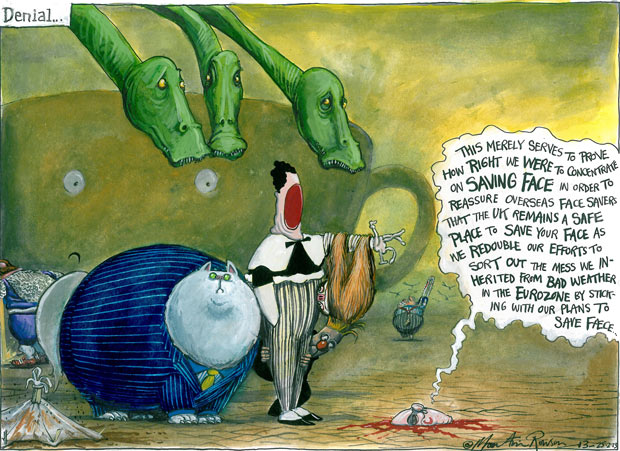 3. Why haven't power prices fallen for consumers? - Weak demand and increased supply usually forces prices down. Why not in NZ?
Here' Jason Krupp reporting at Stuf on this strange situation.
Domestic Energy Users Network lobbyist Molly Melhuish said consumers patiently accepted higher power prices in recent years as power firms expanded their generation capacity, but now overcapacity and full hydro lakes had pushed prices sharply lower.

According to Electricity Authority figures, the wholesale electricity price was recently trading at $73 per megawatt hour, well short of the $131/MWh seen at the same time last year. However, the benefit of this power glut is not being seen on power bills.

Melhuish noted Mighty River Power had raised retail prices by 2 per cent over the last six months even as power purchase costs dropped by 22 per cent over the same period. She called the practice a "price gouging of captive consumers".
4. The difference between 'Helicopter Money' and Quantitative Easing - Very serious people continue to talk about money printing overseas and the option of central banks lending to governments to finance deficit spending. Here's former Reserve Bank of Australia Deputy Governor Stephen Grenville talking about it at VoxEU
It's as if New Zealand is in a twilight zone where such talk is verboten.
There are subtle differences between this deficit-funding operation and normal quantitative easing. First, central banks decide when to do quantitative easing and how much, while an overt monetary finance would be a joint decision with the government. This raises issues of central-bank independence: the ability to say 'no' to government requests for funding is an important discipline on budget expenditures. There may also be a different understanding in financial markets about the unwinding of this operation. The clear understanding is that quantitative easing will be unwound at some stage, while with overt monetary finance this might be unclear (although the distortionary impact of the banking system's forced holding of substantial excess reserves doesn't seem to be a satisfactory long-term arrangement).

Lord Turner (2013) is right in criticising the inflation alarmists, who carry outdated views on the relationship between money and prices. Similarly, those with a deficit fetish who argue that stimulus will be futile and harmful should be required to make their case within the current context of spare capacity.
5. Audit the big four auditors - The Guardian reports on criticism from Britain's Commerce Commission of the big four accounting firms (KPMG, EY, PwC and Deloitte).
The Competition Commission's review into how Ernst & Young, Deloitte, KPMG and PwC audit 90% of UK-listed blue-chip businesses said they were "insufficiently independent from executive management and insufficiently sceptical in carrying out audits".

While the commission found no evidence of collusion between the four, it said there was a restricted amount of competition in the market. As a result "companies are offered higher prices, lower quality and less innovation" than would be the case in a more competitive market.
6. Jeremy Grantham on the BBC talking about long term resource shortages  - Well worth a watch. HT Steven.
7. US banks and pay day loans - The New York Times has this extraordinary report. I should be surprised when I see this, but by now I'm not...
Major banks have quickly become behind-the-scenes allies of Internet-based payday lenders that offer short-term loans with interest rates sometimes exceeding 500 percent.

With 15 states banning payday loans, a growing number of the lenders have set up online operations in more hospitable states or far-flung locales like Belize, Malta and the West Indies to more easily evade statewide caps on interest rates.

While the banks, which include giants like JPMorgan Chase, Bank of America and Wells Fargo, do not make the loans, they are a critical link for the lenders, enabling the lenders to withdraw payments automatically from borrowers' bank accounts, even in states where the loans are banned entirely. In some cases, the banks allow lenders to tap checking accounts even after the customers have begged them to stop the withdrawals.
8. A money printer extraordinaire - Reuters reports Japan is about to appoint an uber-dove to run the Bank of Japan, printing like mad to further devalue the yen. Expect a new round of rhetoric in the currency wars.
Japan's government is likely to nominate Asian Development Bank President Haruhiko Kuroda, an advocate of aggressive monetary easing, as its next central bank governor, the Nikkei newspaper reported.

The yen plunged 1.4 percent in early trade to 94.67 per dollar by 4.56 a.m. on Monday after the report Prime Minister Shinzo Abe will submit the nominations for Kuroda and two deputy governor posts to parliament this week. The incumbents leave on March 19. 
9.  Good luck with that - Reuters reports on the challenge the US Federal Reserve faces tip-toeing back from massive stimulus. 
Fed officials worry that even a small tapering of their bond-buying program could ricochet through financial markets, sharply raising longer-term borrowing costs and choking off the economic growth they have worked so hard to foster.

"We are in a world where, when the Fed starts moving toward a less-stimulative policy stance, at some point the markets are going to say 'Oh my goodness,'" said Nathan Sheets, global head of international economics at Citigroup and a former economist for the Fed's policy-setting committee.

Last week, the central bank got a taste of just how abruptly investors can react to a whiff of policy change.
10. Totally Jon Stewart on the issue of drones.
(Updated with cartoons)