Here's my Top 10 links from around the Internet at midday in association with NZ Mint.
As always, we welcome your additions in the comments below or via email to bernard.hickey@interest.co.nz.
See all previous Top 10s here.
My must read today is #1 from Martin Wolf on the need for bank shareholders to just accept lower returns on equity. 
1. Show me the equity - All this debate about Open Bank Resolution and deposit insurance would all be redundant if banks had a lot more equity.
Martin Wolf at the FT points this out when discussing the Cyprus crisis.
If New Zealand's banks had a 20% equity buffer then there would much less of a need for a deposit insurance scheme or the fig leaf of an Open Bank Resolution scheme.
But instead they have around 8%.
They do this to ensure a high return on equity and high dividends.
That's the guts of the economic crisis globally. Banks are too leveraged.
The eurozone must either make the industry far more robust, by hugely increasing equity capital, or consolidate fiscal capacity and tighten regulation, to ensure adequate eurozone-wide oversight and fiscal support. What is frightening is not that tiny Cyprus got into trouble, but that it is a source of wider danger. Banking is dangerous everywhere. But it still threatens the eurozone's survival. This has to change – and very soon.
2. The genie is out of the bottle - Government and policy maker fear about moral hazard is driving a lot of the attempts to pull back from guarantees and use Open Bank Resolution style schemes. Cyprus is just sheer desperation.
Here's a survey via The Street of bank bond holders in America saying they now expect government bailouts. If that's the case, the way to deal with it is a deposit guarantee.
Asked by the panelists to raise their hands if they expected banks to be bailed out if they ran into deep trouble, all of the roughly 40 bond investors in attendance on March 14 at the Bank of America Merrill Lynch 2013 Fixed Income Bank and Finance Conference did so, according to two people who were there.
3. A growing shadow over the Iron Ore Age - So says Stephen Bartholomeuz at BusinessSpectator. 
4 God help us - Or at least impose some macro-prudential controls and an OCR hike. 
Anne Gibson at NZHerald has the story of the house in Epsom that sold for double its CV this week. 
5. Some times the British tabloids can be excellent - Here's the Daily Mail with some fancy Photoshop footwork to comment on the budget.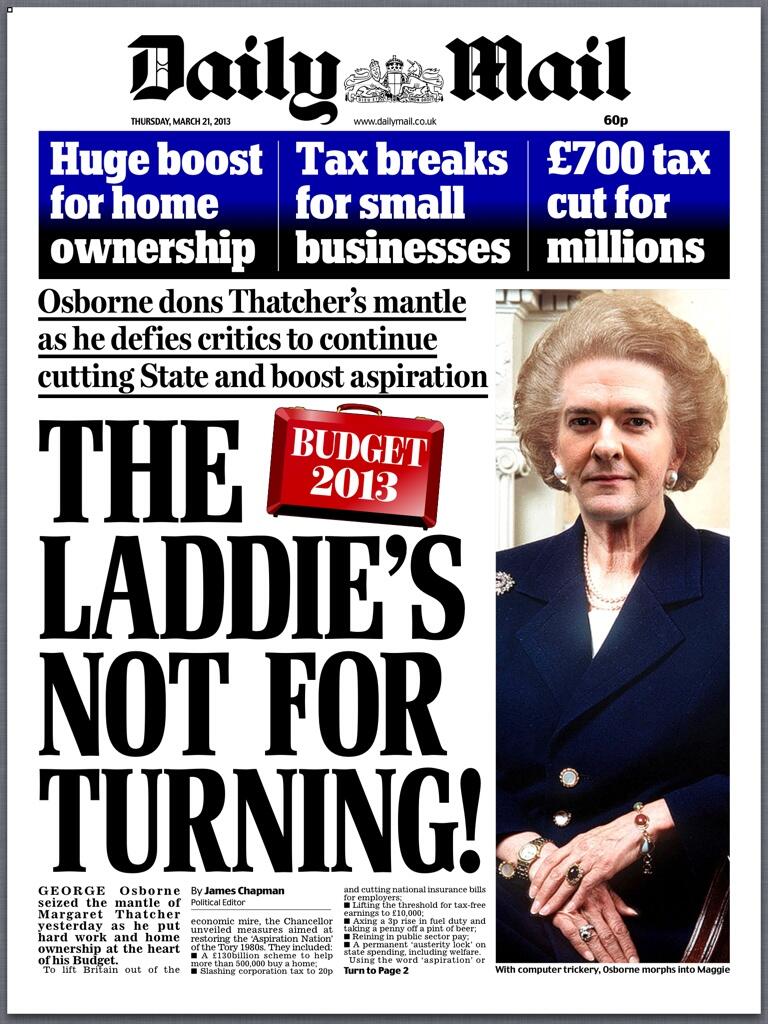 6. And another one from The Sun explaining the British budget.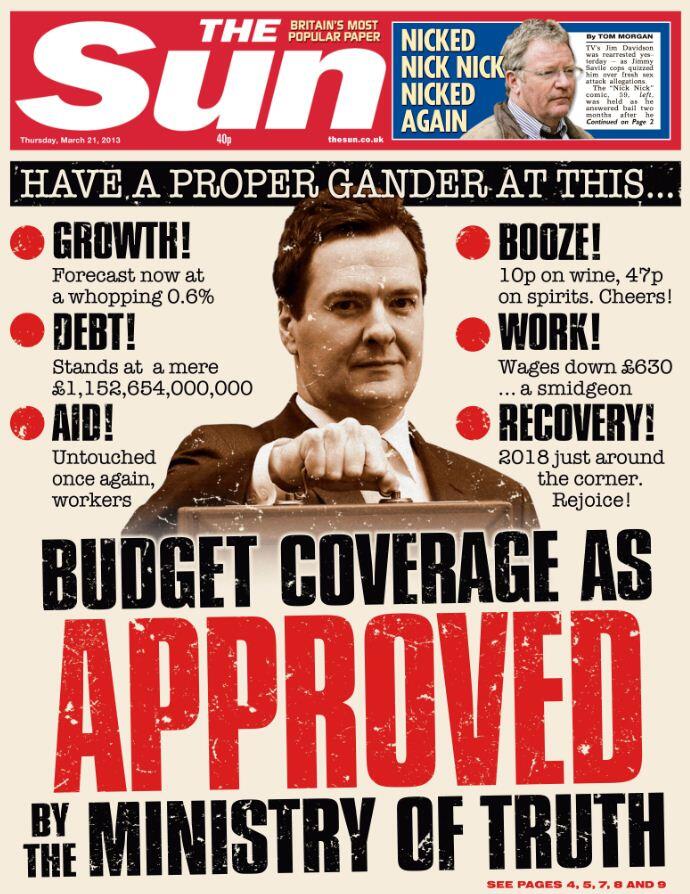 7. Capital controls in Cyprus - Here's the Telegraph with the latest on capital controls in Cyprus, where the banks look like they will be closed for another week. 
8. Keep an eye on Bitcoin - Bloomberg reports that the price of Bitcoin, an alternative currency, has soared in recent days and downloads of the apps in Spain and Portugal are surging. 
9. Unconventional policy forever - Ryan Avent at the Economist has a look at the latest comments from Ben Bernanke after the US Federal Reserve kept rates on hold near zero% again and said they would stay there until 2015. 
10. Totally Stephen Colbert on North Korea and a new 'Save the World' video.
(Updated with missing links and video)