Here's my Top 10 links from around the Internet at 11 am in association with NZ Mint.
As always, we welcome your additions in the comments below or via email to bernard.hickey@interest.co.nz.
See all previous Top 10s here.
My must read today is #5 on an alternative debt restructure plan for Cyprus. Thinking about the details of sovereign debt restructures makes you realise they are possible and not the end of the world.
1. Captured regulators - The New York Times' Dealbook reports on how big US banks give sweetheart deals to executives departing to work in government departments and central banks.
Revolving doors are dangerous things when it comes to regulators and banks.
The fact that no banker has been sent to jail in the US after multiple criminal acts is itself criminal.
The number of huge settlements has created the impression that these banks are Too Big To Fail and their managers are Too Big To Jail.
They are more likely to be Too Well Connected To Jail.
Here's the New York Times:
Banks, including JPMorgan Chase, Goldman Sachs andMorgan Stanley, all have provisions that allow acceleration of payments owed to senior executives if they take government jobs, a new study finds.

Such a benefit was highlighted recently during the confirmation hearing for Jacob J. Lew as Treasury secretary. His previous employer, Citigroup, had guaranteed him preferential financial treatment if he were to leave to take a job in the government. When Mr. Lew left Citigroup he held stock that he could not immediately cash worth as much as $500,000, according to a government filing.

"These companies seem to be giving a special deal to executives who become government officials," says the study, to be released Thursday by the Project on Government Oversight. "In exchange, the companies may end up with friends in high places who understand their business, sympathize with it, and can craft policies in its favor."
2. The other point of view -  I have argued for Deposit Guarantee schemes to make the implicit guarantees for banks into explicit guarantees.
The Economist's Buttonwood column has another point of view, which is that deposit insurance scheme makes collapses more likely:
Let us assume that a EU-wide deposit insurance scheme was in place. The price would be greater bank regulation; it would certainly include greater controls on the ability to open a bank account and, perhaps, limits on savings rates. After all, if all banks had equal legal protection, investors would scour the continent in search of an extra few basis points; the flows could be destabilising. As the IMF paper concluded:

"Unless a country has strong banking regulation, a strict failed bank resolution regime, carefully designed deposit insurance with safeguards against risk, healthy private monitoring, and, most of all, strong institutions, explicit deposit insurance will only be a recipe for future bank crises."
That may be true, but there is always a risk of bank failure. New Zealand's banking system is just too concentrated not to have one. The only other alternative is to break up the banks into chunks that were small enough to fail... I don't see anyone suggesting that.
3. 'All we need is another housing boom' - Oh dear. Britain is so desperate to get its economy going again that its government is proposing easy loans for home buyers to try to pump up the housing market again.
Sigh.
Rinse and repeat.
Here's the Telegraph with the new grand plan:
The multi-billion-pound schemes to kick-start the housing market were the centrepiece of a Budget in which the Chancellor admitted that Britain would take at least a decade to recover from the financial crisis.

In an overtly political move with an eye fixed firmly on the 2015 general election, Mr Osborne announced that the Government would offer five-year interest-free loans worth up to 20 per cent of the value of new-build homes costing less than £600,000.

From January, another scheme will see taxpayers underwrite mortgages to those with small deposits, including more than a million people trapped with so-called "zombie" loans, where the fall in the value of their homes has left them unable to move.
4. Why China is not too big to fail - Zhang Monan from the China Information Centre writes here at Project Syndicate about the debt risks in China. The assumption by many is that China has plenty of reserves to fall back on. But that's a complacent assumption.
China faces additional debt risks from contingent liabilities and inter-departmental risk conversion, especially in the form of implicit guarantees on debts incurred by local governments and state-owned enterprises. Indeed, such guarantees constitute the most significant medium- and long-term financial risks to China.

In recent months, there has been a surge in LGIV bond issuance, aimed at supporting local governments' efforts to stabilize economic growth through stimulus-style investment projects. But the implicit guarantees on these bonds – as well as on existing bank loans – amount to hidden extra-budgetary liabilities for the central government.  Local governments have also accumulated massive amounts of non-explicit debt through arrears, credits, and guarantees. Once this debt's cumulative risk exceeds a local government's financial capacity, the central government is forced to assume responsibility for servicing it, directly endangering its own financial capacity. 

At the same time, China's corporate sector relies excessively on debt financing, rather than equity. China's non-financial corporate debt accounts for roughly 62% of total debt – 30-40% higher than in other countries. According to GK Dragonomics, China's total corporate debt amounted to 108% of GDP in 2011, and reached a 15-year high of 122% of GDP in 2012.

Many of these heavily indebted enterprises are state-owned, and have borrowed from state-controlled banks. The implicit guarantees on this debt, too, suggest that the government's liabilities are much higher than its balance sheet indicates. China is not too big to fail. In a fragile economic environment, policymakers cannot afford to allow the size of China's balance sheet to distract them from the underlying structural risks and contingent liabilities that threaten its financial stability.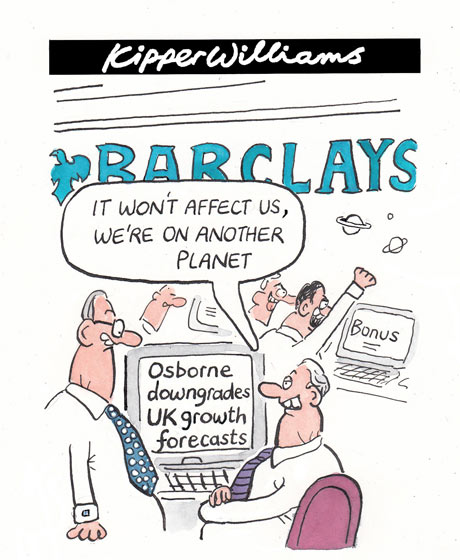 5. There is another plan - And it's not a 'Hail Vladimir'. Here's Felix Salmon talking about one way for Cyprus to extricate itself, as suggested by the godfather of sovereign debt restructures, Lee Bucheit.
First, leave all deposits under €100,000 untouched. Hitting those deposits was by far the biggest mistake of the Cyprus plan as originally envisaged, and everybody would be extremely happy if guaranteed depositors could be kept whole.

Second, term out everybody else by five years, or ten if they prefer.

That's it! That's the whole plan, and it's kinda genius. If you have bank deposits of more than €100,000, they will be converted into bank CDs, with a maturity of either five years or 10 years — your choice. If you pick the longer maturity, then your CD will be secured by future Cypriot gas revenues, which could amount to hundreds of billions of dollars. And if you have sovereign bonds, they too will be termed out by five years, giving Cyprus a bit of breathing room to get its act together.
6. Just what we need - Russia is understandably worried about what happens to all its dodgy money if the tax haven of Cyprus dissolves. It has a plan. Invent new tax havens.
Seriously. This is what Prime Minister Dmitry Medvedev is suggesting.
Sigh. Here's the Guardian's report.
Medvedev also sought to find more unorthodox benefits for Russia in Cyprus's crisis. The Kremlin should develop islands, including the Kurils and Sakhalin, off the country's far east Pacific coast as alternative offshore banking destinations, Medvedev said.

Russian sovereignty of the Kuril Islands is disputed by Japan, while Sakhalin is the site of a former Tsarist penal colony.

The implementation of such a plan would have "ruinous consequences for Russia's financial system," former finance minister Aleksei Kudrin wrote on Twitter.
7. Damn right you're dispensable - Federal Reserve Chairman Ben Bernanke pointed out in his news conference this week that he was dispensable, suggesting he was unlikely to ask for another term when it expires in January.
That raises the issue for financial markets: what would a successor do? Would they keep printing or exit early? This has the potential to unsettle markets, although there are plenty of money printers in and around the Fed.
"I don't think that I'm the only person in the world who can manage the exit," Bernanke said when asked at a news conference in Washington if he's discussed his plans with President Barack Obama. His term expires at the end of January.

Bernanke's comments yesterday meshed with the views of some of Obama's economic and political advisers who said Bernanke, 59, after spending most of his seven years on the job battling a financial crisis and its aftermath, is exhausted and wants to return to private life. The current and former administration officials asked to not be identified to describe the private conversations.
8. Pour encourager les autres - MaxedOutMama has interesting line on the Cyprus disaster. The EU/ECB were trying to encourage the Italians to toe the line and stop talking about Euro exit and default. HT Waymad.
This is a direct attempt to put pressure on them to join with Bersani's bloc and walk the Monti line, to keep the lie going for a few more crucial years. Instead, what was happening was that Bersani's bloc was wandering over to walk the Grillini line. There is nothing that can effectively be used to exert pressure on the recalcitrant populace like a threat to seize their money. The ECB, after refusing to say what its Italian bond  holdings were for years, had suddenly disclosed them before the election. That gentle hint that the ECB could destroy Italy's finances any time it wished by simply selling those bonds was drowned out by the Grillinis and domestic suffering, so now the ECB has joined the internal domestic political affray by nailing the bleeding carcasses of a bunch of entirely innocent Cypriots to some stakes in public squares in Rome. It's the Nero solution to public disorder. 

The strangest part about this is that the Grillinis actually have some ideas that could work. For example, a dual currency system would effectively allow internal devaluation without crushing the economy, thus boosting exports. Of course Italy must default on some of its debt, but it is not yet a basket case. Under the gentle, benevolent hand of the EU it would get there, and for some reason, the Italians, who in effect invented modern banking, seem disinclined to hold an auto da fe and fling half the country into the flames.

Here we must grimly contemplate the terrifying reality that Europe is now a House of Destruction, a Temple of Wrath, in which the babes and the Roma must be sacrificed to Baal.
9. Let's buy Detroit - The South China Morning Post reports on how Chinese property investors think there might be a few bargains to snap up in Detroit....
Two days after a Chinese real estate agency, whose location was not disclosed, advertised an investors' tour in Detroit, thousands of people have expressed interest, according to a report in the People's Daily.

The same agency is advertising a tour to the US east coast in April, which costs 25,000 yuan and will take investors to Washington DC, Boston and New York City.
10. Totally Clarke and Dawe on the remarkable Bob Carr. Anyone who has heard Carr talk will end up rolling on the floor. I did.