Opinion: It is to be hoped some good comes out of the Mainzeal collapse. Right now it looks all bad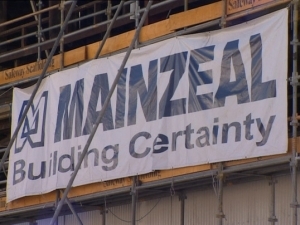 By David Hargreaves
It could at first sight have easily been mistaken for a company's annual meeting.
There they were 200 people gathered at that well known annual meeting haunt Ellerslie Convention Centre in Auckland.
But here the mood was very sombre, the questions were more acerbic and the company's directors were not being showered by compliments. You got the impression some present would have liked to shower them with something else.
However, the directors of the failed Mainzeal Property and Construction, who had included independent directors former Prime Minister Jenny Shipley, former Brierley chief executive Paul Collins and, Tauranga businessman Clive Tilby, as well as Chinese-born entrepreneur and Mainzeal main man Richard Yan were not there yesterday for the first meeting of unsecured creditors - though they had been invited. They have offered their help and co-operation to the liquidators though.
Mainzeal collapsed noisily into receivership on Waitangi Day and has subsequently gone into liquidation along with a number of interlinked, not to mention hopelessly intertwined, other companies.
The liquidators first report released last month showed a grim situation, with close to 2000 identified creditors at that point owed NZ$81.5 million. Of this NZ$11.5 million was owed to employees, with the rest owed to trade creditors, including over NZ$18 million of so-called retention payments.
Substantial shortfall
And there wasn't much good news yesterday with the liquidators talking of a "substantial shortfall" facing the unsecured creditors.
The indications, reading between the lines, were that the best chance the creditors have of getting meaningful amounts of money back is legal action by the liquidators. It seems all too clear that once the small quantity of assets Mainzeal has are sold there will be very little, if anything left for the unsecured creditors.
Nobody was really for spelling this out yesterday, but clearly the liquidators will look at whether there is legal action that can be taken against a party or parties yet to be identified.
The directors were never far from the creditors thoughts. One asked if the directors had insurance. Apparently they did, though the liquidators have not worked through yet the details of that.
Another creditor sought and was given assurance that the liquidators would "do everything in their power to go after the directors" if they were shown to be in breach of their obligations and duties.
The liquidators arrived at yesterday's meeting unsure of their own position as there had been public talk prior to the start of the meeting that creditors may seek to get them removed in favour of new liquidators. In the event they were comfortably confirmed in the role through a vote. The liquidators admitted though that at the moment they don't know how they will get paid. So far they have racked up $100,000 in expenses with no funding currently available from the company. The liquidators hope there will be some money left over from asset sales after secured creditor the BNZ has been paid out. Additionally they confirmed that they've already had informal talks with two litigation funders.
Creditors board
The creditors also voted for creation of a seven-strong creditors board to assist in the liquidation. This looks like a fairly high-powered board including representatives of some major unsecured creditors such as Fletcher Building and Aquaheat New Zealand, a subsidiary of NZ-listed Horizon Energy. There will be some formidable firepower looking at how money can be returned.
As this observer has noted previously this collapse appears to offer an opportunity to look at the whole vexed question of how sub-contractors are dealt with, particularly in relation to the retention payments, held by the contractors. A law change seems overdue. Some sort of method whereby the money is held in trust for the sub-contractors would seem the best response.
Certainly there seemed something inherently wrong in looking on at a room full of concerned people now substantially out of pocket simply because they took a job on. Quite simply, sub-contractors urgently need better protection.
But that is something for future. What of the present and what are the prospects for the Mainzeal unsecured creditors? Well, they will have to be patient.
If a liquidator concedes at the very start, as BDO's Andrew Bethell, Brian Mayo-Smith and Stephen Tubbs, did that a liquidation's going to take at least two years, well, you know it is complicated.
It could take a while
As far as this observer is concerned, don't be too surprised if this doesn't take more like five years or even longer. We are talking about a company with tentacles all over the place, with the New Zealand assets ultimately governed by a British Virgin Islands company while the Chinese assets "appear to be" - that's the liquidators' words - ultimately controlled by a Bermuda company. Add to this unnamed overseas backers who were apparently financially supporting the business till nearly the end and you get the picture. A very muddy picture.
But on the face of it, with the number of restructurings undertaken by the company, the way various operations of companies within the group were "intermingled" - the liquidators' words again - and the way vast sums of money were advanced from one part of the business to another (for example NZ$21 million is owed to Mainzeal by a linked company called King Facade, while a further NZ$27 million is owed by a linked Chinese company), it would appear there may ultimately be some hope for creditors that the litigation route could work. That's assuming somebody pays for the liquidators to pursue it.
To date the Serious Fraud Office is apparently not making any inquiries about the collapse, although the Registrar of Companies is investigating in relation to the financial reporting obligations of group.
I would say again that there needs to be a full inquiry into the circumstances of the collapse.
Shocks to the business community like this one have to be avoided. And just maybe this one could have been avoided. In the meantime those creditors will need to hang tough and hope for the best.