Murray Grimwood serves up his best shots at the media on the way they report 'growth' - does he convince you?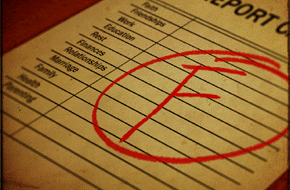 After years of cajoling, attempting to educate, and of being ignored, I'm inclined to give the New Zealand media a 'Fail'.
Here's why.
To merely regurgitate outpourings of a verbal kind is not – journalistically-speaking – enough. Why? What if the assertion you report is incorrect, yet your audience/readership - reasonably - assume it to have been vetted by you as 'true'.
Report it often enough, and maybe you even believe it too. 
He-said/she-said doesn't cut it either – not if one is wrong, and very not if both are. 
What is required – and what is missing – is investigation.
Take News on National (no need to please sponsors there) Radio, reporting the Finance Minister assuring us we're on the path to "sustainable economic growth", or ... but we don't have to look far; reporting of apparently unlimited growth happens daily.
We can start with a simple truth: no growth lasts forever. Let me repeat that, in capitals:
NO GROWTH CONTINUES FOREVER.
Remember the Plunket graphs for baby? Tracking their growth? If we kept on at that rate, King Kong would be perched on our middle-aged shoulders, as we stooped to lean on the Empire State building. Doesn't happen. Can't happen. So if economic growth is linked to the physical world, economic growth will at some point cease.
A quick check – well within the cranial capacity of the average journo – tells us that linked it is; housing, mining, irrigation, aquaculture, all physical. If we could all get infinitely wealthy without the physical planet underwriting the process, none of those proposals would be needed.
No New Zealand journalist – I stand to be corrected – has pointed out, for instance, that 'greenfields housing' has to displace something; farming, regeneration, recreation, habitat. None have queried how many hectares are required to feed/support each new inhabitant, and what will be triaged (exported milk powder, say) to supply them, from an unaltered-since-Cook-mapped-it acreage. Yet they unquestioningly print projections of Auckland – indeed any - 'growth'.
Of course, you can pile up 'money' almost indefinitely, and maybe therein lies the clue to this across-the-board journocranial failure – I can write several trillion 'dollars' on a data stick, then chuck it in the fire. What I lost was a few cent's worth of plastic.
Money is merely a proxy; an expectation that sometime in the future you can exchange it for something.
You can play paper games with it forever, grow it numerically (being paid for journalism being an example, as is upping the 'value' of existing items like houses), document it's storage – but at the end of the day, if there's nothing to buy, it's worth ... nothing. 
If there's a finite amount to buy, there will be a bidding-war.
The poorest will drop out first, of course, probably inconveniencing the rich with their bidding. Don't blame them too much – if food or water or energy are the lot-numbers up for auction, they are bidding with their lives.
Growth, expressed in % terms, is exponential. We may be looking at another cranial incapacity here; there seem to be a majority of brains which see something like '3%' as innocuous, maybe even as linear. It isn't. 3% growth (p.a.) doubles in 24 years, doubles that in the next 24, and that in the next. If you start with expecting one of something at year one, you expect two at year 24, four at year 48, eight at year 72, and sixteen just short of the century. The physical world cannot support that kind of across-the-board demand increase, and therefore will default at some stage.
The only valid investigative journalistic questions, are: When? And: What then?
The 'When' is easy.
Find the linchpin resource (bit of the physical planet) and track it's rate-of-extraction. It's a blunt tool, but it'll do.
We haven't the space here to look at that in depth, but the linchpin is energy. Nothing – NOTHING – happens in a physical sense without it, and it's not 'when it runs out' that's the problem; it's when it's supply-rate can't grow any more. Yes, you can get more efficient – technology doesn't make energy, merely uses it more efficiently - no, that won't make up for the increasing depletion-rate.
Fossil fuels are the energy source in question, nothing comes close (and we'll look at that in another article). You don't need to be an expert; fracking and tar-sands and deep-water tell us that days of the Beverly Hillbillies gushers are over – we're scraping the second half of the Gaussian barrel.
From a standing start, any trading-tracking system (money is ours, thus far) had to be a growth-fitting one.
While the planet underwrote the growth, the fitting was able to continue (Hint: ask a maths-savvy person to demonstrate of an exponential J-curve laid over the left-hand part of a Gaussian). At the point where the planet couldn't underwrite the growth, it wouldn't. Worse, if every next-money-round was expected to be bigger – exponentially bigger – then the combined bets on the future (think: years of mortgage-repayments) would overshoot at the point where the underwrite began to flat-line. Welcome to Peak Oil (more accurately: peak energy-flow per day) followed by something called - and I contend it's named after an effect, not a cause - the Global Financial Crisis.Is it so hard to understand?
Perhaps it is. Perhaps those brains which aren't wired for understanding of the exponential function,also don't scope relativity in any meaningful way.
I heard an 'economics reporter' this week, stating that we should be "getting back on track for (I think he said 3%) growth". Look, the planet is 4.5 billion years old. Fossil fuels took hundreds of millions of years to form. Our species has been around a mere 200,000 years at the outside. Fiat-financed, fossil-fuelled economic growth has really only been around for the 200 years and don't forget those doubling-times; it started small). "Back on track"? Relative to the last decade or two? Spare me. Who said that was the cosmic constant?
Here's another: RNZ's World Watch is about as staid and sober as they come, right? Recently they offered a BBC/DeutscheWella (again, scandals aside, staid/sober sources) piece bemoaning the European population decline.
If only there were one or two more offspring per couple, it went, so we can cope with our ageing folk. Remember this is all about energy – it's the only thing that gets the housework done - so lets compare human output with fossil-fuel use. An average care-worker 'works' one-third of a day. Currently, an average European uses fossil energy as if they had 300 workers apiece, working all-day every-day, no food, no sleep, no rest. The comparison – a nonsense of course – is nearing 1000:1. Even if it were 100:1, that's not even 'noise'. Ostensibly looking two or three decades ahead, the piece was - in terms of relativity - a total nonsense. An unchallenged total nonsense. Do these folk not get it?
Yes, there will be relative winners and relative losers, in the global mix from now on. That's nations, corporates, maybe individuals (hint: staple food is not a discretionary spend, centred conferences are). Yes, the descent is likely to be a saw-tooth journey. No, global growth (in real consumption) cannot continue. Yes, by adding in things like 'ideas' to an already-artificial thing thing like 'GDP', you can extend the pretend, and do the Pandora's Box thing to placate the masses. Yes, if you are lazy, scared, in denial, or cranially incapable, you can continue to report that. Don't call it journalism to be proud of, though. Actually, don't call it journalism at all.
A key question is whether the current fiscal system can deal with pollution, depletion and degradation of the physical habitat we need – despite our conceit, we're still born, grow, eat, mate, sleep, breathe, excrete – and what has to be done if it can't?
You journos – those left not spinning for politicians or lobby-groups - just remember the Titanic; the reality-hit of all reality-hits. Rich, poor, optimistic, pessimistic, altruistic, selfish, and no doubt reporters; none avoided the main event. 
Surveys of 'passenger optimism' could do nothing to halt the foundering – so why are they reported? Why do you repeat, unchallenged, the folk (economists) who can chart what happened since we left port, but wouldn't know a plunging Plimsoll-line if it hit them in the propeller?
Kim Hill, partly Chris Laidlaw and Bryan Crump, and once or twice Bernard Hickey, are the only mainstream journo's I know of who even get close to investigating this biggest issue our species has ever faced. I'll humbly acknowledge others on the production of evidence. For the rest – I give you an F. Couldn't help but do better if you tried.
Essential reading for real investigative reporters ...
http://www.smithsonianmag.com/science-nature/Looking-Back-on-the-Limits-of-Growth.html 
(that programme was run with 'double resources' - two planets' worth - with virtually no change to the result)
http://www.resilience.org/stories/2013-05-14/governance-in-the-long-emergency
http://www.resilience.org/stories/2013-05-16/apocalyptic-journalism-and-why-we-need-reporters-to-face-the-reality-of-our-crumbling-society
http://physics.ucsd.edu/do-the-math/2011/07/can-economic-growth-last/
--------------------------------------------------------------------
Murray Grimwood says he is "a Columnist, and a Generalist specialising in energy efficiencies". He comments on this website as Powerdownkiwi. You can find out more about him here ».