Murray Grimwood explains what he would do if he won an election, including not letting dissenters exploit the Tragedy of the Commons - would you vote for that?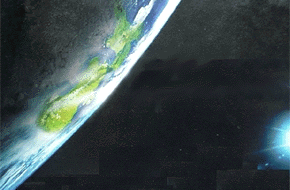 After I'd examined the relationship between energy and growth, then lamented the failure of our media to kindle the debate, David Chaston wrote me this:
Pointing out past policy failures is one thing - everyone does it.
The hard part is proposing a program of change and getting most people accepting it.
If Key can get grudging acceptance of an SOE selldown so he can divert those funds to 'more effective use' - surely you have a far more persuasive platform for a far more important issue that folks would sign on to?
Actually, given that money can only buy the results of energy having been used, I have to point out that owning the generating capacity is better – by far – than having a fistful of dollars; but - challenge accepted!
Let's start by taking a long view; that of our grandchildren, say, in middle-age. Would you, could you, look them in the eye and say: "I knowingly took your chances of a good, fulfilling life, away. Sorry about the depleted aquifers, the oddball weather, the piles of trash, the lack of bees, fish, biota, and the lack of plant resilience, but hey, here's an electronic representation of a trillion dollars. Say thank-you to Granddad".
No?
So - let's lay down a long-term goal which should be unarguable, which our grandchildren can't help but thank us for, and against which every move – political, voting, consuming or trading – could be measured:
Each year, the planet/country/farm/section should be handed on in as-good-or-better condition, to next-year's custodian.
Our suggested goal is less oxymoronic than the Purpose of the Resource Management Act – which attempts to fudge short-term 'economic wellbeing' with long-term sustainability; the bit your grandchildren would detest you for.
We are then left looking at the two kinds of resources we could possibly hand on; renewable, and non-renewable.
It is easy to address renewables within the bounds of the Goal – you merely don't use them at more than the renewable rate. Aquifers are a classic example; if every year you need to deepen your bores to get at the water, you're using too much. Fish-stocks, water-quality, it's easy.
So - we need a monitoring regime to track renewables, a system to allocate their use, and penalties for those who flout the system. Growth in their use beyond a defined point, will simply have to be stopped. Permanently. No arguments there? Too easy.
On to non-renewables. A finite resource is trickier to handle – it's a one-off.
If it's recyclable – say copper – you have to prioritise its use, not by how much money can be made, but by ascertaining how useful is the use (Price ceases to represent demand when some of the bidders have no money. This doesn't matter with discretionary items, but does with essentials-for-life).
If the finite resource is consumed – burning oil, for example – then you're not handing things on in 'as-good' condition; and the bar for that failure has to be set very high indeed.
Meaning that – in absence of a viable, proven alternative - oil should either be much, much more expensive than it currently is, or it should be rationed.
That grandchild won't thank you for hoeing into it, on the flimsy basis that 'we'll find something else, we always have so far'.
Your obligation is to have the alternative in place, proven, before taking their only known legacy away. You're doing even worse if you aren't dealing with collateral pollution, of course, oil being a classic example of that triple failure; we are ripping into it like there's no tomorrow, absolutely dreaming if we think currently-developed technologies can replace it, while there is not the CO2 sink on the planet to mitigate our burning of it.
The yardsticks, then, are viable and proven.
So, our first political move is to announce the ditching of our current goal (economic growth) and to replace it with the one above.
It's not rocket science - one is sustainable, the other is not.
The options were to hit the wall at full speed or to control the impact; and extending was just pretending. That will take some political bravery: for a start, our politicians have the same fundamentally-flawed approach I accused the media of. All their talk is of money – GDP, budget, cost, surplus, funding, poverty, wealth, growth – rather than of physical (and to a certain extent, social) results.
They learned their skill-sets in a period where there was enough store of physical resources to underwrite all that conjured-out-of-thin-air money. So did most of the rest of us.
There was no guarantee that the present growth trend would continue – indeed I'd argue that there have been warnings for 200 years that it couldn't – meaning that we who elect politicians with outdated skill-sets need to up our own skills too. If we vote with our short-term hip-pockets, we will continue to have wasted-space politicians.
Now, it's no good only some folk ditching 'economic growth' as a target, if others don't.
Those others will simply take up the slack, a situation known as the Tragedy of the Commons.
It applies globally too; the Tim Groser approach to Climate Change being a classic example. So - we either unanimously volunteer to be altruistic – pigs might fly – or enough of us have to vote in a government/governments, which pull the rest into line.
There will be howling, yowling, filibustering, denial, denigration, abuse, shooting of the messenger ... let's just say it won't be pretty. Those with vested interests in the status quo always resist change, it was ever thus.
Having established long-term physical sustainability as the overriding goal; now we must design a trading-token system to fit within.
The 'Carbon Diaries' (Saci Lloyd, Hodder Books)  give us a hint of how this might look – carbon credits are issued, used up on your card, and when you've gone through your month's supply, that's it.
It's called rationing, but then what can you expect in a restricted scenario?
The only alternative is what is happening now – those with the power to do so, will hoover-up the wealth (the ability to acquire resources) from the bottom, then from the middle, then from the bottom of the upper, then. We who are getting hoovered can either do the bait-fish safety-in-numbers-denial thing, or acknowledge that we have to fight the shark before it swallows the lot of us, then itself.
Having got ourselves a valid long-term goal – something that can be kept going – we can turn to addressing issues under the cap we set for ourselves.
Poverty, once shallowly seen as a lack of money, will now be seen as a lack of food, warmth, shelter. Space. Resources.
For New Zealand, the goal has to be zero population growth, which simply gives us more physical resources per head, less need to degrade, impact, consume.
Then it needs a triage of all our current infrastructure vis-à-vis what can/can't be maintained, and for how long the can't can be can'd.
Roads to nowhere will be first to be dropped. Prime food-production areas have to identified (existing, not greenfields, and with fossil-fuel reduction in the equation) and safeguarded.
A discussion has to be had, not about 'up vs out' development, but about what development – if any – is the best in terms of future-proofing.
Do you go up, and supply the food from afar? How long does the 'up' infrastructure last, and is it easier maintained? Do you go 'out', and if so, which style is most appropriate?
Tract sprawl of randomly-facing cookie-cutter ticky-tacky? Revitalising of existing town/village hubs? Houses per hectare? Or do you do nothing but retrofit what you already have, and allow demographics and better space-use to even out the bumps?
It is probable that we – politically, academically, fiscally and socially, won't address this issue until it hits us in the empty supermarket shelf. We will continue to call those we repress (in the process of our unsustainable resource-suck) communist, terrorist, or whatever. We will continue to believe in endless economic growth. The green movement will continue to indulge in the oxymoron which is 'continued personal consumption while trying to defend the planet from the resultant consuming process', but without giving it up.
That leaves a bottom-up change targeting our original goal.
After all, the capital/growth/consumption system will inevitably crash itself with no outside help, the current crop of leaders won't be of any use at that point, and those who need led (the vast majority, which is why left-wing revolution never prevails, incidentally, and will not prevail; they just desire different leaders/distribution, but the same system) will need a blueprint.
Transition Towns, guerrilla gardeners, cycling initiatives, farmer's markets, are all indications that these ground-up changes are happening.
Anyone can put their shoulder to that wheel – it costs nothing and is surprisingly satisfying; no leadership needed.
The pity is that the old guard, rather than acknowledge this inevitable, coming-soon/now paradigm shift, will go down in a doomed attempt to remove misidentified 'barriers' (think: Amy Adams, Nick Smith) to their impossible dream.
Endless growth on a finite planet.
Go figure – how could we have been stupid enough to vote for folk who promised that oxymoron?
--------------------------------------------------------------------
Murray Grimwood says he is "a Columnist, and a Generalist specialising in energy efficiencies". He comments on this website as Powerdownkiwi. You can find out more about him here ».