David Chaston crunches the numbers on the Auckland transport system and finds rail will be a net burden - forever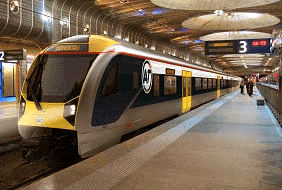 By David Chaston
I am a regular bus user. (Jafa alert: This article is about Auckland.)
One day recently my local bus carried a house ad that said the average fare they collected is $2.10 per ride and the average subsidy Auckland Transport pays is $1.43 per ride. That makes the total actual price $3.53 per ride.
Given what I recall of subsidy levels in other cities I have lived in, that actually seems pretty reasonable. Providing bus transport is a losing proposition so non-riders (ratepayers) need to subsidise riders to the tune of about 40% of the full cost of a ride.
I like buses; they go where I need to go. Even if my needs change, I am confident they will go there as well. They provide more than 50 million trips per year in Auckland.
But I am a real sceptic of rail. I have been for a long time because of a number of reasons, including cultural cringe ("I loved the London underground, we should have that here"), twisted public policy ("lets regulate housing so that we can justify rail"), colonial attitudes ("they do it in Britain"), and cost (measured in billions and it never goes lower).
Rail is a 19th century, highly addictive drug.
There are benefits - it takes workers in routine 9-5 jobs who work in the city centre off the roads, making road travel easier for the rest of us.
But as any Auckland road user knows, these aren't the people causing traffic flows to clog our streets, it's school kids! (or more precisely, parents who insist on taking their children to school in the family car). Without exception, when there are school holidays in Auckland, traffic flows are a pleasure to be in.
So I emailed Auckland Transport to get the equivalent subsidy data for Auckland trains.
After a few email sidesteps, they coughed up the data:
The annual operating cost of running the Auckland train system is $85.54 million, the annual fares collected are $25.86 million, and they handled 10.026 million passenger trips for this money.
So I can report non-riders are paying 70% of the cost of a train ride, while riders are paying on average $2.60 per trip.
But it is actually [much] worse than this. The bus comparison includes the capital cost of buying the buses, plus a return for the bus operators - a real cost of capital - but the train numbers include none of that.
(We should also remember that subsidised public transport is regularly - although infrequently - held hostage by unions and politicians. When we are hooked into them, the more frequent the hostage-taking. Sydney and Melbourne are the local poster-examples.)
We are spending truck-loads of public money on the Auckland train system. As far as I can see, it is at least $670 million not including Len Brown's wish for the Britomart-to-Kingsland tunnel loop which is thought to add another $2.4 billion. So, all up it is a train system that would have $3 billion plus spent on it - creating a system that struggles to get 30% of its operating cost at the farebox.
This is the capital that has been spent so far:
| | |
| --- | --- |
|   | NZ$ millions |
| Cost of electrifying the Auckland rail network | 80.0 |
| Cost of the new trains from CAF | 400.0 |
| Cost of the Wiri main depot | 40.0 |
| Cost of 31 level crossing upgrades (E) | 60.0 |
| Cost of new signalling system | 90.0 |
|   | ====== |
| Total direct cost of just these 5 components | $670.0 |
(These costs don't count the $200+ million Britomart train station.)
Assuming this system has a practical life of 50 years, and a realistic cost of capital of 7.5% (although it probably should be twice that level if these projects were in the real world and not being foisted on powerless ratepayers), then the current annual operating costs need to have $15 million of depreciation and $50 million of 'cost of capital' added to them.
When you do that, we find non-riders are paying a whopping $15.05 per ride of the total $17.65 ride cost.
Just limiting yourself to Auckland's transport problems, you have to ask whether spending $670 million, and thereafter losing/subsiding the system at the rate of almost $125 million per year is a good public policy choice. Talk about bequeathing a debt burden to future generations!
Many other things could be done, starting with turning away from the obsession with trying to get commuters on to Queen Street.
Perhaps ridership will rise after the new investment makes this 19th century travel option come on stream fully. But you just know the only certainty will be the call for more 'investment' in the system with all eyes turning to the $2.4 billion, 5km rail loop. Rail enthusiasts won't give up until they have their version of 'little England' implanted here.
But they will point out that we are spending too much on our roading projects, and there are a number of these. Here is a list of the big ones over the past ten or so years:
| | |
| --- | --- |
|   | NZ$ millions |
| SH16 Causeway upgrade | 100.0 |
| SH20 Waterview connection | 1,400.0 |
| SH1 Newmarket Viaduct replacement | 150.0 |
| Northern Busway | 300.0 |
| SH1 Victoria Park Tunnel | 340.0 |
| SH18/SH16 deviation and extension | 220.0 |
| SH20 Manukau harbour crossing | 230.0 |
|   | ====== |
| Total direct cost of just these 7 components | $2,740.0 |
| The system is maintained by the Auckland Motorway Alliance, cost over 10 years | 100.0 |
There are 1.4 million vehicles in Auckland and they make 900,000 trips per day just on the motorways! Even if they only make an average of one journey per day off the motorway system, that is a total system that provides 450 million journeys per year. (Unfortunately too many of them are for taking school-age kids to and from school.)
Aucklanders pay about $1.56 billion per year in petrol excise taxes and road user charges (RUCs), plus another $230 million in GST when they buy fuel. That's a way better contribution rate than either buses or trains. I am sure many of them want less people on the roads when they use them, and getting 'others' to take buses and trains seems like something worth paying for.
But do we realise how much we pay as a non-rider?
Travel 100 km, and it will cost a driver about $77 (if you accept that the IRD reimbursement rates cover all costs). It will cost a bus rider $42 plus the ratepayer another $29, for a similar total of $71.
But the 100 km numbers for train travellers are quite different: the rider pays $52 while the non-riding ratepayer is paying $248 for a total of about $300, or more than four times the costs of driving or taking the bus.
Trains add cost, and it seems highly doubtful expanding the 'investment' in fixed rail infrastructure will add any productivity improvement to the Auckland economy. 
| | | | |
| --- | --- | --- | --- |
| Costs to ride 100 km | Car | Bus | Train |
|   | $ | $ | $ |
| Paid by rider | 77.00 | 42.00 | 52.00 |
| Subsidised by taxpayer | - | 28.60 | 119.00 |
|  - plus depreciation and cost of capital | incl. | incl. | 130.00 |
|   | -------- | -------- | -------- |
| Cost of 100 km trip | 77.00 | 70.60 | 301.00 |
|   |   |   |   |
| of which ... |   |   |   |
| Excise/RUC/ETS paid by user | 8.96 | 8.24 | ? |
| GST paid by user | 10.04 | 5.48 | 6.78 |
|   | -------- | -------- | -------- |
| Direct taxes collected by Government | 19.00 | 13.72 | 6.78 |
Auckland Transport annual reports have details of what ratepayers spend on road, bus and rail operations, plus what is being spent on capital works. Central government funding flows though Auckland Transport for many projects, in addition to direct New Zealand Transport Agency (NZTA) funded projects. It is a very big system.
In 2012, Auckland Transport had gross operating income to run the system of $755 million, of which ratepayers contributed $323 million, central government contributed $261 million, and "public transport income" of just $46 million (Note 4). Things like parking fees made up the difference.
In 2012, Auckland Transport spent $592 million in capital projects, $397 million on roads, and $166 million on "public transport". This was funded by by Auckland Council to the tune of $481 million, and $76 million by central government.