Bernard Hickey wonders whether we have to accept the permanent poisoning of our rivers to grow our economy through dairy exports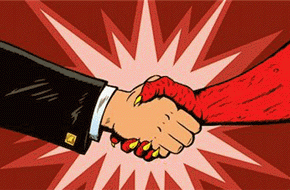 by Bernard Hickey
It was like a neutron bomb going off in the heart of New Zealand's economic strategy.
The Parliamentary Commissioner for the Environment, Jan Wright, released a must-read report this week on land use and nutrient pollution.
It directly addressed the huge ramp up in cow numbers over the last decade and how that was affecting our waterways.
Using models from Motu and NIWA, the report then looked ahead to the further growth in cow numbers forecast by the government as it tries to double agricultural exports by 2025.
The results were deeply unsettling.
"It is almost inevitable that without significantly more intervention, we will continue to see an on-going deterioration in water quality in many catchments across the country, particularly in Canterbury and Southland," Wright wrote.
In a very even handed way she then went through the sources of extra nitrogen and phosphorous being released into our waterways, which then go on to cause algal blooms and slimy rivers that damage insects, fish and birdlife.
Wright acknowledged a lot of the good work that has been done by the dairy industry and Governments since the advent of the Clean Streams Accord in 2003, and more recently the Land and Water Forum.
But her conclusion is that by 2020 the dairy boom will have converted an extra 650,000 hectares of land to pasture upon which cows are dumping increasing amounts of urine and dung - the main culprit in nitrogen leaching. No amount of fencing off of waterways and stopping shed effluent from going down the drain will stop this accumulation of nitrates in our water tables and water ways.
"Even with best practice mitigation, the large-scale conversion of more land to dairy farming will generally result in more degraded fresh water," Wright said.
Think about this for a moment.
No matter how many waterways are fenced off and how much effluent is spread on paddocks, the problem gets worse.
Even 100% compliance with Fonterra's Sustainable Dairying Accord signed this year does not solve the problem.
This is saying New Zealanders must accept the permanent poisoning of our rivers if we are to grow our economy through dairy exports, which is our main strategy at the moment.
It is a Faustian bargain with four legs, a tail and whole lot of cud chewing.
It says New Zealanders must accept that dairy farmers are going to privatise the profits of permanently damaging our rivers while the losses are socialised.
Jan Wright's report has hit the biggest nerve in New Zealand's economic and political nervous system.
Interestingly, Fonterra understands this in a much deeper and more visceral way than dairy farmers and their representatives. Just two weeks ago Chief Executive Theo Spierings told an audience of executives in Auckland that if Fonterra failed to protect New Zealand's waterways it had no future.
He said New Zealand was 10 years behind its European rivals on green issues. "If we want to grow, and we want to grow in New Zealand, we cannot grow in the way we grew in the last 10 years because we will hit the wall in terms of environment and sustainability, so we have to get our act together," he said.
It's time now for farmers and the Government to engage in a serious debate about how to unravel this Faustian bargain and think about how we can use our water and sun and land to meet the insatiable demand for protein from emerging Asia without ruining our rivers and lakes.
It may involve challenging our deeply held ideas about cows roaming free on pastures.
It may involve big sheds, concrete pads and troughs.
But maybe a concrete floor is better than hitting a slimy, brown brick wall.
-------------------------------------------------------------------------
This article was first published in the Herald on Sunday. It is used here with permission.