Bernard Hickey looks at how the generations before and after the Rogernomics and Ruthanasia revolutions of 1984-93 have fared in terms of poverty, home ownership and incomes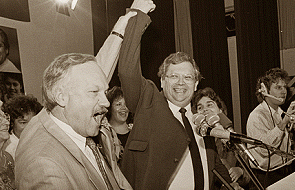 By Bernard Hickey
This week I stumbled across a frightening piece of footage that took me back to an era I hadn't thought about for a long time.
It was a clip from Television New Zealand's archives of Roger Douglas in full flight in the mid 1980s.
I had forgotten how his moustache bristled when he was at the peak of his powers, lecturing an interviewer about the need to free up the economy and run a tough budget.
I shuddered a little, knowing his successor in 1990 was Ruth Richardson, who was even more zealous about open economies and tough budgets.
I'm old enough to remember attending Richardson's press conferences in 1992 and 1993. It was a very different time.
This week thirty years ago New Zealand was in crisis. It was nearly bankrupt, socially divided and ready for change. Rob Muldoon had strangled the economy in red tape and was pig-headedly refusing to listen to a generation wanting to open New Zealand up to the world.
Within a month a drunken Muldoon had called the July 14 snap election to avoid losing a vote on anti-nuclear legislation. He lost in a landslide.
The fourth Labour Government of David Lange and Roger Douglas then unleashed a bloodless revolution that swept away decades of regulations and shook our post-war welfare state to its foundations.
1984 was clearly a turning point in our economic history, for better and for worse.
It's been long enough now that we can start to judge how those changes have affected a generation or two. Few would argue change was needed or that all the change was bad.
Many people are much better off, but a couple of data sets released this week show the benefits have accrued to some generations more than others.
The winners and losers can be clearly broken down by age and the year 1984 is coincidentally a key moment.
Those born in the years since March 1984 have been the losers, relative to those born in the 1950s, 1960s and 1970s.
They are the Baby Bust generation.
They were born into an economic crisis and the deepest recession seen since the Depression. As they were growing up, many of their parents were unemployed. Some of those young families struggled to cope.
Many broke up and even now the second and third waves of poverty that sprung from those young families of the late 1980s and early 1990s are washing through the social welfare system.
Statistics New Zealand released home ownership figures this week showing how the Baby Bust generation have fared relative to their elders.
The home ownership rate for those aged 15-40 fell to 22.1% by 2013 from 35.3% in 2001. The overall rate of home ownership for individuals fell to 49.8% from 54.9% in 2001.
The home ownership rate for those aged 70-74 was 77.5%, barely down from 80.6% in 2001.
Home ownership is a crucial leading indicator of the health and wealth of families.
Those kids growing up in their parents' own homes tend to be healthier, less disrupted in their schooling, more connected to their surrounding communities and more likely to participate in elections. Those children are more likely to go on into further education, secure well paid jobs and have more stable families themselves. It is a virtuous circle.
Poverty indicators also show the young have been hit hardest since 1984.
As many as 25% or 270,000 of our children live in poverty, according to last year's report by the Expert Advisor's Group to the Children's Commissioner. They are the children of those born in the immediate aftermath of the 1984 revolution.
The poverty figures for our elderly are, happily, much healthier. Those in their 30s, 40s and 50s when the revolution happened are in a much more comfortable situation now.
The last Ministry of Social Development Living Standards Report done in 2008 found around 4% of those aged over 65 were living in hardship, while around 19% of children were in hardship.
There are a couple of good reasons for this, one of which was a political decision. The higher home ownership rates among the elderly, most of whom got on the property ladder before 1984, has helped them stay out of poverty. Those who are mortgage free can afford to live on NZ Superannuation because they don't have to pay rent and because the publicly-funded pension has kept up with both living costs and the average wage.
The policy decision to set the pension rate for a couple at 66% of the average weekly wage has meant pensioners' wages have risen much faster than benefits for those under the age of 65.
This week Social Development announced without any fanfare or coverage that student allowances, unemployment, sickness and domestic purposes benefits would rise 1.38% from April 1 in line with the Consumer Price Index. Pensions, however, would rise 2.66% in line with average weekly earnings, she announced.
This was the usual annual announcement, but reinforced that the gap in incomes between the young and old that is pre-set to keep widening year after year.
The other major reason for the widening gap between the pre-1984 generations and the Baby Bust Generation is the property market. I stumbled over the Roger Douglas clip because it was dredged up to remind us of a time of painfully high interest rates, which hit a peak of 20.5% in June 1987.
But back then house prices were worth around three times household disposable income, and even though interest costs were briefly at very high levels relative to incomes, they quickly subsided as interest rates and inflation fell.
The cost of buying a house started rising relative to incomes in the late 1980s and then really took off as the economy started growing more quickly in the early 2000s and the trend of buying rental properties began in earnest. This drove the ratio of house price to income up over 5 by 2008 and it has stayed elevated ever since.
The generations in their 30s, 40s and 50s in the mid 1980s hoovered up rental properties at a great rate through the 2000s and into this decade, realising the tax-free capital gains and the increasingly cheap and easily available debt in a low inflation era were money for jam.
Meanwhile, those born in the late 1980s and 1990s went through school and arrived to find they had to pay hefty fees for tertiary education, unlike their parents. If they were unlucky enough to be graduating into the teeth of the long recession of 2008 to 2011 they were hit doubly hard, suffering higher unemployment rates and much lower wages than their elders.
Wage figures out last year showed wages for those aged 15-35 rose around 5% in total over the four years of the long recession, while wages of those aged 40-65 rose between 18% and 29% over those same four years.
So 30 years on from Rogernomics and Ruthanasia the Baby Bust generation face high student debts, low home ownership rates, very high poverty rates and slower wage growth than those who can remember the Douglas moustache and the Muldoon cackle.
Now they face being locked even further out of the housing market by the Reserve Bank's high LVR speed limit, which has made the banks even keener to lend to rental property investors with big stocks of equity built up over the last 30 years.
Back in June 1984 New Zealand's houses were worth NZ$58 billion. Now they're worth NZ$708 billion and the vast majority of that is owned by those aged over 30.
How will the Baby Busters look back in 30 years time as they approach retirement, assuming the retirement age has not been delayed by then.
How will they judge the performance of the older generations who took the reins off Rob Muldoon and steered the country in another direction back in 1984?