Murray Grimwood thinks the current political leaders will be turned on when voters realise what he realises - growth now means economic failure sooner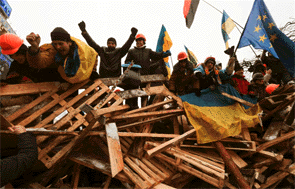 John Key will go down in history, probably as a footnote to Helen Clark.
Cunliffe probably won't.
Clark was the first PM to use the word 'sustainability'. We heard no more – presumably because the polling wasn't good.
That left wanna-win politicians the sole option of advocating 'growth', or fudging it with words like 'vibrant'.
Norman may rate a mention as the one who first put 'green' and 'growth' into the same, seriously-delivered sentence.
Let's put two plain facts on the table.
Fact 1:  you can either be sustainable, or you can be unsustainable. There is no third option.
Fact 2: Growth, if it is based on use of a finite planet (housing, dairying, resource extraction, pollution, degradation) is unsustainable.
If something – growth in this case – is unsustainable, there are only two valid questions: When will it cease? And: What then?
The problem in a democracy, is that everyone (except those on the very bottom rung of the ladder) wants to hold on to their present status or to go 'up', nobody wants to go 'down'.
If they're measuring status in terms of material ownership, they'll all vote for 'growth' in physical activities, meaning a vote for unsustainability.
This instinct appears to be so strong that even the knowledge that the next generation – their direct offspring – will be existentially-jeopardised, isn't enough to change their behaviour.
That's a sad epitaph for what considers itself the smartest species on the planet, but back to politics.
Politicians will either be aware of the above facts, or they won't, or they'll pretend they aren't. Meaning they will respectively avoid the truth, honestly purvey a lie, or pretend to honestly purvey a lie.
Key represents those on the top rungs of the ladder. They will either be seriously deluded – thinking growth can go forever – or they will know it can't, and be hoping to be part of a surviving community through 'wealth'.
The latter approach is known as 'inverted quarantine' – where you attempt to immunise yourself from a pending problem – but when the problem is global (nuclear fallout, climate-change, biological imbalance) it doesn't work. It has a further potential problem, when the rabble every now and then gets angsty enough to storm a barricade or two. Self-centredness knows no age-barrier, so Nationals support-base won't necessarily age due to message-irrelevance.
Cunliffe represents – as he has unwittingly admitted – a piece of history.
For a brief period of planetary time, one species got a huge bang out of long-stored solar energy, otherwise known as fossil fuels. That brief period has lasted 200 years so far, and even the optimists don't think it'll last another 100. For the first – and maybe only – time, we could stop using slave and animal labour (solar energy via food, in other words) and use something with a lot more grunt. For the first – and maybe only – time, the ex-slaves and ex-peasants had time to get organised, using their status as producers and consumers to lobby for a piece of the action.
First unions, then political groupings, then representative power. Then it all got undercut. The machines they'd built started to do their own work. Offshore slaves were found, who could do things 'cheaper' than the blue-collar worker.
The traditional support-base for Labour dwindled, and inevitably got older. For a while, upper-middle-class altruism - some of it a generation-on hangover from those worker origins – kept it going; the difference between Kirk and Clark reflects this clearly.
Both social groupings, Whig and Tory, evolved in an era when there were no appraised physical limits, and in the general belief that we had some greater overseer on our side. It should have been obvious to our migrating ancestors that this wouldn't continue. They, after all, went to the other side of a finite planet, looking for resources and opportunity.
Inevitably, some folk started to catch on.
Carson, Hubbert, and a groundswell of warning-sounders, pointed out that the progression was unsustainable. Some just defended single spaces, single species, fought single issues.
Others – lesser in number – looked at the whole picture. Between them, at their various degrees of understanding, they became the Green upwelling.
We first saw it start here with the Values Party, whose 1976 manifesto still stands scrutiny.
Then came the Greens. Inevitably, they exhibit cross-over into other philosophies. There are, for instance, Green-thinking business-types – who don't see that their profit-taking is an intrinsic part of the (unsustainable) growth problem. There are socially-altruistic Green-thinking types, who don't see that 'child poverty' is another name for 'not enough resources per head', and that rather than campaigning for a 'living wage' they'd be better campaigning for condom-dispensers in every mall, and for incremental tax disincentives for every succeeding sibling.
Norman, then, has the bigger problem in getting votes from a 'growth-mantra-chanting' mass of voters, aided and abetted by a similarly-inflicted media (Morning Report take careful note; you have no need-to-please-advertisers excuse, time you 'genned-up and asked the hard questions).
Norman does this, cleverly enough, by promoting 'green growth'. It is true in a sense – given that we need to change our infrastructure and our lifestyles to sustainable from unsustainable, there will indeed be a massive need to 'grow' our uptake of green technology. Indeed, even going flat-out on a war-footing basis starting now, we are too late.
But his problem is that if he told the truth; that we are in overshoot as a species; that growth will cease (and measured by an increasing number of real indicators, has) and that a large number of personal expectations will be, um, unrequited – he'd be out on his ear.
That said, he has the inside running on the future.
Key – and to a lesser extent Cunliffe – should be very worried.
They will both be proven to have been offering the unofferable.
We have two possible paths from here on – initiating a smooth change to a sustainable level of activity, or accelerating headlong into resource-depleted oblivion.
If we choose the latter, politics as we know it won't survive anyway (nor will 'wealth' as we know it). If we choose the former – the only rational choice, but don't hold your breath – then our leadership will have to be seriously 'greener' than Norman sounds now, a paradigm-shift so profound that the difference between Left and Right, Whig and Tory, must dwindle into insignificance.
The groundswell is coming from the bottom up – political change never comes from the incumbents, you never change a system you think you're 'winning' in – in the form of Transition Towns, food-forums, sustainability clusters, farmers markets, permaculture, organics, Generation Zero. They are reinforcing - and inevitably changing - the incumbent, aging, Forest-and-Bird wave of 'greenies'.
And if I could choose to be in any of their shoes? Well, it's a no-brainer. If we continue with our death-wish, all bets are off and I wouldn't be a tall poppy anywhere.
But is we demonstrate the social maturity to get ourselves onto a sustainable footing, Norman has the inside running.
He is currently about 7/8ths of the way across the real political spectrum, with everyone else jammed into the 1/8th. 'Left' and Right' are obsolete reference points at that stage - sustainable versus unsustainable is the spread – and he's got 7/8ths of the spread entirely to himself. It's a shoe-in.
I'd be him.
--------------------------------------------------------------------
Murray Grimwood says he is "a Columnist, and a Generalist specialising in energy efficiencies". He comments on this website as Powerdownkiwi. You can find out more about him here ».