Elizabeth Davies is trying to overcome her 'driving ambivalence'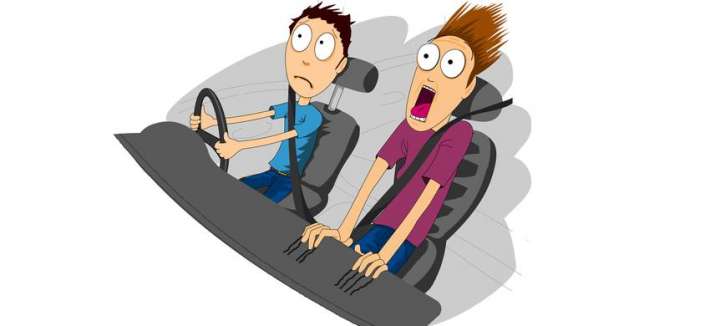 By Elizabeth Davies
I spent my Sunday doing something most 24 year-olds would find more than slightly embarrassing.
For a couple of hours I sat patiently in the driver's seat of my hot pink, 1993, Nissan March, receiving a driving lesson from my even more patient partner.
According to University of Otago PHD student Aimee Ward, who's studying the travel habits of young people, the world-over has been hit my 'driving ambivalence'.
New Zealand is keeping up with the trend with the New Zealand Transport Agency's statistics showing a massive slump in young drivers in the licensing system.
In 2003 there were approximately 78,000 drivers on a learner's licence, dropping to around 38,000 in 2012.
Teenagers are citing a range of contributing factors in their decision to not get behind the wheel. Some mentioned environmental concerns but for most the real issues are fear and cost.
When it comes to this global trend I was definitely ahead of my time.
When I was 15 my dad gave me my first driving lesson. In a panic I smashed into a concrete corner practically writing off his car. I burst into tears and ran for it, as only a terrified 15-year-old girl can do.
Almost 10 years have passed and I'm only a fraction closer to getting my full licence. I'm ashamed to say I've been sitting on my learner's for the last six years.
Throughout high school and university, driving just didn't make sense to me. I lived within walking distance of school, and parking at university was reserved for those who could light their cigarettes with fivers and afford to drink wine from a bottle!
The idea of having to pay for petrol, warrants, registrations, services and inevitable parking tickets was quite beyond my small budget, and in some ways still is.
It wasn't until I started seriously job hunting that I realised how essential driving really is. I could have been a nanny, but how would I drive the kids to soccer?
I could work at a bar, but how would I get home after a 3am close when most public transport stops at midnight?
Now in my mid-twenties my lack of licence threatens my job prospects and also leaves me feeling like a bad girlfriend when I can't pick up my boyfriend after he's had a couple of beers.
While not having a car/licence may save you money in the short run, I'm learning the hard way that it will cost you a lot long-term.
I know the obvious suggestion will be cycling to work but having had those close to me end up in hospital after daring to ride a bike on Auckland city roads I'll graciously decline the invitation to hop astride a bike any time soon.
I think in future it's important to separate the idea of having a licence from the matter of owning a car. I desperately wish that I could go back and get my licence when I was 17, even if I didn't own a car until I was in my twenties.
A driver's education system in schools and communities could be hugely beneficial.
So, parents, if you have teenage kids, do everything you can to teach them to drive. This doesn't mean buying them a car - but maybe refusing to chauffeur them around so often. They may hate you for it now but they will be sure to thank you for it when they are 18 and sitting at home on New Year's Eve because they couldn't bum a ride to Sarah's Rubik's cube party in Henderson and they now feel like a social outcast – trust me, I know. 
------------------------------------------
Elizabeth Davies is a 23 year-old graduate of the Auckland University of Technology post graduate journalism course. She lives with her partner in Epsom and spends her free time refurbishing vintage furniture and attempting to bake while fighting a daily battle against her bank balance. She writes a weekly article for interest.co.nz on money matters and financial struggles from a young person's perspective.