NZIER calls for Auckland's Metropolitan Urban Limit to be pushed out, highlights twin harbour narrowness restricts availability of well-located land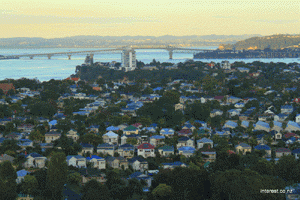 The following is the executive summary and conclusion from a New Zealand Institute of Economic Research (NZIER) public discussion paper by senior economist Kirdan Lees that was released this morning.
Entitled Big city life? Challenges and trade-offs for Auckland city, the full report is available here.
Key points
A surging Auckland provides opportunities and challenges
- Auckland has the opportunity to become a big, globally connected city from where New Zealand firms can grow generating and adapting new ideas and selling these ideas to the world. Auckland is set to grow fast.
- But the very growth that helps power the Auckland economy challenges how we live, through rising housing costs and longer commutes.
- Policymakers can use a suite of policies such as providing better transport infrastructure, improving construction productivity and lifting the supply of well-located land to improve outcomes – making Auckland a great place to live and lifting economic growth.
- Understanding how these policies affect economic and social outcomes needs a clear analytical framework. We present one framework, a monocentric model where all employment is located in the CBD, that focuses on the big picture trade-offs that arise from where families choose to locate.
Auckland's geography intensifies demands on well-located land
- Auckland's twin harbours – Manukau and the Waitemata – make Auckland very narrow relative to most cities including our Australian peers.
- Compared to other cities of the same population size that means Auckland will experience more intense demand for land close to the city centre.
- Narrow geography means Auckland cannot sustain a much larger population without sacrificing living standards under current policy settings.
- That heightens the need to get infrastructure and other urban policies right to provide outcomes comparable to other similar big cities.
Rising incomes and growing populations shape the city in different ways
- Auckland's population growth and income growth will outpace the rest of New Zealand.
- Population growth is expected to push Auckland city to two million people by 2031. That increases demand for well-located land, pushing up the cost of housing. Expect smaller houses and density to intensify.
- Incomes are set to grow too – per capita real income hits $119,000 by 2031 – but this has a different impact. On its own, income growth incentivises families to use relatively cheaper land further out from the city to build bigger houses.
Better transport infrastructure reduces housing costs
- Commuting to work in the city imposes a cost on moving to the suburbs. Each kilometre away from the city centre increases the cost of the commute by a chunky $738 dollars a year according to our calculations.
- When transport infrastructure improves, all else equal, the supply of well located land increases and the price of land falls everywhere.
- Families can either move to the suburbs, taking advantage of bigger homes built with the additional well-located land, or stay put and benefit from cheaper rents since the price of land is now lower in the central city.
- Financing transport infrastructure improvements is costly. Over time, such changes transform land use promoting improved housing outcomes. The business case for new infrastructure needs to include this transformation.
Lifting building productivity improves outcomes – expect larger houses
- Building a house in New Zealand is more costly than building a similar size home in Australia. That suggests the possibility of unlocking productivity improvement.
- If housing productivity was 15 percent higher families would be 1.4 percent better off mostly through bigger or better located housing.
Extending the Metropolitan Urban Limit will lift welfare significantly
- We show the current Metropolitan Urban Limit (MUL) constrains the availability of well-located land and pushes up house prices.
- Moving the MUL out improves land supply and decreases housing costs. Families across the city benefit from reduced housing costs – even though commuting costs increase for some. The net impact on all families from expanding the MUL is always positive.
- The benefits can be material. Within our framework and set of assumptions on the cost of commuting and housing, extending the amount of land available by 22 percent makes each family a chunky $860 a year better off – including their transport costs.
Using many policy levers makes for better outcomes
- Policy settings need to adjust and respond to population growth and rising incomes that impact on the city shape in different ways.
- Some policies are easier to implement than others. We might expect to have picked the low-hanging fruit for efficient, low cost transport infrastructure projects. But a careful assessment of the trade-offs across policy options needs to account for interactions between housing and transport.
- Figure 1 shows the impact of three key policy changes:
1. a 2 percent improvement in transport infrastructure
2. a 15 percent increase in housing construction productivity
3. a 22 percent increase in land area within the MUL.
Some policy interventions may prove less costly than other interventions.
- Adjustment along many dimensions, including transport infrastructure, produces better outcomes rather than just using a single policy lever.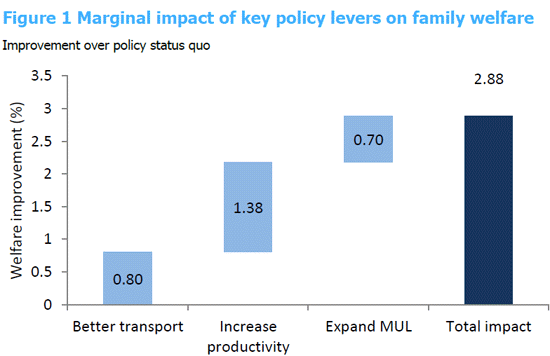 Policy adjustment is needed to get Auckland humming
- A thriving Auckland needs to provide people with well-located land that allows people the opportunity to work within or close to the city centre that drives Auckland's growth.
- Policymakers have generally identified the right set of levers – extending the urban boundary, reducing urban planning restrictions and improving productivity in the housing sector. Continuing to look closely at the costs of imposing height restrictions will also help.
- But the facilitating role of transport infrastructure – both public and private – means there appear to be opportunities to make housing cheaper.
- Auckland's rapid population growth and challenging geography suggest coordinated adjustments across a number of policies are needed to deliver a world-class city to live and to work.
A role for further research
- Our work uses a single spatial framework that helps isolates the trade-offs across a range of policies. Extending the range of policies to include the impact of height restrictions would be a useful exercise.
- Testing the implications of these policies in extensions to the model would make policy advice more robust.
- Our analysis suggests extending the model to accommodate a polycentric city where employment occurs at many locations within the city looks like a prime candidate for enriching our framework.
- Auckland's strong migration inflows are dependent on Auckland's high desirability as a place to live and work. Allowing for populations to choose across cities with better employment opportunities, cheaper houses and better commuting flows would be a useful extension to our work.
Conclusions and next steps

At the heart of what can make or break Auckland as a liveable city is its narrow geography. We show how the twin harbours restrict the availability of well-located land close to the city. That means Auckland experiences big city outcomes in terms of housing that is more expensive and commuting costs relative to its peers across the Tasman.

As geographic constraints bind tighter than elsewhere, that raises the premium on getting our transport infrastructure, urban planning and the efficiency of housing construction right.

Both population and income growth will start to change the shape of the city in the coming decades but in different ways. Income growth incentivises a push to the suburbs to build larger houses while population growth increases density, the price of land and housing costs.

Policymakers have options to help improve the quality of housing, reduce costs and improve outcomes for city residents. We looked at three: transport infrastructure, increasing productivity in housing construction and extending the Metropolitan Urban Limit. One of our key findings is leaving all the adjustment to a single policy lever means heroic assumptions about the magnitude of adjustments a single policy lever might be expected to deliver.

Our work is intentionally broad brush. We work with a simple model so that we can understand at the expense of integrating detailed real world features that nuance where policymakers should lend their attention.

For example, less than 20 percent of Auckland families work in the CBD. Understanding the robustness of our policy conclusions in a model that allows for multi-centric work locations and population flows that respond to the quality of transport infrastructure and cost of housing is desirable, although these models can be very complex. Exploring the impact of relaxing height restrictions through Auckland would also be a useful model extension provided the policy in the model can closely mimic policies that might be implemented (rather than a generic height restriction in the inner city area only).

But putting aside these concerns our work highlights the role transport infrastructure can play in improving outcomes not just for commuting but for housing outcomes within a city. We show that by increasing the supply of well-located land, housing costs fall, making families better off while encouraging development in the fringes of the city.

Our work also shows the outcomes we expect from improvements in housing construction. More effective construction – whether from local government regulation or private sector efficiencies – lowers the price of a unit of housing, incentivising families to build larger houses in the suburbs.

Perhaps our most contentious finding relates to relaxing the Metropolitan Urban Limit. Within our stark model, we show that by 2031, shifting out the Metropolitan Urban Limit and making 22 percent more land available effectively makes each family better off by $860 a year by lowering housing costs. This illustrates that there can be material benefits to shifting out the Metropolitan Urban Limit.

Above all, our work shows simple economic models can help broaden the understanding of some of the trade-offs across policy choices. Understanding the sometimes unintended consequences of policies that change how land is used can make for better policy advice.