Murray Grimwood has a plan for our housing stock that would be more comfortable, appealing, more resilient to change and cheaper to maintain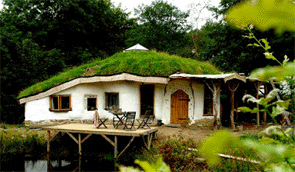 Whenever there is a discussion about housing, you can guarantee one thing; entrenched thinking.
From their pre-assumed positions, they launch forth.
It's 'land supply' or 'those Greenies' or 'overseas buyers' or 'rip-off Councils', or whatever cranially-conjured-up impediment appears to impede that particular utterer's unfettered personal advancement.
What we need, of course, is unvested, unfettered thinking.
How about we give it a go?
We live in a finite country, part of a finite planet.
Available to us are: finite resources (some of which can be recycled, some of which can't) and renewable resources – which you have to use at no more than the renewable rate.
And there's a biological envelope that if – regardless of our conceit - we push things outside of, we die.
Beneath those overarching facts, our short-lived species has a need for shelter, and a tendency – mating-driven, if you stop to think about it - to display status and to increase it at any opportunity.
Unfortunately those collective status-driven tendencies went forth and multiplied, to the point where we are now a species in overshoot, drawing down natural capital at a grotesquely-unmaintainable rate.
So any discussion about housing – shelter, no more, when you get down to it – has to bear that in mind.
For instance, if there are twice the numbers of folk stomping around this wee tennis-ball-in-space than it can support, then by the time we sort that out, there is more than enough housing NOW.
There is a nonsense tendency – not just in housing – for vested-interest folk to project growth in demand as a justification for doing more of what their status relies on.
More dairy-farming, more house-price-rises, more land to subdivide, more votes for the Party.
Then they advocate the advancement of those collective-and-competing demands, all within a finite playing-field.
Go figure – and if you do go figure you'll be well ahead of them, because they sure aren't.
So, what's the answer?
Let's just stick to NZ. Let's agree that the yardstick should be 'sustainable', given that 'unsustainable' is just what it says.
Sustainable says we – at some number – have to limit our population.
Right there, we can estimate the required number of houses existing at any one time.
Sustainable also says we need to not draw down finite resources, and to stay within the maintainable limits of renewable ones.
Right away, oil-fired, gas-fired and coal-fired, go out the (built from renewable-resources, of course) door.
Although there's an argument that if the existing resources are going to be used, then their best use is to establish the new, sustainable housing – indeed the new, sustainable everything – before they are squandered unsustainably…….
'Sustainable' also EXCLUDES current farming practices, which puts vast tracts of land up for reassessment.
That would pull the plug on 'land prices at the periphery', but common-sense says that the fiscal system would also be somewhat compromised due to the losses of 'equity' in both farms and urban land.
The magnitude of the change would make 1929 look like a mild hiccup.
Forgetting personal fiscal readjustments, the land will be there as will the existing housing stock, and the housing will be what is lived in.
Which brings us to the real question:
What kind of housing? Why? And Where?
Where?
If we accept that there has been a drift from country to city during the 'up' phase, it is reasonable to assume a reverse drift in the 'down'
It is also reasonable to assume that folk like to interact, and that they'll cluster.
It depends on the orderliness of the transition, of course, but we could expect refilling/infilling of established rural towns.
We probably need to address ordinances to allow for something like tenants-in-common clusters on previous farm-land – which may have the added advantage of giving our younger folk some realistic options.
Why?
The fossil-energy-underwritten 'jobs' and 'income' won't be in the cities (indeed won't be anywhere) but folk will still need to eat.
They'll go where the food is, and where it can be produced.
What kind?
If it is existing – and 80% of our present housing-stock will be with us through the transition – then it has to be upgraded to 'as near sustainable as possible' in the remaining time.
That upgrade is the 'low-hanging fruit' which Government at both levels should be addressing, with all haste.
Multiple glazing, elimination of thermal-bridging, solar gain, thermal mass, insulation, on-site energy and water collection (and where appropriate, disposal), are the target areas.
If new, then as near sustainable – self-contained, in other words – as possible. New-builds have to have access to local food-production – whether that requires an 'own garden' ordinance, an 'allotment' provision, or a 'commons'.
They have to be as near self-sufficient in energy, water and waste systems, as is possible.
And if I'm wrong?
If our species somehow manages to 'grow' its ability to buy processed bits of its one-and-only planet both exponentially and indefinitely without choking itself?
Well the housing stock would still be more comfortable, appealing, more resilient to change and cheaper to maintain.
Is that so bad?
--------------------------------------------------------------------
Murray Grimwood says he is "a Columnist, and a Generalist specialising in energy efficiencies". He comments on this website as Powerdownkiwi. You can find out more about him here ».