Elizabeth Davies questions why anyone would smoke when it's bad for their health and costs a small fortune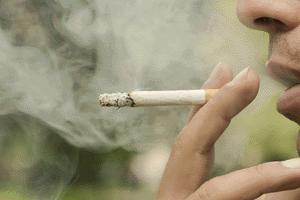 By Elizabeth Davies
I've never been a smoker. Once when I was 15 I took a puff of a friend's cigarette at a party, in what I imagine was a desperate attempt to look 'cool'. After a distinctly un-cool coughing fit I turned to my friend and asked if it was supposed to feel like that. I'll never forget her response, with a half smile and a raised eye brow she replied 'It sucks for the first week or two and then you start to really like it'.
This made no sense to me, I'd always thought that an addiction must feel amazing from day one, how else would anyone become addicted in the first place? It was never difficult for me to resist the supposedly sexy, cool, allure of cigarettes and thankfully by the time I was drinking in bars smoking was legally established as a strictly outside activity.
That being said I've never been an anti-smoking crusader. I don't cough loudly when people light up and if a fellow commuter sitting at my bus stop is kind enough to ask 'mind if I smoke', you won't find me shouting 'mind if I die?' in their face. In general smoking doesn't bother me, it's a personal decision.
Admittedly I will put my judgmental pants on when I see a pregnant woman lighting up or an adult smoking in close proximity to children. Like I said, it's a personal decision; you don't have the right to make it for your unborn child or your kids.
For me the hardest part of smoking to understand is the financial aspect. An average 20 pack of cigarettes costs around $17, making a pack a day habit cost just under $120 a week. The government's massive tax hikes on cigarettes had found a way to encourage smokers to quit that they can't ignore.
From November this year the duty free allowance for cigarettes will drop from 200 to 50. Gone are the days of stocking up on carton upon carton of duty free cigarettes every time you, a family member, or friend goes overseas. So buy your mum some perfume rather than smokes, it's a nicer gesture that doesn't subtly imply you're ok with her dying.
Fewer young people are smoking these days. We now truly understand how unhealthy the habit is. But perhaps an even stronger motivation to avoid smoking is the fact we can't afford it.
It's somewhat depressing to think that your health and the health of those you love isn't enough motivation to kick the habit. But if the only way to continue to reduce smoking is financially, I'm 100% supportive.
As the number of young smokers drops, the habit is slowly relinquishing its 'cool' reputation. Sooner or later you stop associating smoking with sexy, glamorous, black and white stills of film stars and start thinking about tar-filled lungs and still born babies. We have pictorial warning labels on cigarette packages to genuinely thank for this change in connotation.
These days I don't know many smokers, when we reached our twenties people seemed to make the effort to quit. Perhaps more significantly I don't know a single smoker that doesn't possess the desire to quit.
--------------------------------------------------
Elizabeth Davies is a 24 year-old graduate of the Auckland University of Technology post graduate journalism course. She lives with her partner in Epsom and spends her free time refurbishing vintage furniture and attempting to bake while fighting a daily battle against her bank balance. She writes a weekly article for interest.co.nz on money matters and financial struggles from a young person's perspective.