Friday's Top 10: Matt Nolan has a detailed look at global warming issues and policies, including the source of rising emissions, China's plans, the NZ Greens, Dilbert & more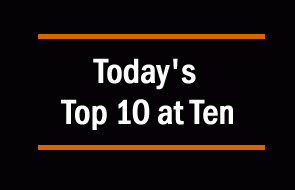 Today's Top 10 is a guest post from Matt Nolan, his fourth. His previous one is here.
As always, we welcome your additions in the comment stream below or via email to david.chaston@interest.co.nz.
And if you're interested in contributing the occasional Top 10 yourself, contact gareth.vaughan@interest.co.nz.
See all previous Top 10s here.

Global warming is an important issue.  The global financial crisis took people's attention away from it, but in the intervening period the concerns about man-made climate change have become more apparent.
This has been a big week for discussing these issues, so I thought I'd run through a few of the links involved.
1. The official reports - an update
The International Panel on Climate Change had, by April, released a series of three reports on the issue discussing the physical science (evidence and mechanisms), the potential impact on the environment and society, and policy choices.
They provide an excellent resource, but for those of us (like me) who are not specialists in the area and have limited time there is a bit too much information.  As a result the technical summaries are useful, as are the summaries given by the Australian department of the environment and the Economist.  The cliff notes via the Aussies:
The Working Group I report finds that there is strong evidence that the Earth's climate system is changing, and there is now stronger evidence than ever that human activities are the primary cause.

The Working Group II report highlights the increasing evidence of a number of climate change risks facing Australia and the world. Some climate change risks have already materialised, and are having widespread and consequential impacts.

The Working Group III report highlights the global nature of climate change and the need for international cooperation.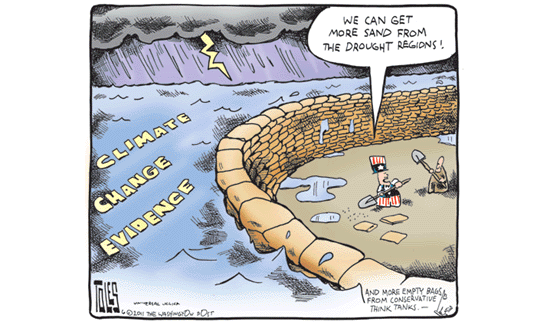 2. Global warming and coordination
From a social-economic perspective, global warming constitutes one of the most difficult global coordination issues of our time.
Around the world we have a series of nation states, each with (in theory) the interests of their present and future citizens at heart.  A sudden increase in temperatures around the world is a harmful change for the citizens of a country – making many processes, industries, and jobs irrelevant and possibly cutting food production leading to incredible hardship in poorer nations.
However, global warming is caused by global emissions while a nation can only choose its national level of emissions.  As a result, a single countries decision to cut emissions mainly benefits OTHER countries and their citizens rather than the citizens of the country taking on the cost.
We can view this problem as a version of the "Tragedy of the Commons" issue – which is often applied to considering the management of fish stocks, and is one of the key justifications for the enforcement of property rights.  This is a view that exists beyond typical political boundaries, for example in this article a US conservative states:
Mind you, I certainly find it worthwhile to be working on ways to reduce carbon emissions as well. It's just that I don't have hope that they will be successful, for tragedy of the commons reasons.
The key difference in belief around what good policy entails is actually related to how likely we believe a global agreement around this issue will be!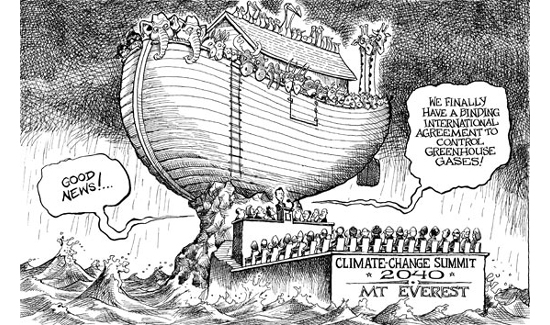 3. The source of rising emissions
As low income countries have become wealthier, the proportion of carbon emissions produced by these nations has risen strongly – especially in China.  VoxEU illustrates this well in a chart from a recent article: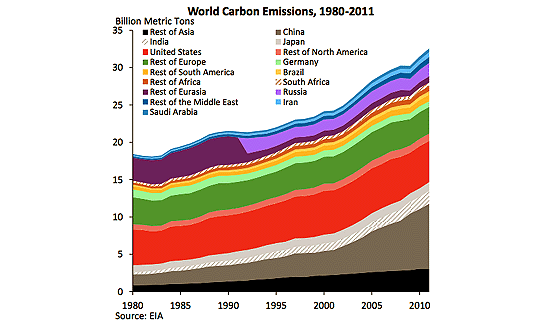 To Noah Smith, this reinforces the importance of China for any agreement around Global Warming.
China's carbon pollution has soared in the last 15 years, and is now about double the U.S. level. The rest of the increase has come from oil-producing countries and from other, more slowly developing Asian nations. But China overshadows all of the other sources.

…

So if we're going to prevent the more severe effects of climate change from occurring, we're going to need to do something to decrease Chinese emissions. What can we do?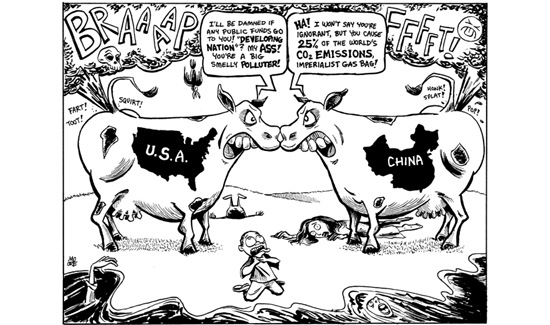 4. Chinese plans for tackling global warming?
With the Chinese economy slowing, and the high profile failure of Suntech (a subsidised solar panel manufacturer) undermining the solar industry, there were growing concerns that efforts to fight carbon emissions in China were faltering.  It was with this backdrop that there are renewed signs China to limit carbon emissions this week!
However, what the absolute "target level" of emissions will be for China is still unknown – and it is far from certain that they will even announce such a target.  As the Guardian article states:
China's emissions have risen dramatically in the last two decades, overtaking those from the US – the previous biggest producer – in 2006. Although the average Chinese person's carbon footprint is still much lower than the average American's, it is catching up, and is now on a par with the average European's.
As a result, China may still feel it is relatively unfair for them to have to put a strict cap on emissions when, on a per person basis, many other countries are heavy polluters.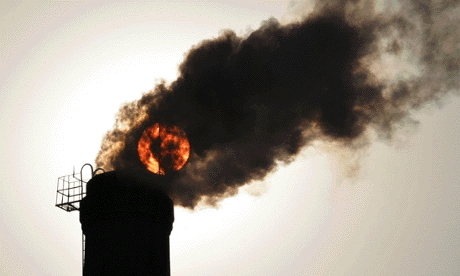 5. US plans for knocking emissions from power plants
Due to a natural gas windfall, and high fuel prices, carbon emissions in the United States have pulled back in recent years.  Even so, in both total and per person terms the US remains a major polluter.
As a result it is encouraging to also see the Obama come out this week, announcing his Clean Power Plan.  The plan commits the US to cut carbon emissions from power plants by 30% from their 2005 level.  Although this is a useful step, it is less ambitious than it sounds at first glance – from Scientific America:
Much of the rest will be the continuation of a trend to shut down coal-fired power plants and fire up natural gas generators instead, a shift that, paired with the Great Recession, has already helped drop U.S. emissions from power plants from roughly 2,400 teragrams of CO2 in 2005 to roughly 2,000 Tg of CO2 in 2012.

Simply put, existing natural gas-fired power plants will be run more often and new ones will be built. Burning natural gas instead of coal emits 40 percent less CO2, the bulk of the CO2 savings assumed under this plan.

…

Of course, natural gas is mostly methane. And methane is an even more powerful greenhouse gas than CO2, which means if the power plants—or the pipelines and wells that supply them—are leaky the climate may not be helped as much.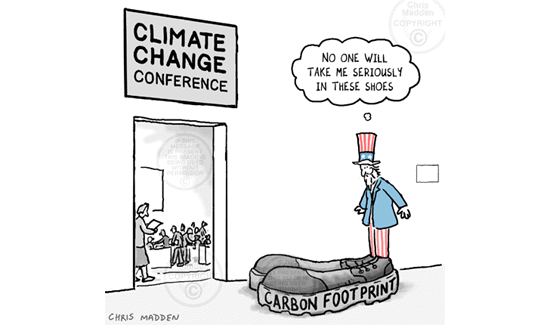 6. Green policy
On the back of these international events, the New Zealand Green Party announced that they would replace the Emissions Trading Scheme (ETS) with a carbon tax.  The announcement is here and the details here.
The plan involves a tax on carbon, with the revenue funnelled into other tax cuts.  As far as there is an "externality" for carbon production this is a typical Pigovian tax – which economists are big fans of.  The key quote from the Greens here is:
We will not allow households to continue shouldering the cost of pollution, as they currently do under the failed ETS. Polluters should pay for the damage they do, not households.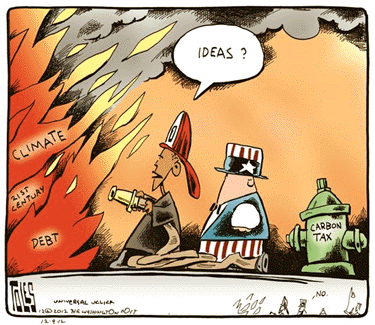 7. Feedback on Greens
I've seen a few New Zealand economists discuss the Green policy:  John Small, Aaron Schiff, and myself.
Generally we seem reasonably positive about the scheme, but there is a certain issue which both Aaron and I bring up in our respective posts – that actual "externality" the government is transferring from firms to households depends on the nature of an international agreement.
This idea is explained more here, but ultimately if New Zealand is the only country to tax carbon and cut emissions nothing happens to global warming.  In this case, all we are doing is taxing a bunch of firms and giving the money to someone else – there is no real "externality" being solved between households and producers, as firm's actions have a virtually non-existent external cost to NZ households.  There is just a transfer of wealth – this is not a 'win-win'.
If there is an international agreement, then the full global cost of carbon emissions (and the benefit of emission cuts) will be placed in the hands of New Zealand taxpayers – a carbon tax is a way of appropriating that, and the "externality cost" of carbon is set by this international agreement.
New Zealand alone cannot stop global warming, and by itself this scheme (in strict economic terms) does nothing.
But as I note in my post I support the tax – as I see actively pricing carbon as a way we can do our bit to try to force through international cooperation on global warming.  This appears to be how the Greens also feel.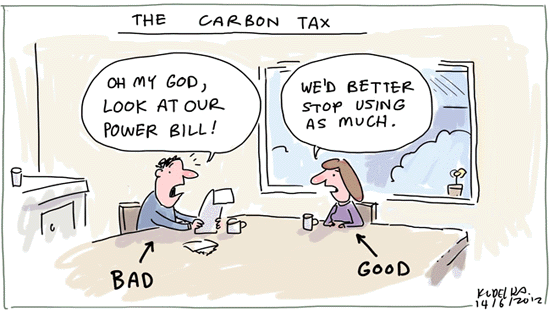 8. Where is Kyoto heading?
One of the key points raised by the Green party policy is their aspirational goal around a global agreement.
One of the key justifications for the introduction of a carbon tax is to make New Zealand a moral leader with regards to introducing policy with regard to a global issue. The view here is that, if we need countries to coordinate the best way to do so is to act in good faith in a way consistent with such coordination.
So how are we going with a post-Kyoto arrangement?
Well at present the Kyoto agreement has been extended (although without some founding nations such as Canada), and negotiations are ongoing for a new broader agreement by 2015.  But for now, the details are an unknown:
But what will this new climate change agreement look like? Will it be the legally binding treaty for which many vulnerable countries yearn, carving up the world's remaining allotment of greenhouse gas emissions based on which nations have already belched more than their fair share and which still need space to grow? Or will it be a looser agreement like the Obama administration wants, in which nations declare the cuts they are willing to make, then rely on global peer pressure to ensure those reductions are ambitious?
And to whom will it apply?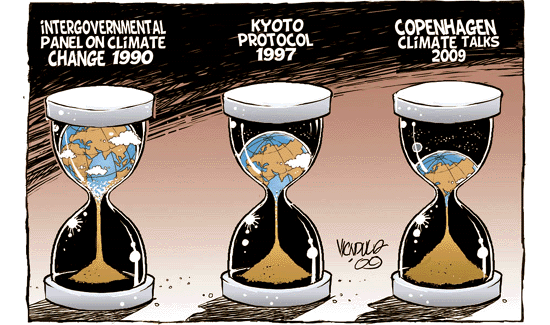 9. Technology saving the day?
When Thomas Malthus predicted that growth in population would occur to drive everyone down to subsistence wages, "technology" appeared to save the day.  When people became concerned about peak coal and energy scarcity resulting from it, "technology" appeared to save the day.
Given the amazing advances science has given us, there is a strong faith among some that technology can save the day: either by reducing carbon emissions directly (mitigation) or limiting the negative effects of global warming (adaptation).
An example of the first comes from the book "Superfreakonomics" – something that is discussed on the author's blog here.
The core of the chapter concerns Intellectual Ventures, a Seattle-based invention and patent company headed up by Nathan Myhrvold. While I.V. employs several climate scientists, it generally operates outside the climate-change establishment. We present I.V.'s views on climate change in general, the limitations and costs of carbon mitigation, questions about the scalability of alternative energy sources, and the company's proposed global-warming solutions.

The most controversial of these solutions – a "stratoshield" — involves the controlled injection of sulfur dioxide into the stratosphere to cool ground temperatures, which mimics the natural cooling effects of a big volcanic eruption like Mount Pinatubo.
The geo-engineering they suggest is an attempt at using technology to limit the negative effects of global warming.
However, much of the environmental community think these types of solutions are impractical.
Personally I find both sides a bit dogmatic in this debate, and willing to be a bit personal, especially given the unknown nature of technological change.  Technology is worth discussing, but not relying upon as a panacea for the negative effects.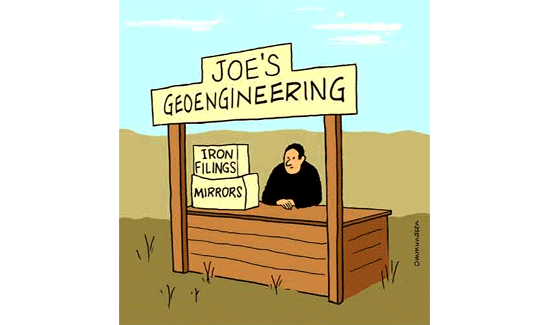 10. But, technology and policy can be complements not substitutes!
It is common to hear the above point, that technology and new energy will save the day – and hopefully this is the case.  But technological innovation and the right sort of policy environment are actually complements when it comes to global warming – implying that there is more role for active policy not less.
Technological progress involves the efforts and knowledge built up by a large series of dedicated researchers – researchers which need funding so they can focus on the issue.  In this way, policies that either fund this research directly, or increase the return associated with the research (eg increasing the price of carbon related production), help to drive technological progress.  A clear exposition of this was given in 2008 in a critique of IPCC work at the time:
The increase in fossil-resource prices triggered by high economic growth will lead to an increase in energy efficiency. Admittedly, a possible increase in carbon intensity caused by a renaissance of coal is a worst-case scenario for any climate policy. But the impact of increasing fossil-fuel prices on technological change and on mitigation costs, or policies, cannot be analysed in any meaningful way for policy-makers by assuming a 'frozen technology' scenario.
And sure enough, the high fuel prices since that period and the drop in the price of natural gas (due in part to fracking) has helped to drive down carbon emissions in the US and around the world!
One note I would make though – subsidising 'green investment' by taking on some of the risk or paying funds also acts as an income transfer to those wealthy enough to undertake these schemes in the first place!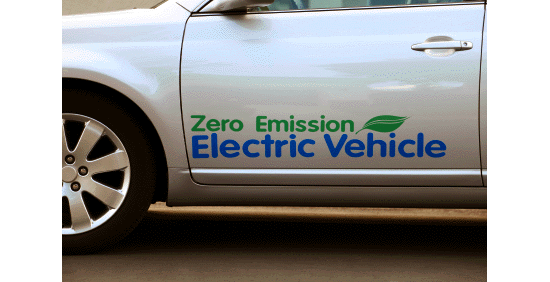 --------------------------------------------------
* Matt Nolan is an economist at Infometrics, and an author at the blog TVHE. He specialises in looking at the household sector, and household economic data, but will offer an opinion on pretty much anything related to business and the social sciences.