Bernard Hickey argues the Government and Auckland Council should ramp up their attempts to change the expectations of land bankers about constantly rising prices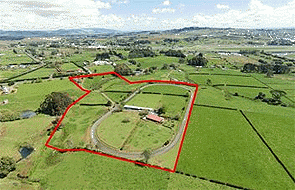 By Bernard Hickey
Expectations are a powerful thing.
They're the reason as many as 45,000 sections in Auckland are just sitting there ready to go, with all the connections to water, power and roads - but no houses.
The expectations of a repeat of the doubling or tripling of land prices in and around Auckland over the last 15 years will do that to expectations.
It has created a dangerous dynamic for the economy and first home buyers in particular.
It means it makes a lot more sense for land bankers to simply hold the land in the expectation of tax-free capital gains and not bother with the messy business of actually building and selling new houses.
Land owners - it would be too charitable to call them developers - have over the years snapped up parcels of land that is zone residential (or might be zoned residential) in the bullet-proof certainty of land price escalation.
The 35-40% rise in Auckland land prices over the last two years was proof positive if they ever needed it that they are sitting on the biggest sure thing in the history of New Zealand investment.
The Metropolitan Urban Limit in Auckland acted as the biggest artificial constraint on land supply, helping to first turbo-charge and then gold plate those capital gains.
But is that about to change?
Building and Housing Minister Nick Smith would certainly like to give those expectations of forever-rising land prices because of land restrictions a kick in the guts.
He has his work cut out and it's a crucial task if the Government's Housing Accord with Auckland Mayor Len Brown and all the recently created Special Housing Areas are to be a success.
The risk is that tens of thousands of resource consents for sections simply sit there for years, being drip-fed onto the market to ensure supply doesn't crash the market.
That would be the economically rational thing for a small and disciplined group of land owners to do. After all, why kill the golden goose that laid so many big golden tax-free eggs for so long?
There have already been signs of land owners buying land in anticipation of getting Special Housing Area status and then sitting on it.
The only way to change that expectation is to force land prices down by doing whatever it takes to unleash a landslide of development.
That should be the openly stated aim of both the central Government and the Auckland Council.
That would, of course, be politically difficult to say out loud, but Nick Smith talked tough this week in announcing with Len Brown that 11,060 new sections had been consented in the first year of the Accord, which was 20% above the targeted 9,000.
They were also confident about hitting the second and third year targets for new sections consented of 13,000 and 17,000 respectively.
The Government is preparing to launch its policy announced before the election of doubling subsidies for first home buyers buying new homes and hopes this will tempt the land bankers out of their shells to actually build houses for these newly cashed up buyers.
Smith talked in particularly direct terms about changing the expectations of land bankers this week.
"If they see land prices continue to appreciate at 15-25% per year, then they will have the incentive to sit on their land and not to develop it, and that's why a critical part of the Accord is making plain that the Metropolitan Urban Limit is dead," Smith said.
"The Government and the Council are determined to release sufficient land supply and we're not going to allow land price inflation of the sort we've seen over the last decade," he said.
"I want the land owning development community to realise that the Government is serious with Council about freeing up land supply, and they cannot bank on ongoing high land price appreciation that has encouraged land banking over the last decade."
There will be a Mexican stand-off for a time to see if the tough talk turns into softer land prices.
First home buyers all around the country will be hoping the dam breaks and the more nervous land owners decide to jump first to avoid being the last whale beached in a weaker market.
We're over a year into the Government's supply-side drive to change those expectations and there are few signs yet that the land bankers are losing their nerve.
A simple search for "land bank" in Trade Me's Auckland property section yields a bevy of advertisements trumpeting pieces of land with Special Housing Area or re-zoning potential that are aimed straight at land bankers.
"A great opportunity is here for the astute buyer with the new Unitary Plan indicating Future Urban rezoning on this conveniently located property just minutes from the main centre of Pukekohe," says an ad for 6.22 ha at 87 Yates Rd. "This unique proposition would suit a land banker," it said.
If this continues and the consents for sections in the Special Housing Areas simply add to the pile of 45,000 existing empty sections then the Government should look at selling and developing its own land to properly shred those nerves and break the land bankers.
--------------------------------------
A version of this article was first published in the Herald on Sunday. It is here with permission.