Friday's Top 10: Andrew Patterson's Top 10 business reads for 2014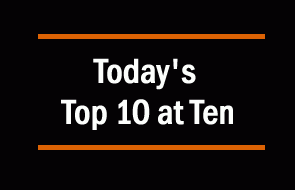 Today's Top 10 is a guest post from Andrew Patterson, the SundayBusiness presenter on RadioLive.
As always, we welcome your additions in the comments below or via email to david.chaston@interest.co.nz.
And if you're interested in contributing the occasional Top 10 yourself, contact gareth.vaughan@interest.co.nz.
See all previous Top 10s here.

1) The Innovators – How A Group of Hackers Geniuses and Geeks Created the Digital Revolution, by Walter Issacson.

A remarkable history of the digital age that begins surprisingly in 1840 with one Ada Lovelace, the daughter of Lord Byron, who conceived the idea of a computer more than 150 years before the computer age finally came to into mass production. It's both a collection of history and an examination of how the most innovative minds work.Highly recommended for those who love technology and innovation.

Author interview: http://www.radiolive.co.nz/Walter-Isaacson-Author-The-Innovators/tabid/…
2) Thrive – The Third Metric to Redefining Success and Creating a Happier Life, by Ariana Huffington.

Ariana Huffington has become one of America's most successful media entrepreneurs. Her website The Huffington Post has become one of the most widely read websites in the U.S. while Time magazine recently named her as one of the magazine's 100 most influential people. Yet as her book starkly reveals, Huffington had become a victim of her own success. After collapsing from exhaustion breaking her cheekbone and injuring her eye in the process she underwent a radical change in her lifestyle by adopting a third way of quantifying success. A compelling read.
3) Creative Confidence – Unleashing the Creative Potential Within Us All, by Tom & David Kelley.

One of my personal favourites from 2014, Creative Confidence is a book that you can literally put to use immediately. Jam packed with practical tips and ideas, the book sets out to prove that those illusive creative genes are often dormant within all of us. Filled with examples of people who have adopted the book's mantra, the Kelly brothers, who founded the iconic Silicon Valley product design company IDEO, will have even the most reluctant creative convinced of its value.

Author interview: http://www.radiolive.co.nz/Tom-Kelly-IDEO/tabid/506/articleID/40943/Def…
4) Give & Take – Why Helping Others Drives Our Success, by Adam Grant.

"Nice guys finish last," according to the old saying. Or do they? In his latest best seller Prof. Adam Grant from Wharton Business School proposes an approach to work, team building and productivity that is nothing short of revolutionary. Everybody knows that hard work, luck and talent each play a role in our working lives. But in this landmark book, Grant proposes the importance of a fourth, critical factor – that the best way to get to the top is to focus on bringing others with you.
5) No. 8 Re-wired – 202 New Zealand Inventions That Changed the World, by John Bridges & David Downs.

Who knew that instant coffee, the referee's whistle and even daylight saving itself are all inventions both conceived and created right here in NZ? Our past is populated with amazing people with incredible, often world changing ideas, yet we don't always celebrate or acknowledge our successes as much as we should. No. 8 Re-wired is an insightful celebration of kiwi can do. There should be a copy in every school in NZ to inspire the next generation of kiwi inventors.
6) Capital in the Twenty-First Century, by Thomas Picketty.

Not exactly bed time reading, this weighty best seller was the surprise hit of 2014 and has been described as one of the most important books on economics in the last decade. In the book Picketty analyses a unique collection of data from twenty countries, ranging as far back as the eighteenth century to uncover key economic and social patterns. He argues that the growing concentration of wealth and the rising level of inequality are inextricably linked.
7) Scaling Up Excellence – Getting to More Without Settling for Less, by Robert Sutton.

The book focuses on a simple idea: as they grow, how can businesses retain the excellence which made them successful in the first place. Sutton argues that scaling up excellence is the key to creating a great organisation. It's how a small enterprise expands without losing focus. It's how a brilliant new idea or plan developed by the few goes on to be adopted by the many. Get it wrong and a business will be unable to achieve long-term success. Highly recommended.

8) Business Adventures – Twelve Classic Tales from the World of Wall Street, by John Brooks.

Described on its front cover as "the best business book I've ever read" according to Microsoft founder Bill Gates, there's no doubting why this book has spent weeks on the New York Times best seller list. The book is an entertaining and insightful look at corporate and financial life in America. Each story is an example of how an iconic company can become defined by a particular moment of fame or notoriety. And as thought provoking book shows, the business lessons of each remain as fresh and as relevant as ever.
9) How Google Works, by Eric Schmidt & Jonathan Rosenberg.

If you've ever wondered about the inner workings of Google, then look no further! Executive chairman and former CEO Eric Schmidt, former senior VP of products Jonathan Rosenberg, and director of executive communications Alan Eagle team up to explain how Google's work culture has evolved. They cover management strategies, communication, innovation, and dealing with disruption.
10) The Second Machine Age – Work, Progress and Prosperity In a Time of Brilliant Technologies, by Andrew Brynjolfsson& Andrew McAfee.

A fascinating book that examines why we might only be at the very start of a revolution that has the potential to transform the world in a way few of us can truly appreciate.