Cameron Preston takes a look at Canterbury earthquake claims settlements and finds IAG and Southern Response apparently struggling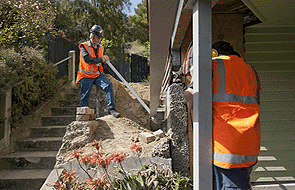 By Cameron Preston
Progress in the settlement of the 23,181 most extensively damaged homes in Canterbury appears to have hit a wall.
The company with the largest pool of claims is also the slowest, and appears to be having major problems coming up with solutions for repairing properties to meet its policy obligations.
IAG, which now has two-thirds marketshare in general insurance in New Zealand, is struggling to reach the halfway point on claim settlement as cash settlement opportunities dry up more than four years after the first earthquake: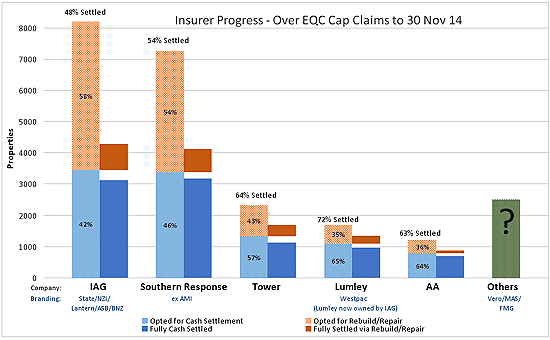 Previously I have explained how IAG used a complex offshore captive reinsurance structure to disguise the fact it did not sustain any material financial loss in the Canterbury Earthquakes.
IAG was then able to, along will all other insurers, increase premiums and switch to a sum-insured model while at the same time buying up distressed insurer AMI and then Lumley.
It is now announcing record profits from its New Zealand operations in its homeland of Australia.
A close look at data shows that in the badly damaged "Technical Category 3" areas of Christchurch, out of the 997 new houses IAG have committed to rebuild for their customers, they have only completed 61.
They have committed to undertake major repairs to 1,283 properties in that same area, but as at 30 November 2014 they had completed 27: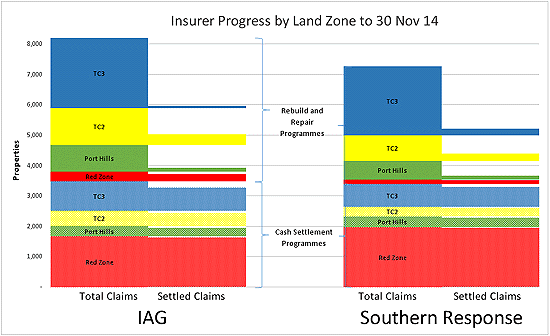 Other areas in Christchurch do not appear to be faring much better.
IAG's closest settlement "competitor," Southern Response is not performing much better, with only 54% of claims settled. However it doesn't have any other worldly business apart from claim settlement, and also has no reputation to uphold.
It is clear from the data that those insurers who have "better" settlement progress (Lumley, Tower and AA), have achieved this from cash settlements, rather than rebuilding or repairing. However there are indications this has come at some loss to their local reputation.
More than four years after the first earthquake, there are continuing questions over whether this lack of progress is a deliberate delaying tactic from insurers.
When queried on why IAG's data appears to contradict that of the Insurance Council, IAG noted:
We are constantly revising our data classifications to reflect the spectrum of settlement solutions available. Where you may note a variation in results, there has been a reclassification of data, i.e. some homes which were previously included under completed rebuilds but were actually cash settled have been reclassified into cash settlement.
I had previously requested the above data from the Insurance Council of New Zealand, (whose president is coincidentally IAG's CEO). however, I was told it was "confidential to its members" and the Council "did not have it anyway".
Apparently the ICNZ's much spun regular quarterly reports on progress in Canterbury are based on data collected from its members by the Canterbury Earthquake Recovery Authority (CERA) who aggregate it, collate it and then simply pass it to the ICNZ for word-smithing.
The ICNZ never see the raw data from its members apparently.
So I simply approached the insurers separately, and to their credit, with the exception of Vero, Medical Assurance Society and Farmers Mutual Group, they all answered my request for their progress stats.
I have little doubt the ICNZ will continue to spin the progress of its members by mixing residential claims with commercial claims, small under cap claims with larger over cap claims, and inventing fantastical expressions (my favourite new term is "resolved" which is some type of purgatory where both parties have "resolved" to settle the claim sometime in the future).
But certainly the ICNZ has been effective in acting as a buffer, deflecting any need for the chief executives of these insurers to have to explain their progress to the public. After all these CEO's have better things to do at present, don't they?