Bernard Hickey test drives a plug-in hybrid electric SUV and finds even a new one almost makes economic sense. A 2nd hand one definitely would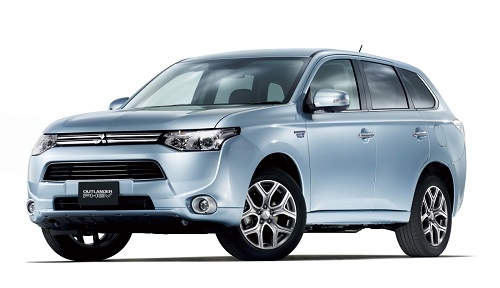 By Bernard Hickey
Surely, I've wondered, New Zealand could use all its water and wind and steam to power a big, comfortable and useful car without pumping more carbon dioxide into our warming atmosphere.
Up until now it's been much easier to dream about than do.
Purely electric cars have been prohibitively expensive to buy and the business of recharging purely electric cars has been risky and financially mysterious.
It seemed a fringe thing you did because it made you feel good, rather than made much practical or financial sense. Hybrids such as the Toyota Prius have become more popular, but more so with taxi drivers doing many tens of thousands of kilometres a year. Such non-plug in hybrids still use petrol, but the savings are worth it when you're doing many taxi-like kilometres.
So this has meant that hybrid and electric-only cars such as the Nissan Leaf have not taken off among the general population as some might have hoped.
That may be about to change because of better battery technology, the high New Zealand dollar and a new way to buy power.
Just before Christmas I test drove a Mitsubishi Outlander PHEV (Plug In Hybrid Electric Vehicle) for almost two weeks around Wellington and thought for the first time that my day dreams are nearer to truth than fiction.
The Outlander PHEV is unique in that it is a full size SUV with a big enough and efficient enough battery to run purely on electric power for enough distance for your daily commute. But it also has a 2 litre petrol engine that kicks in if you run out of electric power on a long trip or when you're accelerating up the steepest hills with a heavy load. Unlike a 'normal' hybrid, the petrol engine hardly ever runs in usual commute and you plug it in to your mains power to recharge it overnight.
It means you can relax about a long trip or running out of electricity, but you can also be confident you can use hardly any or no petrol during normal commuting.
I thought it was worth running the calculator over my real world experience to see if buying such a car stacked up financially because I'd always been a sceptic about the capital costs of electric-only and the petrol costs of conventional hybrids.
I also wanted to see if I could surmount one of the biggest hurdles to electric car ownership -- fear about the rising cost of electricity. Otherwise the risk is you would exchange one rising and painful cost from one set of energy oligopolists for another equally painful cost from another set of price gougers.
Our house in Brooklyn in Wellington is hooked up to Flick Electric Co. It's a new 'virtual' electricity retailer that buys power on the wholesale market and then sells it to householders at the wholesale price plus a margin. That contrasts with the big power 'gentailers' such as Contact or Meridian or Genesis, that set opaque prices that are disconnected from wholesale prices.
Using Flick means we can be sure that when Tiwai Point closes down we will get some of the expected 10% fall in wholesale prices, and also benefit if wholesale prices stagnate as they have in recent years because of flat to falling demand and rising supply. So far we've saved 10% on our power bills.
I also hoped to take advantage of a quirk of New Zealand's geography and the timing of how power is consumed. Our hydro-electric lakes are shallow, which means that when it rains a lot they have to be spilled, often at night. That's because most people use most power in the mornings and early evenings. We use hardly any power in the dead of night, so the power price is lowest in the dead of night when demand is low and there's plenty of water to be 'wasted'. Flick offers a 'night' rate that we could take advantage of.
I wanted to use that quirk to get hold of the cheap power in the dead of night to charge the Outlander. Over 15 days in December I drove the car 357 kilometres and recharged it in the evenings and overnight on 13 of those days. I used 118.4 kw/h of power at a cost of NZ$14.29.
The engine kicked in a few times going up the Brooklyn Hill and a few times on longer trips. I ended up using NZ$11.37 worth of petrol or about 1.6 litres per hundred kilometres. In total that works out at a total fuel (power plus petrol) cost of about 7.2 cents per kilometre. A petrol-only Outlander would have cost about 18 cents per kilometre in petrol.
I worked out that over a year of driving 20,000 kilometres I would save around NZ$2,180 a year in fuel by using the PHEV instead of a regular Outlander. That's about enough to compensate for the extra NZ$15,000 in capital costs for a PHEV Outlander (NZ$59,990) over a petrol-only Outlander (NZ$44,990).
Given the depreciation rates and interest costs on that extra NZ$15,000 of capital, I estimate the car would pay for itself (just) over a seven year period. That's much better than the capital and running costs of new pure electric and conventional hybrids, but it's still not a slam dunk.
It's certainly more attractive than I thought, but my ultimate carbon zero daydream is to avoid the depreciation and capital costs altogether by buying this type of hybrid second hand in a few years when the bulk of the depreciation has happened. That way I can avoid breaking my big personal finance rule: never borrow money to buy a car, never buy a new car and absolutely never borrow money to buy a new car.
These PHEVs will make an awful lot of economic sense as three or four year old second hand vehicles.
-------------------------------
A version of this article was first published in the Herald on Sunday. It is here with permission.