Nick Calavrias reveals how issues are resolved in his family and who can't understand why their bank is not proving to be very friendly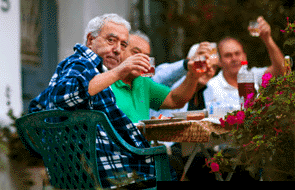 Nick Calavrias*

I borrowed a considerable amount of money from a number of banks to finance my family's lifestyle which included, overseas holidays, buying a holiday home, a new boat and an aeroplane.
Over time, I convinced myself that I was entitled to a lifestyle beyond my income.
I also reasoned that as the banks wanted to lend me money, they must believe that I am a good credit risk.
As I had heaps of borrowed cash in my bank account, it was a lot easier to give in to demands from the family to increase their weekly living allowance rather than to cause disharmony at home.
Last year however we had a crisis when the banks decided that they wanted their money back.
As I was pondering my misfortune, a German bank came along in the nick of time and saved the day.  They did however insist that I reduce my family's living expenses and sell assets to pay down debt over the next few years.
Instead of selling assets I decide that I should start a program of austerity. Although the family suffered a lot as I kept on reducing their incomes, I was unable to substantially reduce my debt.
Last week, the family held an election to choose the annual head of the household. My wife decided to run against me with the promise that if elected she would restore the family incomes and negotiate a 50% reduction in the family debt.
As expected my wife was elected as the new head of the house. She promptly advised the German bank that as their loan was to the previous administration the family was no longer bound by the terms of the loan. She did however have a mandate from the family to pay back half the loan.
The bank eventually conceded to these demands allowing the restoration of the old allowances to the family. Boy, did the family drink a lot of Ouzo and break heaps of plates to celebrate.
The lower debt has now put us in a positive cash position once again allowing us to apply for a new bank loan to cover renewed spending.
We have just received notification that the German bank no longer wants to do any business with us which the family finds hard to understand.
This however is not a problem as the Russian banks will.
-----------------------------
Nick Calavrias is the former chief executive of Steel & Tube Holdings and a former director of The New Zealand Initiative. He also held several leadership roles in New Zealand's Greek community.