Monday's Top 10: Shamubeel Eaqub on US rate hikes, oil supply, Grexit not good for Germany, turning Japanese, the Basel disaster, Dilbert and more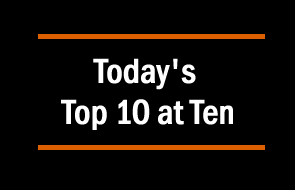 Today's Top 10 is a guest post from Shamubeel Eaqub who is Principal Economist at NZIER, occasional blogger at TVHE, author and advisory board member for Aotearoa Development Cooperative and NZ Asian Leaders.
As always, we welcome your additions in the comments below or via email to david.chaston@interest.co.nz. And if you're interested in contributing the occasional Top 10 yourself, contact gareth.vaughan@interest.co.nz.
See all previous Top 10s here.

1. US rate hikes not that close?
Latest minutes of the Federal Reserve meeting a shows a committee:
divided as to exactly when to begin raising interest rates. Many officials said they feared a "premature" rise in rates could damp the apparently solid economic growth and labour market recovery.
Indecision on tighter monetary policy in the USA is a good thing. Uncertainty on global growth has increased and deflation (falling prices) or disinflation (low inflation) is likely to plague the global economy through 2015. As the de facto central banker to the world, a premature increase in US interest rates could risk derailing a fragile global economic recovery. 
Read more on the FT (behind paywall): http://on.ft.com/1G5kmvn
2. Oiled up supply
Despite falling prices, oil production continues to increase. MarketWatch reports:
U.S. crude-oil supplies as of the week ended Feb. 13 saw a whopping 14.3 million-barrel jump from a week earlier, the trade group reported, according to news reports and various sources.

Analysts polled by Platts forecast an increase of just 3.1 million barrels for the week.
There is fierce debate on whether lower oil prices are a result of slowing demand versus increasing supply. The reality is likely to be both – with continued evidence of increasing supply, outstripping moderate demand growth.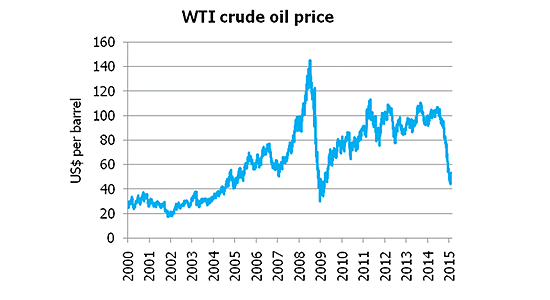 Source: DataStream, NZIER
3. Germany cannot allow Grexit
Ambrose Evans-Pritchard's thoughtful commentary on the risk of a Greek default in The Telegraph is well worth a read:
A Greek default - unavoidable in a Grexit scenario - would crystallize these losses…

Events would confirm what citizens already suspect, that they have been lied to by their political class about the true implications of ECB support for southern Europe, and they would strongly suspect that Greece is not the end of it.

"It has become an ideological battle over austerity. Conservative governments want to ram though their retrenchment policies whatever the cost," says Sven Giegold, a German Green MEP.

...  my view is that Chancellor Merkel will ultimately overrule the debt collectors and will yield in order to save Germany's 60-year investment in the diplomatic order of post-war Europe.
Ultimately, Greece cannot endure more economic pain without breaking all the promises made by the newly elected government. An exit would mean ugly financial and political repercussions. Europe seems to stitch together a last minute deal at each crisis. Grexit is a crisis, but don't bet on the political will to keep the European project alive. A day after much posturing, the ECB agreed a €3.3bn additional emergency funds.
4. Are we all turning Japanese?
John Mauldin, at Mauldin Economics, writes lengthy newsletters on many economic and financial issues. This newsletter on Japan was pretty interesting and the intro sets up the many successes and contradictions:
Japan is an interesting case study. It's a highly developed nation with a very sophisticated culture, increasingly productive in dollar terms … and carrying an unbelievable 250% debt-to-GDP burden, but with a 10-year bond rate of 0.22%... Japan has an aging population and a savings rate that has plunged in recent years. The country has been saddled with either low inflation or deflation for most of the past 25 years. At the same time, it is an export power, with some of the world's most competitive companies ...
Mauldin goes on to describe and explain the very different going ons in Japan. Particularly the way the bond market works. It is not a like for like comparison with the rest of the world. There may be some similarities with deflation and demographics, but Japan's economy is very different.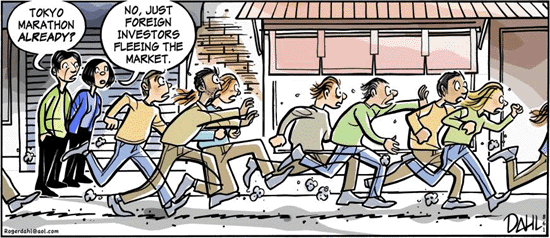 5. Regulatory failure at genesis of GFC
A friend sent me this article and wrote:
To me this story suggests how Basel 1 may well have been one of the world's largest regulatory failures in history (culminating in 08 and its aftermath). I'd been struggling with the big worldwide cause of the loosening up of cash for bricks and mortar. I must have read past this a million times.
The article in The Economist newspaper explains that:
…the traditional view that banks primarily lend to businesses is out of date. In 1900 only 30% of bank lending was to buy residential property; now that figure is around 60%...
Far from channelling money to companies, modern banks resemble "real-estate funds", the authors claim, in which long-term mortgage lending is funded by short-term borrowing from the public.
This skew towards mortgages was embedded in regulation:
…changes to international regulations on bank capital since the 1970s have also increased the supply of mortgages. Under the Basel I rules, which were first adopted in 1988, mortgages were deemed to be half as risky as corporate loans; some national regulators adopted even more skewed risk-weightings.
The regulatory skew hurts entrepreneurship and the economy
…regulations that encourage mortgage lending, in short, have the unintended consequence of stemming the flow of capital to small firms, thereby holding back the economy as a whole.
New Zealand is no different. 52% of lending by banks is for mortgages, according to RBNZ data. We should not be surprised to see more and more credit chasing mortgages, rather than businesses, when the incentives are written in regulation.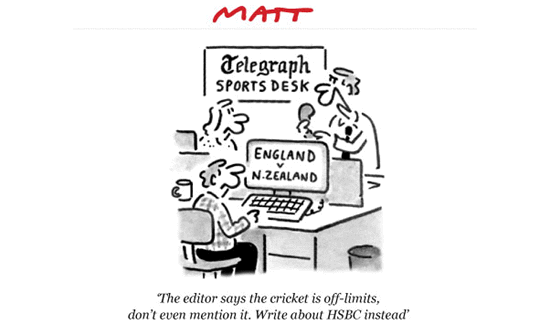 6. Disinflation vs deflation
Consumer price inflation is at a historic low. The UK offers a convenient mirror to what we are experiencing in New Zealand.  In a blog in The Guardian, Larry Elliott explains that low inflation is a good thing:
Inflation is the lowest it has been in modern times. The cost of food and fuel is bearing down on the cost of living. Those on the lowest incomes are the biggest beneficiaries as stocking the fridge and heating the home gets cheaper. What's not to like? Nothing at all.

Deflation can be very bad news. Where disinflation tends to affect only some sectors of the economy, deflation is a fall in prices across the board. Where disinflation is temporary, deflation is permanent. Consumers and businesses put off spending decisions because they know prices will be lower in the future than they are today.
Low inflation, or disinflation is nice. But if it spill over to wage and other price setting behaviour, it could turn nasty:
one big proviso to this benign outlook [that disinflation is good]. That is that the fall in inflation does not lead to lower wage settlements. Were that to happen, deflation would become a real and present danger. Which is why the earnings data needs watching closely over the months to come.
7. Measuring progress in Canterbury
Matthew Brockett and Tracy Withers at Bloomberg look at where Canterbury is after the quakes. The cricket was focussed on the oval, but there is much to do:
When the first ball of the Cricket World Cup was bowled in Christchurch this month, television viewers around the world saw the New Zealand city's pristine new oval framed by picturesque hills.

What they didn't see was the dusty wasteland of empty blocks and construction sites in the city centre, still disfigured and largely deserted four years after an earthquake struck, killing 185 people. In the suburbs, property prices and rents have soared amid a housing shortage caused by the destruction of 12,000 homes, and road closures to repair the damaged sewerage system continue to create traffic chaos.

... 22,000 homeowners in the city still haven't settled with the government or insurers over their quake-damaged properties, Earthquake Commission and Insurance Council data show.

The government's rebuild plan shows most of the city's new infrastructure should be finished by 2017.
My old hometown doesn't look much like when I lived there. Hopefully the jobs lost outside of construction will eventually return.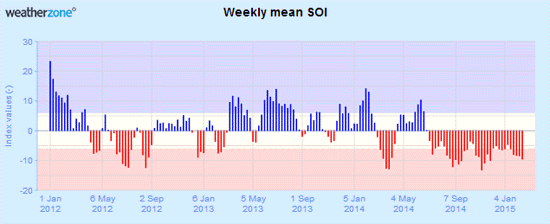 8. Too much of a good thing
Wall Street has done better than Main Street. But it may not be a good thing. In a recent paper by the BIS, but more elegantly summarised by The Economist, explains that when too much talent goes to finance, other sectors miss out:
... the finance sector lures away high-skilled workers from other industries. The finance sector then lends the money to businesses, but tends to favour those firms that have collateral they can pledge against the loan. This usually means builders and property developers. Businessmen are lured into this sector rather than into riskier projects that require high R&D spending and have less collateral to pledge.
The article ends with a quote from Churchill: "I would rather see finance less proud and industry more content".
New Zealand is no different. We need to rethink the role of finance and banking. Without industry that creates jobs, not just intermediation through finance, there cannot be sustainable economic progress.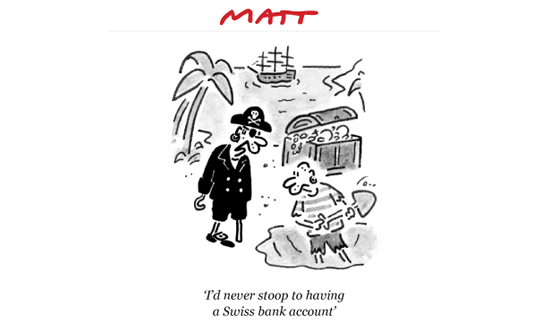 9. Wi-fi and resisting change
Exorbitantly priced wi-fi in hotels is a pet peeve. It is an annoyance and the charges most hotels charge is completely out of step with how much it costs them. In some cases, the daily charge in a hotel can be $20 or $30 – on a work trip this can add up to how much my unlimited plan costs per month! The Economist writes:
A study by Resonance, a tourism consulting firm, found that travellers worth more than $1m say that free Wi-Fi is the amenity they value most when choosing a destination—more so even than privacy

A report by the European Travel Commission found that about a quarter of leisure travellers turn to social media to check out hotels before booking.

Hence, no matter how much revenue hotels are earning by squeezing guests, the opportunity cost of making access to the internet expensive is huge…If customers are not sharing thoughts about hotels during their stay because they do not want to pay for Wi-Fi, firms such as Hilton are chopping their marketing off at the knees. Even more shortsightedly, they are left hoping that those guests who do begrudgingly stump up $19 for 24 hours' Wi-Fi access are still going to write something nice about their room while waiting in the bar for their equally expensive Coco Locos to arrive.
Well put.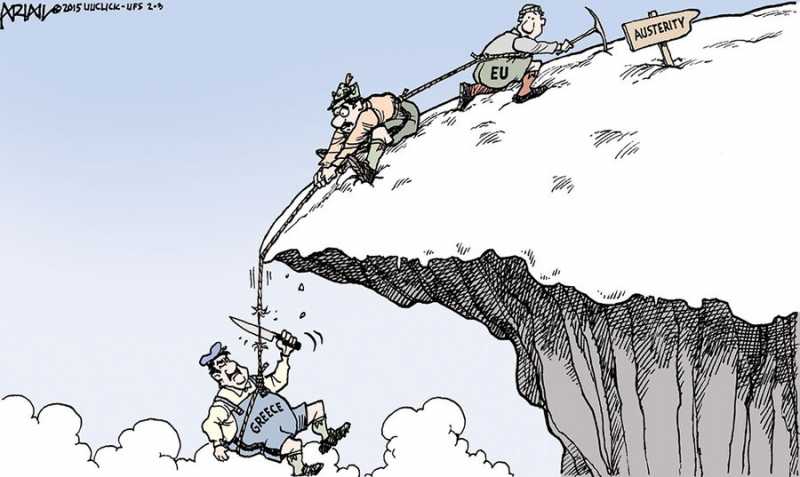 10. Revitalising cities?
I am really looking forward to watching this documentary: TOWN with Nicholas Crane. A friend alerted me to it and is apparently on SKY History channel (I am too cheap to get SKY). I am particularly interested in the episode about Totnes and the BBC describes:
We live in one of the most urbanised countries on earth. By 2030 a staggering 92 per cent of us will be living the urban life. Congested cities sprawl across our map, but they are not the only way to live. Smaller than a city, more intimate, more surprising: this series celebrates the forgotten world of the town.

A Saxon river town in South Devon, Totnes is one of the UK's oldest towns. It has seen tough times through its long history, but adversity has taught it to innovate. Geographer and adventurer Nicholas Crane visits the home of one of the greatest social experiments of the 20th century, and uncovers the test bed for an ambitious new idea that aims to change our urban life forever.
I am interested to see what the experiment is. Provincial centres are hollowing out in New Zealand too, as I described in Growing Apart.