Auckland Councillor Cameron Brewer says the Mayor's proposed cap on councillors' salaries should be extended to include caps on council staff numbers and salaries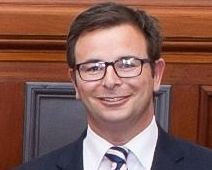 The following is a press release from Auckland Councillor (for Orakei) Cameron Brewer, which follows the suggestion by Mayor Len Brown that the government's proposal to limit pay rises for MPs should be extended to include local government representatives.
Mayor needs to cap staff salaries and numbers as well 

Just last year Mayor Len Brown refused to comment to the media on the Remuneration Authority's handsome pay increases for the mayor and councillors. Instead he just quietly pocketed it.

But this week seeing the Prime Minister's leadership on limiting pay increases for MPs, he's now trying to jump on the bandwagon.

It is desperate stuff but he knows ratepayers are angry with his latest demands for more rates, borrowing, tolls and taxes in his draft 10-year budget," says Auckland Councillor Cameron Brewer. 

The Councillor for Orakei each year releases Auckland Council's growing wage and salary bill and ballooning staff numbers.

"The Mayor and councillors got close to a 3.5% increase last year due to a Remuneration Authority ruling which was well above average private and public sector pay rises, let alone the very low rate of inflation.

"Given all the demands on Auckland ratepayers, I would certainly support the latest restrictions on MPs increases being extended to applying to those of us elected representatives in local government too. It would not only help our operational budget but it would send a good signal to all those communities facing project and service cut backs in this draft 10-year budget.

"Let's not forget there are 170 elected representatives at Auckland Council, so pay increases do have an impact on our operational budget and ultimately household rates.

"I actually want to see this council adopt a new remuneration policy which sets some caps on staff numbers and salaries. As councillors we can now potentially do that at a governance level thanks to the Government's 2012 Better Local Government reforms. But interestingly there has been a big reluctance by the bureaucracy for us to do that. This is despite central government adopting a more managed approach to staff salaries and costs which has worked so well in the state sector over the past six years.

"I'm particularly concerned that last year the numbers of council staff earning over $100,000 went from 1,500 to 1,780 in just 12 months. That's an increase of nearly 20%. A new remuneration policy which set caps on staff numbers and salaries can now be instructed by the Mayor and councillors and should be.

"Local Government should not only take Parliament's lead on elected representatives pay, but also take heed of how central government has got on top of their public sector staff numbers and salaries. The Mayor needs to take a leaf out of John Key's book not only when it comes to managing politicians pay, but also that of public servants," says Mr Brewer.