Elizabeth Davies says there's nothing to lose and everything to gain by crowd-funding a project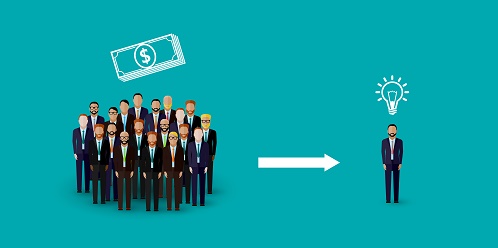 By Elizabeth Davies
I've never really believed in lending money to friends or family.
You may as well give that money away. But if you can afford to do so then by all means go right ahead.
Sure it feels good to lend those close to you some money in their time of need, but I guarantee it won't feel as good when you're writing an awkwardly worded email wondering when, maybe if,  you will see any of that money repaid.
The best relationships in life are based on equality. By lending to a friend, or borrowing money from them, you're messing with the natural balance of things. The lender feels awkward and ultimately resentful, the borrower feels guilty and embarrassed – it's a recipe for disaster.
That being said, I do like the idea of cutting out big business, banks and the middle man in general.
One of the most exciting, growing financial areas is crowd funding. Crowd funding sites allow anyone, anywhere to find ideas, concepts and products they would like to see develop further and contribute money toward them either as a donated pledge or an investment.
I can help my cousin's, ex-boyfriend's, best friend's band raise funds for recording a studio album (but I wouldn't - they sound like typewriters eating tin foil being kicked down the stairs). I can send LARP ( live action role players) to the world championships in Yemen if I desire to.
I'll admit there are some bad ideas out there on crowd funding websites.
Some are weird and entertaining like the plastic bottle kayak expedition and others are still slightly odd, but incredibly successful, such as the Yeastie Boys brewing project.
The Yeastie Boys had an initial target of $350,000. With just 212 contributors they raised $505,019 in 60 days.
I'll admit I'd never heard about the Yeastie Boys until I saw their success story on pledgeme.co.nz. But clearly, crowd funding has put them in touch with the right people.
Unfortunately not every project is a huge crowd funding success.
Sometimes the projects that seem the most worthy make the least money.
Take Farmsat for example. The project has a goal of $20,000 to develop a GPS safety alert system for quad bikes.
The technology has built in roll sensors so that  in the event of the quad bike rolling over and trapping the rider, they can be located and rescued. 
The Farmsat inventor Steve Dawson has a number of inventions on the go and has won multiple awards for the quad bike GPS safety alert system. Inventions like this could save lives. And yet, the project has eleven days to go and only $50 pledged.
Crowd funding is all about putting your idea out there, sharing it with the world and hoping that it triggers some kind of response in the people that see it.
Now the goal is to convince my partner to try to crowd-fund his engineering project. The reality is, he has nothing to lose and everything to gain.
--------------------------------------------
Elizabeth Davies is a graduate of the Auckland University of Technology post graduate journalism course. She writes a weekly article for interest.co.nz on money matters and financial struggles from a young person's perspective.