Bernard Hickey looks at how a slide in China's iron ore demand is making holidays on the Gold Coast cheaper and putting Nelson logging truck drivers out of work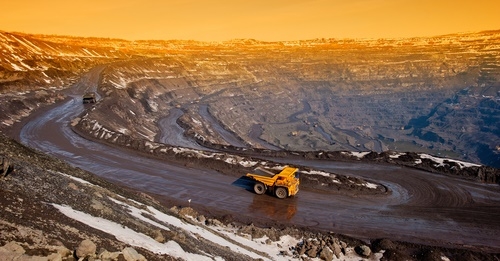 By Bernard Hickey
In the parlance of chaos theory, it's called the butterfly effect. It's the idea that a butterfly flapping its wings in the Amazon could cause a tornado in Texas.
The New Zealand economy has plenty of its own 'butterflies' changing the 'weather' for the GDP growth, jobs, interest rates, inflation and house prices. Not all of them cause tornados, but there are plenty of headwinds and tailwinds for different parts of the country so it's worth looking over the horizon to spot them.
One of the flappiest at the moment is the global iron ore price. It's barely noticed here, but it's an indicator of growing trouble inside a dominant part of our largest trading partner (China) and is knocking our second largest partner (Australia) for six.
It fell to a 10 year low of almost US$50/tonne this week and is down from a peak of over US$170/tonne in early 2011. Australia and Brazil are the biggest suppliers of iron ore to China, which uses it to make steel for its factories, and more importantly, to reinforce the concrete in all its new apartments, roads, railways and airports.
China embarked on a massive infrastructure spending spree after the Global Financial Crisis and it hit top gear in 2011. Over the three years to 2013 China poured 6.4 gigatonnes of concrete, which was more than poured in all of the United States in all of the entire 20th Century. All that concrete needed reinforcing with steel and China didn't have nearly enough iron ore and coking coal to make it.
That building boom is now easing off because it created a glut of apartments and debt, which China now needs to digest. The elevation of President Xi Jingping to China's top leadership post in late 2012 was a key moment in the flapping of those iron ore wings. He realised China needed to rebalance its economy away from an over-reliance on investment in infrastructure and switch to a more consumer friendly economy with cleaner air, water and food. That has meant slowing down the break-neck pace of 2011-13 and encouraging more market-oriented polices to work off those excesses. Dirty steel plants have closed and projects mothballed.
Apartment prices have fallen sharply in most Chinese cities over the last six months and demand from steel foundries has slowed. President Xi has also launched a crackdown on corruption that has disrupted the friendly and lucrative connections between officials who control land supply in China's myriad of cities and the developers who build on that land. Projects have stalled all over the country as developers and officials alike have 'disappeared' to be grilled by party officials over real or perceived corruption.
At the same time, iron ore production in Australia has only now ramped up to its peak levels as the investment boom in Australia in response to those record high prices in 2011 cranked into top gear. Weak demand met high supply to produce a price slump.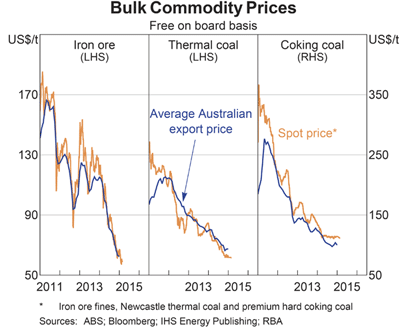 This all may seem a long way away and directly irrelevant to New Zealand, but it's not. The Australian dollar has fallen sharply this year in response to the iron ore crash, while New Zealand's dollar has remained relatively strong because our economy is humming along with GDP growth at over 3% thanks to building surges in Christchurch and Auckland and plenty of spending and investment by households and businesses alike.
That divergence between the Australasian economies drove the New Zealand dollar to a record high of well over 98 Australian cents this week. Westpac has even started offering just NZ$1 for every A$1 sent via a telegraphic wire transfer. A 'parity party' is widely expected, particularly if the Reserve Bank of Australia cuts its Official Cash Rate by a further 0.25% next week to 2% and opens up a 1.5% gap to New Zealand's OCR on 3.5%.
Parity would make all those winter holidays on the Gold Coast and trips to shows in Sydney and Melbourne cheaper. They will also generate a fierce headwind for manufacturing exporters and tourism businesses here that sell to Australians. Companies such as Fletcher Building and Michael Hill Jeweller and Kathmandu that rely on Australia for good chunks of their sales and profits will be cursing this strength.
The butterfly's master, President Xi, has also reinforced the contrasting effects of the changes in China on Australia and New Zealand by encouraging consumers and investors to spend more of China's big trade surpluses overseas. Tourism from China was up more than 40% in the first two months of this year from a year ago, and there remains plenty of demand from investors in China for New Zealand assets. Real estate website Juwai reported this week that New Zealand is the sixth most popular country for Chinese property investors, up from 10th a year ago. Annual house price inflation in parts of Auckland popular with investors is running at over 15%.
The dark side of this 'tornado' in New Zealand after the flapping of the butterfly's wings in China was felt in Nelson this week. The region's biggest logging trucking firm, Waimea Contract Carriers, was put into voluntary administration owing NZ$14 million, partly because of a slump in log exports to China in the last six months. The company's 120 staff and 80 trucks now face redundancy and the company may be liquidated.
That's all because New Zealand's logs are now mostly shipped to China to be sawn up into timber boxing for containing all that concrete being poured in all its new 'ghost' cities.
The Chinese iron ore butterfly has flapped and now we're seeing the headwinds and tailwinds making Gold Coast winter breaks cheaper and logging contracts rarer.
----------------------
A version of this article was also published in the Herald on Sunday. It is here with permission.