Lena Hesselgrave on banks without bricks, 'Mad Men' taken over by 'maths men', the profit vs growth debate, Uber, and high-tech toothbrushes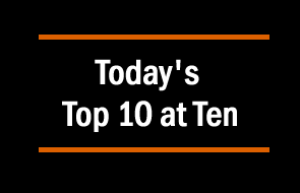 Today's Top 10 is a guest post from Lena Hesselgrave, senior digital strategist at Wynyard Group.
As always, we welcome your additions in the comments below or via email to david.chaston@interest.co.nz. And if you're interested in contributing the occasional Top 10 yourself, contact gareth.vaughan@interest.co.nz.
See all previous Top 10s here.

1. 'Mad Men' being taken over by 'maths men'
Advertising agencies' crowning jewels were once their art directors and snappily dressed straight liquor drinking 'creatives'. But is this still the case in a world where consumer data and the knowledge to mine it is increasingly important? WWP advertising conglomerate founder and CEO Sir Martin Sorrell was interviewed recently at the Cannes Lions advertising festival about how the industry "has changed immeasurably" throughout his 30 year career.
"Thanks to the internet, advertising and marketing now have the ability to reach deep into the fabric of our lives. The ad industry is extraordinary powerful, but is it responsible?"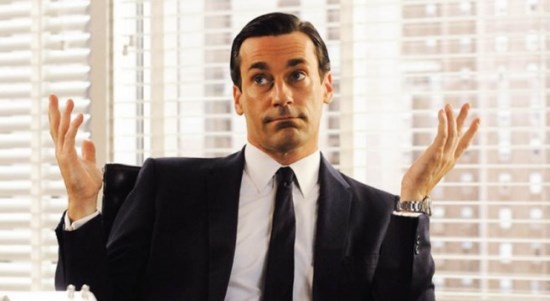 2. Banks without bricks: Atom bank to be UK's first digital only lender
The branchless bank Atom has been approved by the Bank of England as the UK's first lender to offer its services exclusively through a mobile app when it launches later this year. With no branch operating costs, it's expected that Atom will be able to offer lower fees to its target customers and inject renewed competition into the retail banking sector.
"Atom's app has biometric security, including face and voice recognition. The bank said it would provide a customer service team available every day by phone, email and social media. Customers will also be able to pay in cash and cheques through a partnership with an established high street bank."
Investing in the future growth of young companies has become central to tech investing, but do some companies take a reckless approach to growth for the sake of growth? AVC blogger Fred Wilson believes there's the perception that if you're not losing money (by investing heavily in growth) than you're not maximising your future market potential. Instead, he suggests businesses should establish early on a clear relationship between losses and growth, and focus on building sustainable profitability into an operating plan, which may require running leaner for longer.
"Your year over year growth rate plus your pre-tax operating margins need to be at least 40%. Meaning you can grow at 100% per year and have operating margins of -60%. Or you can have flat growth and have 40% operating margins. Or you can grow at 20% per year and have 20% operating margins. There is no magic to the 40% target, but I do like establishing some relationship between acceptable levels of profitability (or losses) and growth."
4. Pictures from a nation falling into a deep financial crisis
Greece failed to make the €1.5bn payment to the IMF on Tuesday and its future of staying in the euro is uncertain. Prime Minister Alexi Tsipras announced this week that "deposits of the Greek people are fully secure", yet banks are expected to stay shut until 7 July, two days after Greece's referendum. The real effects of the crisis can been seen in the faces of those waiting in line to withdraw the daily maximum of €60 in cash from an ATM.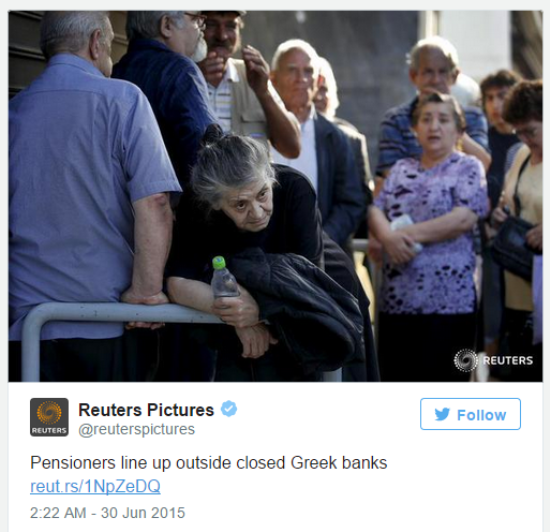 Work is changing, so should the protection we offer workers change as well? The line between an employee and an independent contractor is being blurred by 'sharing economy' companies like Uber, Instacart and TaskRabbit. Within the sharing economy 70% of workers are under 35, about 40% have at least a university degree and most earn wages above the median hourly rate compared to workers in similar industries.
"The bigger issue here, though, is the outdated nature of our social safety net. It's still dependent on the idea of the full-time employee, who gets health care, a pension, unemployment insurance, and so on from one company. That worked fine in a world of stable employment, but lots of Americans no longer live in that world and plenty more will be joining them. And, as Sundararajan says, "It makes no sense to have a well-developed safety net for one category of employment and virtually none for other kinds of productive work."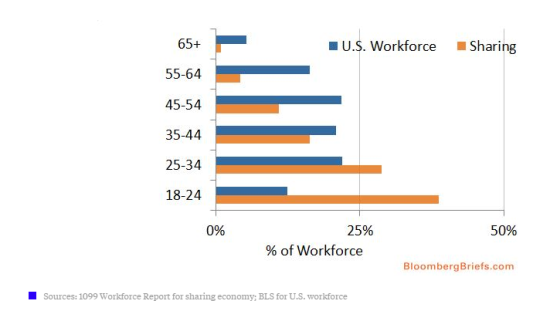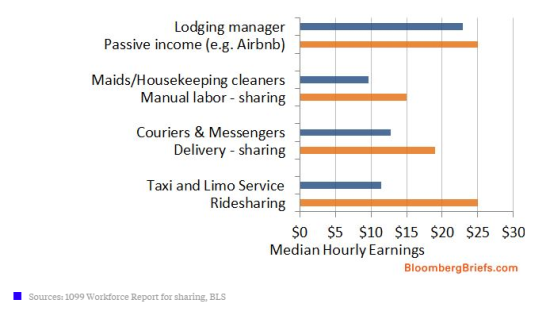 6. Tracking the pace of social change
This week the US Supreme Court ruled gay marriage as legal across the nation. Bloomberg takes a look at the rate of change on six big issues that have shaped America: interracial marriage, prohibition, women's suffrage, abortion, same-sex marriage, and recreational marijuana.
"Eleven years after Massachusetts became the first state to allow same-sex couples to marry, the Supreme Court has now extended that right nationwide. The decision came after a wave of gay marriage legalization: 28 states from 2013 to 2015, with 36 overall prior to the Court's ruling. Such widespread acceptance in a short amount of time isn't a phenomenon unique to gay marriage. Social change in the U.S. appears to follow a pattern: A few pioneer states get out front before the others, and then a key event—often a court decision or a grassroots campaign reaching maturity—triggers a rush of state activity that ultimately leads to a change in federal law."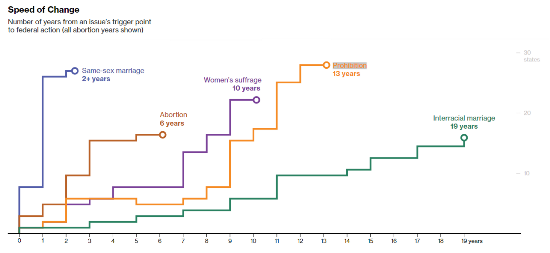 Will the rise of automation and intelligent systems mean we will be unburdened from monotonous tasks and allow us to focus on more increasingly complex and fulfilling tasks? Or will it leave us with a growing unemployed underclass unable to compete with their cheaper machine counterparts? HBR looks at the three eras of automation and how the current one could have the most profound effect yet.
"Suddenly, it seems, people in all walks of life are becoming very concerned about advancing automation. And they should be: Unless we find as many tasks to give humans as we find to take away from them, all the social and psychological ills of joblessness will grow, from economic recession to youth unemployment to individual crises of identity. That's especially true now that automation is coming to knowledge work, in the form of artificial intelligence. Knowledge work—which we'll define loosely as work that is more mental than manual, involves consequential decision making, and has traditionally required a college education—accounts for a large proportion of jobs in today's mature economies."

8. Smart-teeth?
Beam technologies, a connected toothbrush company, are introducing their bluetooth connected toothbrushes to competitively priced insurance plans. The toothbrush feeds policy holders' dental hygiene data to insurance companies to better assess an individuals level of risk. For CEO Alex Frommeyer it's all about giving clients access to the best preventative health measures in order to lower risk.
"A consumer downloads the Beam app and a sensors on the toothbrush send data to the app via Bluetooth radio. The toothbrush can determine how long you brush and a software update will soon add the ability to tell users where they spent the most time brushing and the pressure used. The app can then offer feedback about where the user could do a better job."
9. Debate: Smart technology is making us dumb
Smart technology has given us access to data and information like never before – shifting, tracking and optimising how we work, learn and socialise. Privacy is one of the key issues surfacing along with these technologies, as is an increasing dependency on our devices. But are these negatives overstated?
It's up to you to decide, with thoughtful analysis from both side of this NPR Intelligence Squared debate.
"It's been said that smart technology creates dependency on devices, narrows our world to echo chambers, and impairs cognitive skills through shortcuts and distraction. Are smart tech devices guiding so much of our decision making that we are losing autonomy without even realizing it? Or are these concerns an overstatement of the negative effects of high-tech consumption?"
10. South Sudan: The economics of the world's youngest country
Despite being rich in national resources and controlling the bulk of Sudan's overall oil wealth, the world's youngest nation continues to suffer economically. The largely oil-dependent state earns only $10 per barrel compared to the international price of $60 per barrel and the country has been continually overrun by violence since gaining autonomy in 2011. 
"After decades of conflict with its neighbour Sudan, long-sought autonomy in 2011 was meant to be a dream come true, but the country has been wracked by violence ever since. Thousands of people have been killed, and over a million displaced, as President Salva Kiir battles his rival, rebel leader and former vice president, Riek Machar."